Over 450 protests in China: No coverage in mainstream media
The number of people's protests in China is rising alarmingly. Yet, there is little to no coverage in the mainstream media of these protests. China has a massive influence on media houses around the world. We have covered this in our investigative report The manipulation of the world media by China.
Recently we covered the Henan protests, and various social media influencers and legacy media outlets picked up our story to show the truth behind these protests.
Investigative Journalism Reportika presents an in-depth investigative report compiled by our East Asia analyst Jenny Kin Jacobs on "The rising people's protests in China".
The major centers of protests in China were the capital Beijing (北京), Shanghai (上海), Shandong(山东), Henan(河南) and Anhui(安徽).
Haidan, July 05, 2022
An enormous group of students and staff from the Beijing Institute of Technology assembled on campus in Haidian. They protested against the strict and outrageous COVID-19 prevention policies.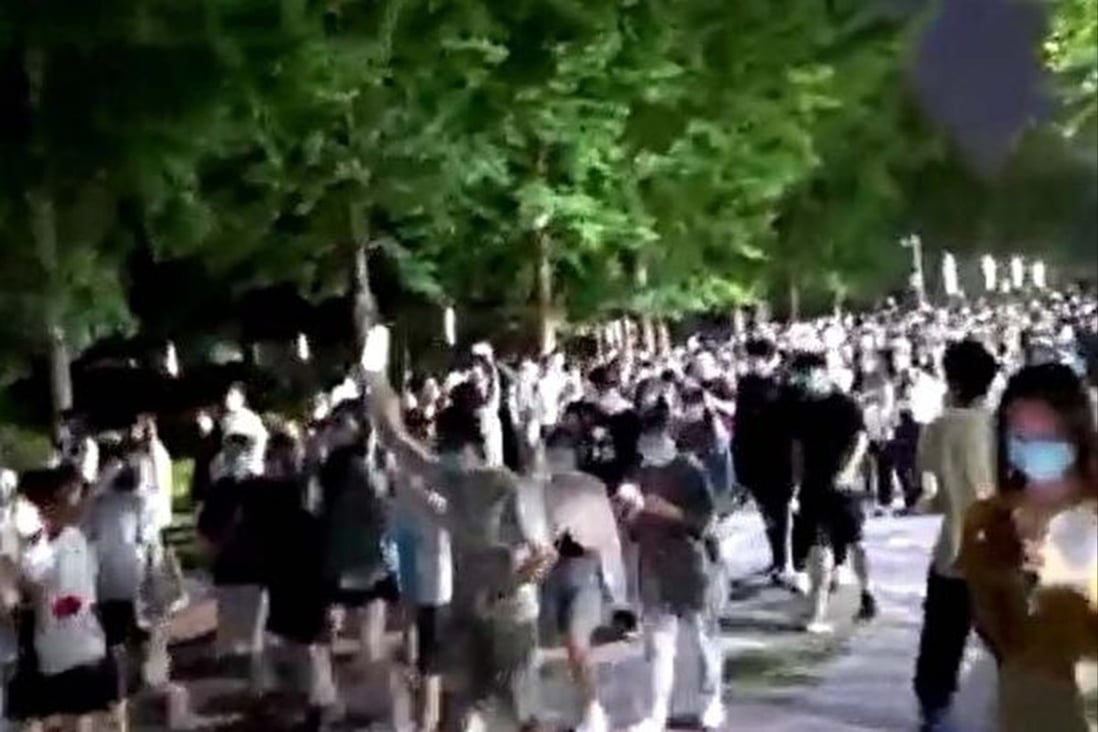 Beijing City, July 06, 2022
People protested on the streets of Beijing city against coronavirus vaccine mandates. Protestors said, "Thousands of children across the country have developed diabetes due to the vaccine, and another many have developed leukemia."    
Chaoyang, July 06, 2022
Zhengzhou Jinshui district stability maintenance officers at Xiaohongmen Police Station in Chaoyang thrashed an innocent lady from Zhengzhou. It led to protests and demonstrations in the city.  
Fengtai, July 11, 2022
Protests erupted in Fengtai when the police held a petitioner from Sichuan in isolated detention after taking him to the police station in Beijingxi railway station in Fengtai.
Fengtai, July 20, 2022
Government officials of the Suzhou government office in Beijing intercepted a female human rights defender from Suzhou when she was boarding a train in Fengtai just to face the public outrage. It got no coverage from the media and was suppressed by the officials with an iron fist.
Putuo, January 13, 2022
Jiaxing Road Residential District office personnel abducted a female petitioner. Her husband reported her forced disappearance to the police. Due to this case and other forced disappearances, violence occurred in Putuo.
Shanghai City, April 05, 2022
Shanghai residents are pinned to the ground and arrested by dozens of PPE suit-wearing Police officers after objecting to their apartments becoming a quarantine center. This led to massive protests.
Pudong, April 9, 2022
During the coronavirus lockdown, a popular lecturer was thrashed by epidemic prevention personnel outside his residential installation in Xingfu Town in Pudong New Area as he left home to collect food delivery. He was diagnosed with a brain concussion, severe head and eye injuries after the vicious attack. It left the people of Pudong in a state of shock and disbelief and led to an eruption of protests. 
Qiangpu, May 3, 2022
Protesters clashed with the police in Jinze township of Qingpu district to stop the police from arresting an old man for questioning supermarkets not providing affordable food during coronavirus lockdown.
Sonjiang, May 21, 2022
Over 100 workers rioted over coronavirus restrictions in a Taiwanese-owned Apple supplier industrial compound in Songjiang district. Rioters raised slogans and pelted stones to protest against being confined and working overtime in the factory during coronavirus lockdown.
---
Shanghai Dafeng Electronics, a subsidiary of Shanghai Quanta, experienced an employee protest in May. As seen in the video, hundreds of young employees hopped over the gate and ran away. They gushed out of the blockade to clash with the guards. Employees wanted to buy daily needs goods that were unavailable due to epidemic prevention and control. Their lives became miserable during the pandemic and thus chose to protest against the authorities.
Video Credits : RFA China
---
In the first two quarters of the current financial year (2022), daily-wage laborers, factory workers, and other industry unions held innumerable protests in Shandong. They protested primarily against delayed payments and salary dues in Shandong province.
For instance, Factory workers in Linyi City in March and construction workers in Liaocheng City in April and May protested against delayed salaries. In June 2022, during a peaceful rally of school teachers in the Laishan district, Yantai Local administration resorted to detaining teachers, leading to increased protests.
The police officers rebuked the protestors violently to suppress the protests each time in Shandong. Furthermore, like all other protests in China, this too met with apathy from the mainstream media.
Chinese customers opened accounts at six rural banks in Henan and neighboring Anhui province that offered higher interest rates in large numbers. They later found they could not withdraw their funds after media reports that the head of the banks' parent company was on the run and wanted for financial crimes.
China heavily misused the COVID-19 tracking app. Many who set out for Zhengzhou to demand action from regulators found that their health status on the application had turned red, preventing them from traveling.
Dozen of protests took place in front of the bank branches. The police forces in casual dress forcefully and violently deported the protestors to various sites. The authorities were able to disperse thousands of protestors gathered to hold peaceful demonstrations in Henan.
The peaceful protestors were forced to sign letters assuring they won't protest in the future. They were beaten and thrashed mercilessly. Consequently, the autocratic rule crushed yet another popular movement in China.
State-mandated lockdowns were enforced in Lingbi and Sixian districts in Anhui province in the first week of July.
Lingbi is a tourism district, and Sixian (Si) is an industrial district. Therefore, the local populations involved in tourism or industrial sectors experienced disrupted livelihood. It is the reason for discontent and following protests in the region. The protests and demonstrations took place marginally due to the fear of authorities.
---
Social media users reported these protests and how the authorities crushed them without remorse. Ij-reportika gave them a voice and reported these protests time and again. Had traditional media been fearlessly vocal about these protests, there would have been lesser deaths and injuries in China.
---
Jenny Kin Jacobs compiled and curated this report
Jenny Kin Jacobs (East Asia Analyst of Ij-reportika)
---
Sources:
---