The U.S. is keeping a close watch on China's military drills around Taiwan and may take further action, with the USS Ronald Reagan carrier strike group remaining on station to monitor the situation, the U.S. National Security Spokesman John Kirby said late Thursday.
On Friday, day two of the three-day military exercise held in response to U.S. House Speaker Nancy Pelosi's visit to Taiwan, China's People's Liberation Army (PLA) dispatched "multiple" military aircraft and warships to the Taiwan Strait, Taiwan's Ministry of National Defense said in a statement.
Some of the aircraft and vessels crossed the median line dividing the Taiwan Strait, the ministry added, calling the PLA drills "highly provocative" and vowing to "respond appropriately."
Before that, the defense ministry said the Chinese military also flew four drones over Taiwan's outlying islands of Kinmen on Thursday night.
Taiwanese President Tsai Ing-wen said China firing missiles near busy international air and sea routes around Taiwan on Thursday was "an irresponsible act" and called on Beijing "to act with reason and exercise restraint."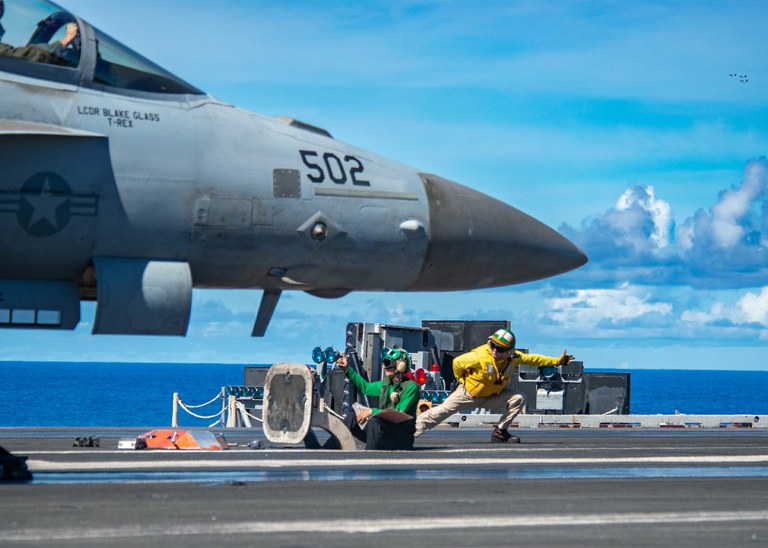 U.S "will take further steps"
China has decided to sanction U.S. House of Representatives Speaker Nancy Pelosi and her immediate family for her stopover in Taiwan earlier this week, the Chinese foreign ministry said on Friday.
Pelosi is the most senior U.S. official to visit Taiwan in 25 years.
"They may try to keep Taiwan from visiting or participating in other places, but they will not isolate Taiwan by preventing us to travel there," news agencies quoted the U.S. House Speaker as saying on Friday in Tokyo, the final leg of her Asia tour.
The U.S. National Security Spokesperson John Kirby said at a press briefing on Thursday that the Biden administration condemns China's actions.
"China has chosen to overreact and use the speaker's visit as a pretext to increase provocative military activity in and around the Taiwan Strait," he said, adding: "We also expect that these actions will continue and that the Chinese will continue to react in coming days."
U.S. Defense Secretary Lloyd Austin has directed the USS Ronald Reagan carrier strike group to "remain on station in the general area to monitor the situation," Kirby said.
The carrier strike group is currently in the Philippines Sea and two big deck amphibious ships, USS Tripoli and USS America, are on their way to the east of Taiwan, the U.S. Naval Institute reported.
Besides conducting "standard" air and maritime transits through the Taiwan Strait in the next few weeks, the U.S. "will take further steps to demonstrate our commitment to the security of our allies in the region" including Japan, the National Security spokesperson said.
Washington, however, postponed a long-planned test of an Air Force Minuteman III intercontinental ballistic missile to avoid escalating tensions with Beijing. 
The U.S. military seems to have expanded aerial ISR (intelligence, surveillance and reconnaissance) operations around Taiwan on Friday, a Beijing-based think-tank that has been tracking regional military movements said.
The South China Sea Probing Initiative (SCSPI) said it has spotted at least seven U.S. reconnaissance aircraft, supported by six military aerial refueling aircraft KC-135 in the area.
An MH-60R anti-submarine Seahawk helicopter was also seen flying close to the southwest of Taiwan before moving north towards Japan's Okinawa island, according to data provided by the flight tracking website Flightradar 24.
Japan's concerns

On Friday morning, about 10 Chinese navy ships and 20 military aircraft "briefly crossed" the median line – the tacit maritime border between Taiwan and China's mainland – Reuters quoted an anonymous source close to the matter as saying.
China's state media meanwhile said that the PLA "has sent an aircraft carrier group featuring at least one nuclear-powered submarine to the ongoing drills" around Taiwan for its first carrier deterrence exercise.
The Global Times quoted Zhang Junshe, a senior research fellow at the Naval Research Academy which is affiliated with the PLA, who said on Thursday at least one nuclear-powered submarine has been deployed. Zhang did not name the aircraft carrier.
China has two carriers in operation – the Liaoning and the Shandong. The third aircraft carrier, Fujian, is near completion. 
Taiwanese media reported that the two operating aircraft carriers have left their home ports of Qingdao in Shandong province, and Sanya in Hainan province, but this information cannot be independently verified.
On Thursday Japan said it had lodged a diplomatic protest after five ballistic missiles fired by China appear to have landed inside Japan's exclusive economic zone (EEZ), which stretches 200 nautical miles (370 kilometers) from the outer limits of Japan's territorial seas.
"To have five Chinese missiles fall within Japan's EEZ like this is a first," Japanese defense minister Nobuo Kishi told reporters.
Japan's Ministry of Defense provided a detailed report of the Chinese missile launches and a map showing the missiles' projected routes. It appears that four missiles, launched from mainland China, flew over Taiwan's capital, Taipei.
"This is the second time that Chinese missiles flew over Taiwan's main island, the previous time was in 1996," said Shen Ming-Shih, acting deputy chief executive officer at Taiwan's Institute for National Defense and Security Research, a government think-tank.
That time, Chinese missile tests and live-fire exercises led to the U.S. intervention in the so-called Third Taiwan Strait Crisis. 
This time, an American involvement is yet to be seen but on Wednesday the U.S., together with six other developed countries, including Japan and the European Union, released a G7 Foreign Ministers' Statement on the situation in the Taiwan Strait.
The G7 countries expressed their concerns over "threatening actions" by China which risk "increasing tensions and destabilizing the region."
China responded by canceling a pre-scheduled meeting on Thursday afternoon between its foreign minister Wang Yi and his Japanese counterpart Yoshimasa Hayashi.
On the same day, China's Defense Ministry repeated the threat of "solemn deterrence against the collusion between the U.S. and Taiwan."
"The Chinese military always matches its words with deeds," said Sr. Col. Tan Kefei, the ministry's spokesman.