An international student in the U.S. capital has been harassed by China's state security police for pro-democracy activism on American soil, with his loved ones back in China hauled in by police for questioning and told to get him in line, Radio Free Asia has learned.
Zhang Jinrui, a law student at Washington's Georgetown University, said his family in China received an unexpected visit in June from state security police, who interrogated his father about Zhang's level of patriotism and questioned him about his activities in the United States.
"The state security police knocked on our door and took my father away for lengthy questioning," Zhang told Radio Free Asia in a recent interview. "[They asked him] 'Does this child of yours take part in pro-democracy activities? Do they usually love their country and the [ruling Chinese Communist] Party?'"
"If not, you have to teach him to love his country and the party better," the police said. "It's not OK that he's doing this, and it won't do any good."
Zhang's experience comes amid growing concern over Beijing's "long-arm" law enforcement targeting overseas activists and students, who had expected to enjoy greater freedom of speech and association while living or studying in a democratic country.
Zhang said the questioning of his father came after he took part in protests in support of the "white paper" protest movement in November 2022, and against Beijing's hosting of the Winter Olympics in February.
Yet he wasn't contacted at the time by police, who sometimes contact overseas Chinese nationals via social media platforms to get their message across. 
"On the evening of June 29, I suddenly received a WeChat message from my sister saying 'Contact me urgently, something happened,'" Zhang said. "The people from the police station had called my sister and asked about her [relative] in Washington, wanting to know if they took part in the Torch on the Potomac group, saying I was a key member."
Fear and self-censorship
Torch on the Potomac was set up by students at the George Washington University in April, to provide a safe space for dissident activities by Chinese students.
But Zhang was nonplussed by the accusation, saying that the group has yet to organize any activities, and that police have also been harassing the families of Chinese students who haven't taken part in any activism at all.
Calls to the Wusan police station, which is close to Zhang's family home in the northeastern Chinese city of Shenyang, rang unanswered during office hours on Sept. 19.
Several other Chinese students declined to be interviewed when contacted by Radio Free Asia.
Sarah McLaughlin, senior scholar at The Foundation for Individual Rights in Education, said speaking to the foreign media could bring down further trouble on the heads of students who may already have seen their families hauled in for questioning.
"I know that that's something that international students have run into before," she said. "They've gotten in trouble when they returned home for things they've said online while in the United States."
McLaughlin said the harassment of their families in China will have a chilling effect on students' speech, even overseas.
"There are definitely some real fears among these students, and there's definitely self censorship," she said.
Classroom informants
And the police aren't the only source of such anxiety – there is also the risk of being reported by fellow students from China, who are encouraged via the Chinese Students and Scholars Associations to keep an eye on each other.
A Georgetown University faculty member who asked to remain anonymous said the problem is becoming more and more serious, with Chinese students feeling unable to speak freely in class, for fear of being informed on by their Chinese classmates.
Last year, when students at George Washington University put up posters on campus opposing China's hosting of the 2023 Winter Olympics, the Chinese Embassy sent members of the campus branch of the Chinese Students and Scholars Association to tear them down again and put up posters denouncing their actions.
"They even got in touch with the school, saying that the Chinese students who support democracy and oppose zero-COVID are racist," Zhang said. "That's why they set up the Torch on the Potomac, because a lot of their activities weren't getting the support of the school."
George Washington University President Mark Wrighton admitted in a Feb. 8 statement that the removal of the posters was a mistake, and the university administration should have waited until they better understood the situation before acting.
"We began to receive a number of concerns through official university reporting channels that cited bias and racism against the Chinese community," Wrighton said. "I also received an email directly from a student who expressed concerns."
"I have since learned from our university's scholars that the posters were designed by a Chinese-Australian artist, Badiucao, and they are a critique of China's policies," he said. "Upon full understanding, I do not view these posters as racist; they are political statements."
Neither Georgetown University nor George Washington University had responded to requests for comment on the renewed harassment of Chinese students in the United States by Sept. 19.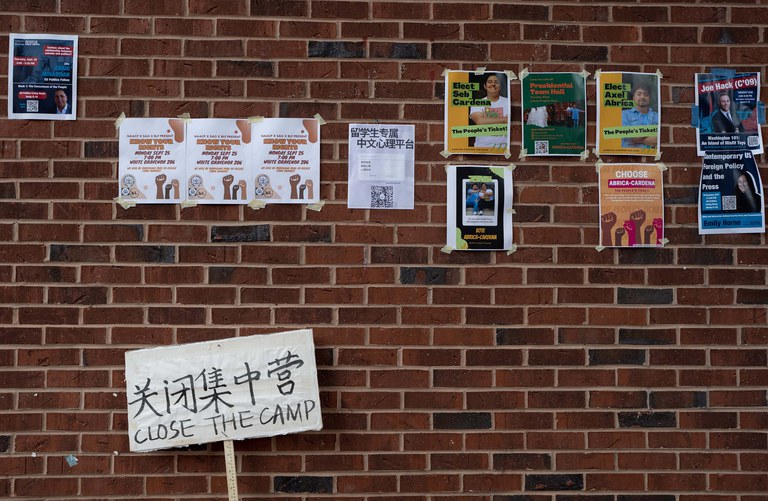 Close contact with embassies
Zhang said he has also been personally harassed by members of the Georgetown branch of the Chinese Students and Scholars Association.
"One person came over and harangued me, calling me a traitor and accusing me of getting money from the U.S. government," he said of one encounter as he put up posters in support of the "white paper" movement in late 2022.
"I said I wasn't, and that I just didn't like the policy, and wasn't it normal to speak out about it?" he said. "He pointed his camera at me to broadcast my face to his friends back in China, telling them to report me to the police as someone who opposes the government as soon as possible."
According to multiple interviews with students and former students, the Chinese Students and Scholars Associations have branches on university campuses all around the world, and maintain close contact with Chinese embassies and consulates wherever they are.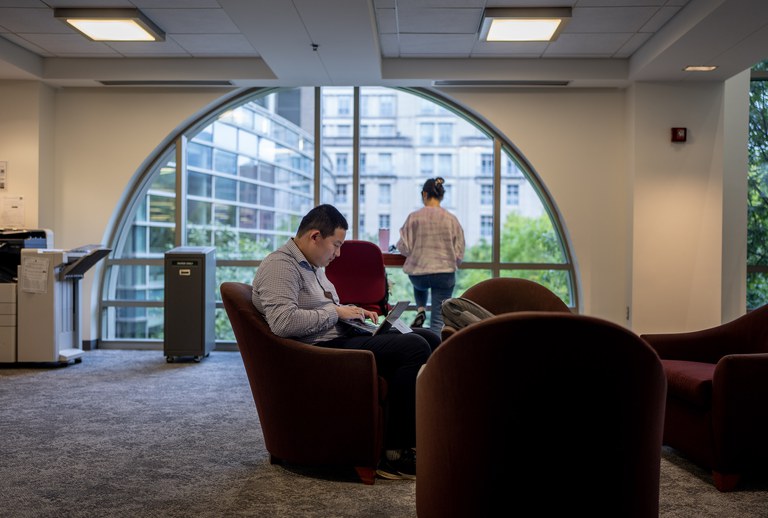 McLaughlin called on U.S. universities to better support international students.
"I think, one interesting tactic that universities should consider is, you know, holding events and training sessions for students, especially international students, to teach them what their rights are in the United States …and also consider teaching students the benefits of protecting their privacy and data and anonymity while speaking online," she said.
She also called for improved reporting mechanisms for transnational censorship on U.S. campuses.
"Another thing that they can do is offer students a way to report when they're experiencing harassment," McLaughlin said. "It would be good if universities made sure students knew that harassment and threats aren't acceptable and that the university would act on it."
She said universities should also scrutinize their own levels of involvement with authoritarian regimes, and consider how that might affect their ability to support students from those countries.
'Weaponizing the language of social justice'
George Washington University Law School professor Donald Clarke said U.S. universities shouldn't assume that Chinese Students and Scholars Associations (CSSAs) are broadly representative of all Chinese students on their campuses.
"[Universities should] understand that on the one hand, the voice of the Chinese government is amplified through CSSAs, while on the other hand the voice of those who are critics of the government is suppressed through fear of repercussions," Clarke said in comments emailed to Radio Free Asia.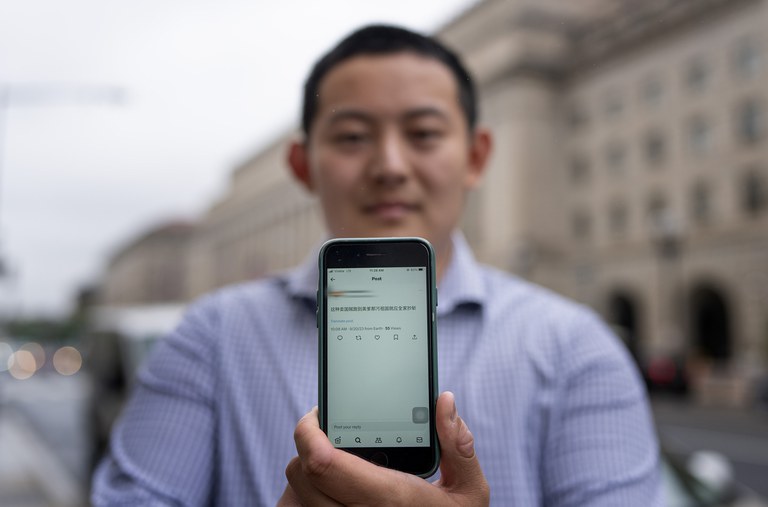 "CSSAs have become expert at weaponizing the language of social justice and anti-racism to attack critics of the Chinese government," he said, citing the tearing down of the posters at George Washington University as an example.
"University administrators must understand that due to the Chinese government's obsession with control, almost everything related to China becomes political," Clarke said.
Zhang, however, remains undeterred.
"The right thing is still the right thing, regardless of whether the Chinese Communist Party knows about me or not, and it still needs to be done for the benefit of everyone," he said.
"I won't stop speaking out for a better political system with a mechanism to solve problems," he said. "I will always insist on it."
Translated by Luisetta Mudie.