As Myanmar's economy continues to skid, with soaring inflation, a depreciating kyat, and flat revenue, junta leader Min Aung Hlaing seems to be looking for a few Chinese-backed marquee projects to kickstart growth, and ensure Beijing's long-term commitment to the State Administrative Council, as the regime is formally known. 
 In August Min Aung Hlaing called for the completion of the Kyaukphyu special economic zone (SEZ) and container port, while engineering work is starting on the 810-km railway connecting Kyaukphyu with Muse, a city on the Myanmar-China border. 
The project in western Myanmar has evolved and absorbed different components since a 2011 memorandum of understanding for the Kunming-Kyaukphyu railway led eventually to a set of projects under China's ambitious $1 trillion Belt and Road Initiative.
But as the BRI prepares to celebrate its tenth anniversary at a summit in Beijing in October, China, unhappy with the slow pace of CMEC implementation, looks unlikely to extend an invitation to Min Aung Hlaing, denying him the recognition that he covets.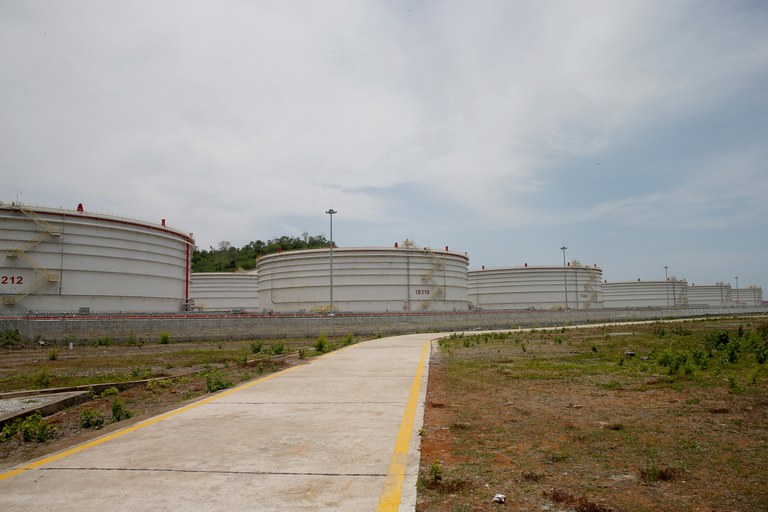 Chinese projects in Myanmar were facing trouble before Min Aung Hlaing overthrew the country's elected government on Feb. 1, 2021. Now they are beset by unrest, power shortages and transport woes. 
Kyaukphyu began as a small port for offshore and imported oil, as well as being the land terminus for the Shwe gas field. The 51-49 joint venture between China National Petroleum Company and the Ministry of Oil and Gas Enterprises constructed a pier and 12 tanks, which commenced operations in 2013. 
The US$2.5 billion 750 km oil pipeline and 770 km gas pipeline to Kunming became fully operational in 2017. That year, PetroChina opened up a refinery in Kunming that was able to handle 7% of China's total refining needs. 
These pipelines were China's strategic priority, but Beijing had other goals for linking landlocked southwestern China to the Indian Ocean. China saw the project as a way to address what then Chinese President Hu Jintao described in 2003 as the "Malacca dilemma" of vulnerability to a naval blockade of the Southeast Asian waterway which carries two-thirds of China's energy imports and trade flows.
In 2018, the two sides established the China-Myanmar Economic Corridor (CMEC) to jumpstart the projects as part of the BRI, the signature project of Hu's successor Xi Jinping. Beijing also saw as supporting Myanmar's National Ceasefire Agreement signed by some ethnic armies in 2015 to end years of hostilities with the government.
All existing Myanmar projects were folded into the CMEC, and still there was little movement. Two of the first MOUs were a feasibility study for the first phase of the railway project and an environmental and sustainability impact study of Kyaukphyu.
Ambitious projections
A December 2015 tender between the government of reformist military leader Thein Sein and a consortium of Chinese corporations led by the state controlled investment company, CITIC, established the Kyaukphyu SEZ and deepwater port. The $7.3 billion project was 85% owned by the Chinese consortium.
The phased project included the 1,736 hectare Kyaukphyu SEZ followed by two deep water container ports on Maday and Ramree islands. At capacity, 270 and 237 hectares ports would be able to berth 10 ships at once and handle 4.9 million containers annually. 
There were wild promises by CITIC, including projections of adding $10 billion to GDP annually and the creation of 100,000 new jobs. But little happened. 
And there was already pushback from the elected National League of Democracy government led by Aung San Suu Kyi . Fearful of a scenario that played out when Sri Lanka became heavily indebted to China, in 2018, the Suu kyi administration renegotiated the agreement, lowering China's stake to 70% as well as decreasing the overall debt for the project. But the ethnic cleansing and violence in Rakhine state, the location of the port facility, kept everything at a standstill.  
Xi Jinping's January 2020 visit to Myanmar took advantage of Aung San Suu Kyi's diplomatic isolation following the forced expulsion of Rohingya Muslims in 2017 that led to UN genocide charges. More than 30 agreements were signed, many of which related to Kyaukphyu and its rail links. 
Days before the February 2021 coup, Chinese Foreign Minister Wang Yi met with Suu Kyi to push for the quick implementation of CMEC projects, including Kyaukphyu.
Seven months after the military seized power, site work began on the 1,740 hectare site. But there were immediate protests from the 20,000 people who were being displaced and harbored mistrust over promised compensation. Unrest was also fueled by civil disobedience against the coup, and junta crackdowns and arrests of local officials and activists.  
Another impediment for the project is the regional shortage of electricity. In 2019, a Hong Kong based firm, VPower, which is partially owned by CITIC, won an emergency tender to provide electricity in Myanmar. By 2021, it had nine different power projects around the country, including three in Kyaukphyu. 
Yet, the firm shut down the 200mw Kyaukphyu II project in mid-2021, despite it being a 60-month contract. By 2022, VPower had shut down the Kyaukphyu I  plant. Both were dismantled.
The firm cited a number of factors in the closing of the plants, including irregular supply of LNG, currency controls and other issues related to the post-coup investment climate. Left unsaid was the government's inability to pay for the amount of electricity that it contracted for and to pay the sum in U.S. dollars. 
That left only one power plant in Kyaukphyu, a 135mw gas-fired plant, a 2020 joint venture between VPower, CNTIC, and Myanmar's Supreme Group. It was still in operation in early 2023, though there are reports that it has recently closed.
Underwriting the junta
Without power, little is progressing. In March 2023, a Chinese company signed a MOU to provide 100 mw of wind energy in Kyaukphyu, along with 150mw and 110 mw wind farms in nearby townships. Construction is to be completed in 2025.
An Environment and Social Impact Assessment is supposed to be completed in late-2023, but has received pushback from people being displaced and fishermen who have already been harmed by the oil and gas terminals and will now lose river access. 
The junta is certain to green light the project regardless of the findings, and construction on the SEZ and first port are supposed to begin in 2024.
Connectivity to the port is even further behind. There has been very little progress on the 810-km Muse-Kyaukphyu railway, while China has only completed a portion of the railroad from Kunming to the border.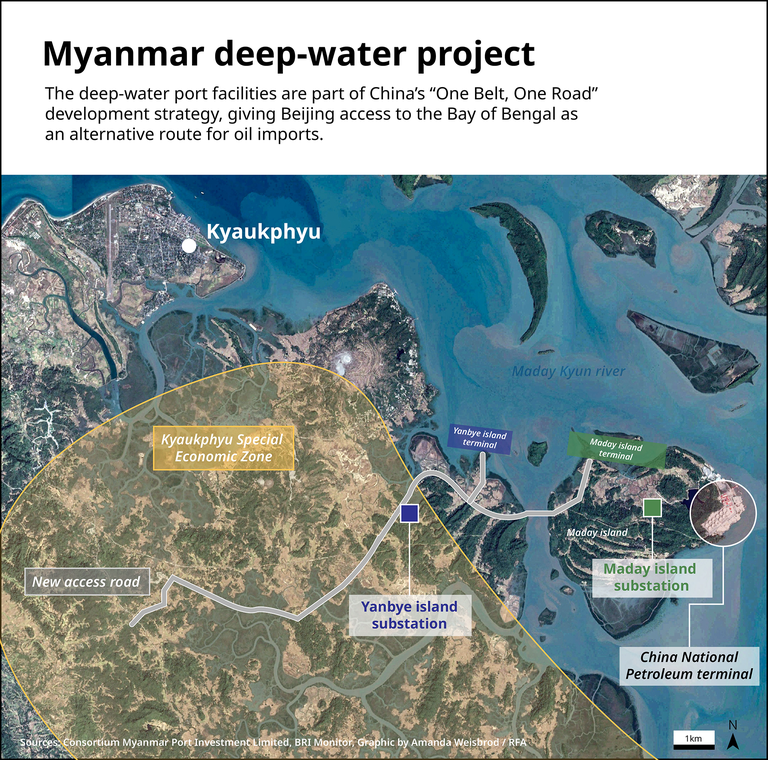 In mid-2023, Chinese engineers began field work for the first segment, a 431-km stretch from Muse to Mandalay, expected to cost $8.9 billion. Apart from topography, there are  engineering hurdles, as well as a surge in fighting in northern Shan State, which has stalled the development of a free trade zone.
Notwithstanding the troubles, China has stepped up its investments since the coup, now totaling 597 projects worth $21.9 billion, 23.5% of all investment now in Myanmar. 
China is clearly pressing for the project's commencement to mitigate their Malacca dilemma. In May 2023, its ambassador in Naypyitaw lobbied for the project, while Deng Xijun, China's special envoy to Myanmar, reiterated the call in each of his four visits, most recently in September. 
Deng called on the three ethnic armed groups that form the Northern Alliance members to stop their fighting along Myanmar's border with China and to pledge to protect Chinese investments.
Min Aung Hlaing is hopeful that CMEC will enmesh China in Myanmar's economy, forcing Beijing to underwrite the junta for the duration, so he needs to show progress.  
And yet, his call for the expedited completion of the Kyaukphyu project sounds as delusional as the other economic policies in the 32 months since the military coup. The general is failing to accept that foreign investors have pulled out, and that there's neither electricity nor connectivity, let alone any ability by Myanmar to service the debt.
Zachary Abuza is a professor at the National War College in Washington and an adjunct at Georgetown University. The views expressed here are his own and do not reflect the position of the U.S. Department of Defense, the National War College, Georgetown University or Radio Free Asia.