UPDATED AT 07:34 a.m. ET on 2023-04-17.
U.S. Secretary of State Antony Blinken is in Japan where he, together with other foreign ministers from the Group of Seven (G7) nations, discussed a common approach to the war in Ukraine Monday, confirming  "that they remain committed to intensifying, fully coordinating and enforcing sanctions against Russia, as well as to continuing strong support for Ukraine," according to a Japanese Foreign Affairs Ministry statement.
The statement was in line with the goals of the Biden administration, which are to shore up support for Ukraine and to ensure the continued provision of military assistance to Kyiv, as well as to ramp up punishment against Russia through economic and financial sanctions, a senior official from Blinken's delegation told the Associated Press ahead of the meeting.
Earlier G7 ministers vowed to take a tougher stance on China's threats to Taiwan, and North Korea's missile tests.
Meanwhile, Britain's Financial Times reported that China was refusing to let Blinken visit Beijing over concerns that the FBI will release the results of an investigation into the suspected Chinese spy balloon downed in February.
The FT quoted four people familiar with the matter as saying that "China had told the U.S. it was not prepared to reschedule a trip that Blinken cancelled in February while it remains unclear what the administration of President Joe Biden will do with the report."
It is unclear when the trip would be rescheduled.
The U.S. military shot the Chinese balloon down over concerns that it was spying on U.S. military installations but China insisted that it was a weather balloon blown off course due to "force majeure." 
The incident led to Blinken abruptly canceling his ties-mending trip to Beijing, during which he was expected to call on Chinese leader Xi Jinping.
The relationship between Washington and Beijing has been strained in the last few years over issues such as China's threats to Taiwan and security concerns in the Indo-Pacific.
Upgrading U.S.-Vietnam partnership
Antony Blinken arrived at Karuizawa in Nagano prefecture in central Japan on Sunday after a visit to Vietnam to promote strategic ties with the communist country.
This was Blinken's first visit to Hanoi as U.S. Secretary of State.
The U.S. is building a U.S.$1.2 billion compound in Hanoi, one of its largest and most expensive embassies in the world.
During his visit, Blinken met with Vietnam's most senior officials, including the General Secretary of the Communist Party, Nguyen Phu Trong, to discuss "the great possibilities that lie ahead in the U.S.-Vietnam partnership," the secretary of state wrote on Twitter.
Two weeks before Blinken's visit, Trong and his U.S. counterpart Joe Biden had a phone conversation during which the two leaders agreed to "promote and deepen bilateral ties," according to Vietnamese media.
Former enemies Hanoi and Washington normalized their diplomatic relationship in 1995 and in 2013 established a so-called Comprehensive Partnership to promote cooperation in all sectors including the economy, culture exchange and security.
Vietnam's foreign relations are benchmarked by three levels of partnerships: Comprehensive, Strategic and Comprehensive Strategic.
Only four countries in the world belong to the top tier of Comprehensive Strategic Partners: China, Russia, India and South Korea.
Vietnam has Strategic Partnerships with 16 nations including some U.S. allies such as Japan, Singapore and Australia.
U.S. officials have been hinting at upgrading the ties to the next level Strategic Partnership which offers deeper cooperation, especially in security and defense, amid new geopolitical challenges posed by an increasingly assertive China.
Vietnamese Prime Minister Pham Minh Chinh told the U.S. Secretary of State on Saturday in Hanoi that the consensus reached amongst the  Vietnamese leadership is to "further elevate the bilateral partnership to a new height" adding that "relevant government agencies have been tasked with looking into the process."
Vietnam analysts such as Carl Thayer from the University of New South Wales in Australia said that an upgrade of Vietnam-U.S. relationship to Strategic Partnership within this year is possible, despite concerns that it would antagonize Beijing.
The U.S. is currently the largest export market and the second-largest commercial partner for Vietnam.
Hanoi aims to benefit across the board from U.S. assistance, especially in trade, science and technology, Thayer told Radio Free Asia. 
Vietnam as one of the South China Sea claimants has been embroiled in territorial disputes with China and could benefit from greater cooperation in maritime security.
In exchange, "the U.S. would benefit indirectly by assisting Vietnam in capacity-building to address maritime security issues in the South China Sea to strengthen a free and open Indo-Pacific," said Thayer.
"The U.S. is trying to mobilize and sustain an international coalition to oppose Russia's war in Ukraine and to deter China from using force against Taiwan and intimidation of South China Sea littoral states," the Canberra-based political analyst said.
Hanoi's priority
Some other analysts, such as Bill Hayton from the British think tank Chatham House, said that there might have been a miscalculation on the U.S.'s part.
"Washington is now taking itself for a massive ride in its misunderstanding of what Vietnam wants from the bilateral relationship," Hayton said.
"All the Communist Party of Vietnam wants is regime security. It has no interest in confronting China," the author of "A brief history of Vietnam" said.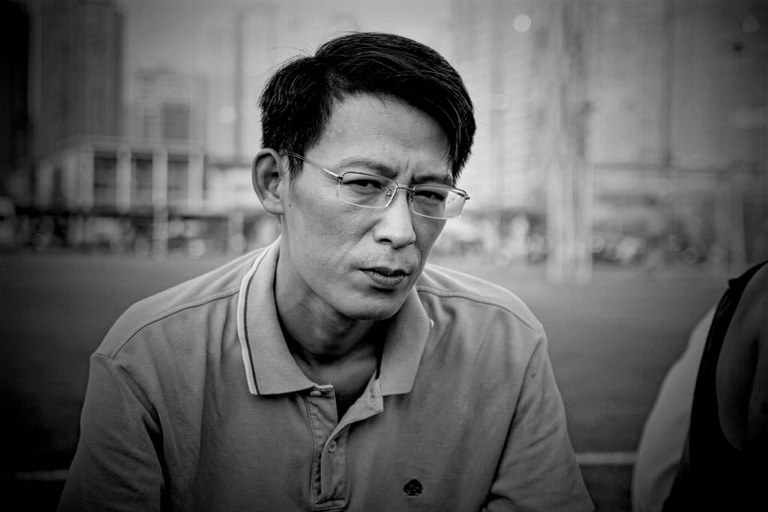 Just before Blinken landed in Hanoi, a dissident blogger was sentenced to six years in prison for "spreading anti-state propaganda."
Nguyen Lan Thang was also a contributor to Radio Free Asia.
The U.S. State Department condemned the sentence and urged the Vietnamese government to "immediately release and drop all charges against Nguyen Lan Thang and other individuals who remain in detention for peacefully exercising and promoting human rights."
"Vietnam is an important partner in the Indo-Pacific, and that partnership can only reach its full potential if the government of Vietnam takes concerted steps to meet its obligations and commitments under international law and improve its human rights record," a State Department spokesperson said, according to Reuters.
Yet two days later, friends of another blogger, Thai Van Duong, alleged that he was kidnapped by Vietnamese agents and transferred back to Vietnam. Thai was in Bangkok where he was waiting for his political refugee application to be vetted by UNHCR. 
"That was clearly a message from the Ministry of Public Security, demonstrating its power in the face of the United States," said Bill Hayton.
"Washington is so keen to establish a strategic partnership with Vietnam that the Vietnamese security establishment thinks it will ignore those events," he added.
Story has been updated to include a statement by Japan's Foreign Affairs Ministry.
Edited by Mike Firn.