A growing share of wealthy and middle class Chinese are making plans to leave the country, citing the government's stringent zero-COVID policies and a perceived return to the planned economy of the Mao era under leader Xi Jinping, according to online data and Chinese nationals with experience of the phenomenon.
The WeChat Index, which publishes search statistics from the social media giant, on Thursday showed around 38.3 million searches using the keyword "emigration." 
While the #emigration hashtag wasn't blocked on Weibo on Thursday, the number of views was in the tens of thousands, with much of the content focusing on the disadvantages of living overseas, suggesting some kind of intervention by the ruling Communist Party's "public opinion management" system. 
At their peak, search queries for the keyword "emigration" hit 70 million several times during the Shanghai lockdown between March and May, and 130 million immediately afterwards. The same keyword also showed peaks on Toutiao Index, Google Trends and 360 Trends between April and the end of June 2022. 
Two highly educated Chinese citizens told RFA in recent interviews that they and their friends are either leaving or planning to leave soon, as the grueling zero-COVID program of rolling lockdowns, compulsory mass testing and tracking via the Health Code smart phone app have taken their toll on people's mental and physical health, not to mention their livelihoods and the economy as a whole.
Gao, a Shanghai-based financial executive who asked for his full name to be withheld for fear of reprisals, said that lately he has been binge-watching YouTube videos in Mandarin from consultants promising to offer Chinese nationals a better life — in the Pacific nation of Vanuatu, in Moldova, even war-torn Ukraine — anywhere, in short, but China.
The phenomenon even has its own code name using a Chinese character playing on the English word "run."
"I strongly and strongly encourage everyone to run!" gushes one immigration consultant on a YouTube video viewed by RFA. 
"Today I will be sharing how easy it is to emigrate to the United States," the YouTuber promises. "It is very likely that after watching this video, you will start re-examining your life and making plans."
'Lost all hope for the future'
Gao, who had absorbed a number of such videos before speaking to RFA, said he has been looking for somewhere else to live for some time now.
"The current situation isn't looking very good," he told RFA. "Since the 20th party congress [last month], everyone has lost all hope for the future."
"Everyone has looked at their ideas, their values, their policies, the stringency of the zero-COVID policy, the return to a planned economy and heavy-handed suppression [of dissent], and come to their own conclusions," Gao said, adding that he and his high-earning friends all share the same view.
"The fact that we are facing economic collapse — there's nothing left worth staying on for," he said. "Everyone is taking a risk-averse approach to planning their future, because the risks associated with staying are getting bigger and bigger."
Chinese social activist He Peirong, who has nearly 40,000 followers on Twitter, said she had just left for Japan.
"I had been preparing to leave the country since July, but I didn't let anyone on WeChat know that I was leaving," she told RFA. "I spent more than 10,000 yuan on home renovations, and I left halfway through."
"China has set off an immigration wave," she said. "A lot of people are now heading off to live in Japan, Europe and the United States. Where people go depends on their economic situation."
She said she had also visited an emigre Chinese arts and cultural community in Chiang Mai, Thailand.
"We would eat, drink and perform together every day; everyone was very happy," she said. "There are a lot of cultural types who have congregated there … and who aren't going back."
Before she left, He Peirong had been a vocal critic of the ruling Chinese Communist Party, and was instrumental in aiding the daring escape from house arrest and subsequent defection of blind Shandong activist Chen Guangcheng.
She later took supplies to Wuhan to support citizen journalists reporting from the front line of the COVID-19 pandemic in 2020.
She said she decided to leave China after being barred from the railway ticketing system owing to a poor "social credit" rating.
"In the fall of 2018, I was blacklisted by the ministry of railways, so I filed a lawsuit against them," she told RFA.
Long waiting lists
There are currently very long waiting lists for people hoping to emigrate to Europe, the United States, Canada or Australia, while price tags for investment visas in those countries are also fairly high.
Southeast Asian nations are seen as too risky, due to their close ties with China, and willingness to deport Chinese nationals wanted by the authorities back home.
Rights groups say China currently engages in illegal, transnational policing operations across five continents, targeting overseas Chinese for harassment, threats against their families back home and "persuasion" techniques to get them to go back, according to a recent report. 
Hong Kong, itself in the grip of a citywide national security crackdown and mass emigration wave following the 2019 protest movement, is also no longer a safe springboard to overseas residency, Gao said.
Gao is now looking at Ukraine, where he already has a friend.
"Ukraine is war-torn right now, but that won't go on for long … there is all kinds of hope and vitality in the future of this country," he said. "I have a friend living in the westernmost part of the country, where there's no fighting, and they are living quite peacefully."
"People have told me that you can apply for a business visa in Ukraine, set up a small company, and then … go and settle down there before pursuing other options," Gao said.
Failing that, Gao is also looking at neighboring Moldova, where visa processing times are fairly short. He said he is keen to leave China as soon as possible.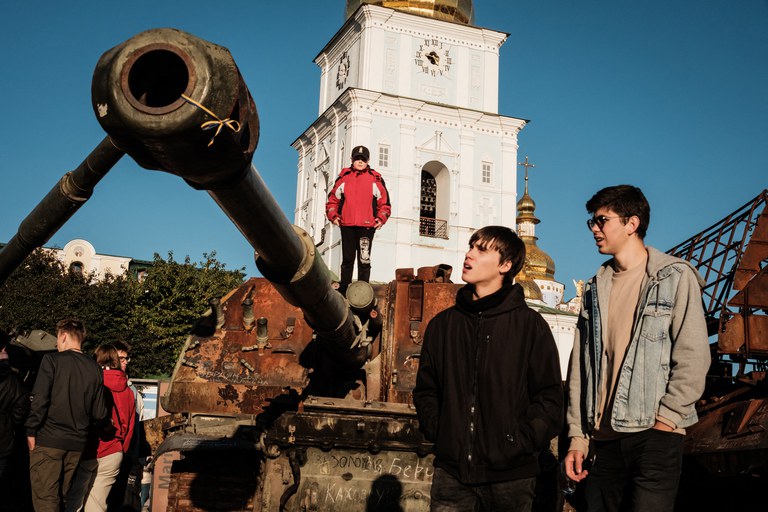 Immigration consultancies
The exodus of the Chinese middle class has given rise to a plethora of immigration consultancies.
An employee who answered the phone at one such consultancy in Shanghai said they are advising clients to try for a visa to Vanuatu while they are waiting for visas to more popular destinations like Canada, which currently has an immigration backlog of two to three years.
"There are long waits for Canada right now, so it could take two to three years," the employee said. "I would recommend Vanuatu to you, because it's quicker to process everything."
"If you need to leave quickly, you can get a green card in just one week, and a passport in a month," they said. "Vanuatu supports dual nationality, so you can retain your Chinese citizenship if you want to."
"You could then use the Vanuatu passport as a stepping stone, which will be an easier and more convenient way to go to countries like Australia and New Zealand, which is harder for us here in China," the employee said.
They cited the ongoing zero-COVID policies as a key factor motivating their company's clients.
'Middle class anxiety'
Chinese political scientist Chen Daoyin, who recently emigrated overseas, said he is not alone, and that the exodus is concentrated in the middle classes who had tasted the fruits of 40 years of a market-oriented economic policy, and who are worried about where China is headed following the 20th party congress.
Faced with unbearable situations caused by zero-COVID, they are choosing to uproot everything and leave, he said. 
"I call this phenomenon middle-class anxiety," Chen told RFA. "Most of the middle class grew up under the market-oriented economic reforms and opening up [to the rest of the world], and experienced all of the changes and freedoms it brought."
"Since the start of the pandemic, and especially since the 20th party congress, the future direction of China has become much clearer, and this anxiety has given rise to the 'run' phenomenon," he said.
"The middle class is voting on the present situation in China with their feet; they don't trust Xi Jinping, so this is a vote of no confidence, and a vote for freedom over the current situation," Chen said.
And there are indications that the authorities may be about to clamp down on immigration consultants who help people leave the country.
A WeChat account using the handle @SunnyImmigrantVisaPermanentResidentPassportProject, which is marked as being located in the eastern province of Jiangsu, posted on Thursday: "Have just received orders from the company overnight to delete all immigration-related content from WeChat Moments and withdraw from all WeChat groups relating to emigration."
The account said some of the company's employees had been hauled in for questioning by the state security police, using the euphemism "drinking tea." 
"Some of my colleagues have been invited to drink tea," said the post. RFA was unable to verify the content of the post independently. "[The authorities] may be about to undergo rectification. Maybe there won't be any immigration consultancies left in future to help anyone."
Translated and edited by Luisetta Mudie.