China's zero-COVID policy has been marked by rolling, grueling urban lockdowns, constant demands for mass testing in affected areas and round-the-clock tracking of residents' movements and test status via the Health Code smart-phone app.
On Friday, the Chinese government released a package of 20 new policy measures aimed at "optimizing" the country's pandemic response, including slightly relaxed quarantine requirements for new arrivals, but is unlikely to result in China opening up measurably in the next few months.
Officials are now ordered to drop attempts to identify secondary contacts, while many people will be ordered to quarantine at home rather than in a camp if they return to their homes from a "high-risk" area. There will now only be high or low-risk areas, with medium-risk no longer a recognized category, the new regulations said.
Close contacts of confirmed cases will still be required to stay in quarantine facilities for five days, rather than seven, followed by three days' monitoring at home.
The move marks a relaxation of the zero-COVID policy, espoused by Chinese Communist Party leader Xi Jinping as the only way forward when it comes to containing the virus, has also led to a number of secondary disasters, prompting growing public dissatisfaction with the policy and widespread censorship of dissenting voices.
But commentators told Radio Free Asia that zero-COVID is far from being just a stringent set of public health measures. It's a political project close to Xi's heart, and includes many layers of control over people's movements and access to vital goods and services.
"The pandemic measures were originally a professional matter involving public health management and medical measures to prevent the spread of disease," veteran rights activist Yang Jianli said.
"In today's China, disease control and prevention is no longer professional: it's political, and has given rise to [a series of] man-made disasters."
Reiterating commitment
Xi recently reiterated his commitment to the zero-COVID policy, saying in his speech to the party congress last month that the government must "unswervingly stick to the zero-COVID policy."
The all-powerful Politburo Standing Committee reiterated this commitment on Nov. 10, a day before the quarantine requirements were relaxed.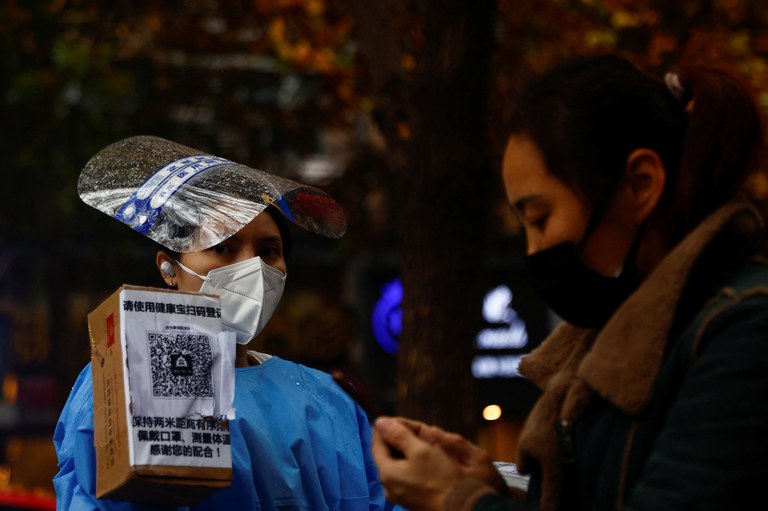 The announcements came after months of reports of collateral victims of the policy, which first started to emerge during the April 2022 lockdown in Shanghai, when pandemic enforcers wearing full-body PPE were shown dragging children away from their parents, to send them to segregated quarantine camps outside of town.
In one report from Reuters at the time, a 2 ½-year-old child was taken away from his parents at the Jinshan district public health clinic after testing positive for COVID-19.
A viral video of the children's segregated quarantine facility at the Jinshan Public Health Clinical Center showed dozens of children lying in iron cots, many of them disheveled and crying, amid a general lack of care and treatment.
The hospital said the video was filmed at a time when the children's ward was being moved to "improve the hospital environment" and free up more space for infants and young patients who tested positive.
Eventually, public anger over the forced separation of children from parents grew, prompting the French Consulate in Shanghai to issue a letter to the city government on behalf of 24 EU member states, calling for a total ban on the separation of parents and children "under any circumstances."
Psychological toll
Wang Yaqiu, China researcher at the New York-based Human Rights Watch, said the incident was one example of many harms caused by the zero-COVID policy.
"We don't know how serious the psychological trauma has been for people," Wang said. "Even if you don't die due to lack of treatment, you can still be in a state of extreme anxiety, which has long-term psychological effects [on a person]."
"It won't be visible now," he said, "but it will become so later."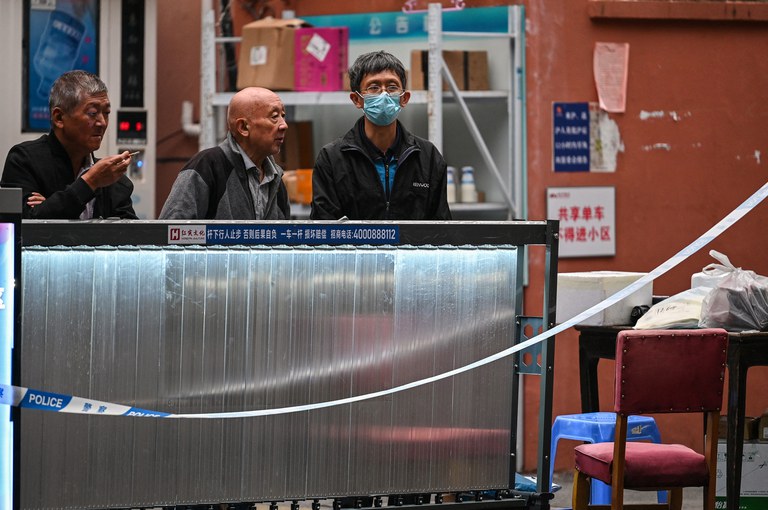 In August 2022, the internet once more reacted angrily to a video showing a quarantine bus used to haul people off to isolation camps equipped with just a plastic bucket for passengers' toilet needs.
"Are we livestock? Is this what you are treating us like — pigs?" shouts a passenger angrily on a video from that time, as two pandemic enforcers refuse to allow them to get off the bus and order the driver to close the bus doors.
A couple of weeks later, residents of apartment blocks in the southwestern city of Chengdu, capital of Sichuan province, found they were locked into their buildings despite running outside for their safety during a 6.8 magnitude earthquake that hit Luding county on Sept. 5, with the tremors strongly felt in Chengdu.
Residential compounds were locked, some fire escapes were blocked, while pandemic enforcers refused to open the doors to let people leave.
Meanwhile, reports emerged in the eastern province of Jiangxi that a 12-year-old girl was raped in her own home after being left alone when both parents were sent to separate isolation camps.
Police later confirmed they had arrested a man surnamed Liu who it later emerged was the village party secretary and a member of the Guixi Municipal People's Congress.
Worsened social problems
Wang said the zero-COVID policy has tended to make existing social problems worse.
"There are a lot of social problems in normal times to begin with," she said. "One is that China lacks an independent judiciary, so your rights can be violated, and if you try to take the government to court, you will definitely lose."
"Secondly, there is no press freedom, so you can't go to the media to tell them about some injustice that happened to you, and there is no internet freedom any more," she said. "[Under zero-COVID], these social injustices and rights violations get exacerbated."
By October, residents of Beijing were finding that they were being caught out in public places by a change of their COVID-19 status, simply because they had crossed paths with someone in public who later went on to test positive.
Someone made a meme depicted a group of beleaguered rock-climbers in Beijing's Fangshan district, who had reportedly not been rescued sooner because the rescue teams were unwilling to risk getting a red or amber code that close to neighboring Hebei province, then a designated risk area for COVID-19.
Meanwhile, the government was handing out lucrative construction contracts to companies to build quarantine camps and isolation facilities to house people testing positive, or close contacts of cases.
Xia Ming, political science professor at New York's City University, said there are powerful vested interests making huge profits out of the zero-COVID policy, via collusion between companies and local government officials, all of whom get a slice of the cake.
"Vested interests will always want to expand their areas of vested interest," Xia told RFA. "But the most fundamental issues, like how do people survive, how do they eat, can't be ignored by any government."
"Such total controls will be unsustainable if they continue to destroy people's livelihoods," he said.
"My son is a victim"
An unknown number of people with pre-existing medical conditions have also died during lockdowns, as hospitals insist on a negative test result for admission, a requirement that takes too long to meet for some patients.
On Oct. 18, a 14-year-old girl in the central province of Henan died after developing a high fever at an isolation facility who wasn't treated for two days straight.
And a mother in Chengdu posted a video mourning for her son, who died during lockdown in the city after missing crucial medical treatment for an existing illness. "My son is a victim of these disease control measures," she said.
Yang said officials are strongly motivated to ignore people's suffering and death in order to keep a strong performance record, which are now closely tied to the meeting of COVID-19 infection prevention targets.
"We have seen some absurd phenomena taking place," Yang said. "Doing a PCR test every day costs everyone money."
"And, if they're spending so much of their medical and human resources to carry out testing, why aren't they also vaccinating people?" he said.
"There is now a good supply of [internationally made] vaccines, so why doesn't China import them, and mobilize the whole of society to get vaccinated?" he said. "That would be much better than having to do a PCR test every day."
In late October, a Twitter user with the handle "Petrichor" posted a video showing people in the northwestern city of Lanzhou, forcibly quarantined in public toilets, with beds placed on the floor next to the toilet. 
Another video also showed people forced to quarantine in single-digit temperatures in an outdoor parking lot on camp beds and thin bedding.
"Zero-COVID is the top priority for local governments," Wang said. "If people die because of other diseases or because they can't get food, that's secondary."
"They don't need to do the right thing … Their leaders say zero-COVID is the priority, so that's the priority. In the end, it's really a systemic issue," she said.
And it's getting harder and harder to leave the country, with nationwide bans on "non-essential" travel at major ports and airports, and orders to surrender valid passports, with a moratorium for most people on new passports.
Income gap
People are also finding that it's easier to keep your traffic-light-style Health Code in the green if you have money, while people sent to isolation are forced to pay for their own food and lodging.
"When people hold power that can't be challenged, they will definitely use it in a reckless manner," Yang said. 
Authorities in the southwestern city of Chongqing and in southwestern Yunnan province introduced a centralized isolation fee payment system, with anyone going into quarantine forced to pay for their entire stay up front, as well as settling up any extras before getting released.
According to Xia, zero-COVID has brought financial disaster down on many households, amid an economic downturn and an ever-widening gap between rich and the poor.
The situation is a recipe for growing public anger and acts of unrest and resistance, he warned.
Translated and edited by Luisetta Mudie.