The future rules of the international order are playing out in Ukraine's war zones, President Volodymyr Zelenskyy told the Shangri-La Dialogue security forum in Singapore as he rallied support for his country Saturday in its fight against Russia's invading forces.  
The Ukrainian leader appeared on a giant screen as he addressed delegates from 40 countries, who were attending Asia's preeminent international security forum, via a video-link from an undisclosed location in the capital Kyiv. 
"I am grateful for your support … but this support is not only for Ukraine, but for you as well," said Zelenskyy, who wore a black t-shirt as he spoke to delegates dressed in formal clothes.
"It is on the battlefields of Ukraine that the future rules of this world are being decided along with the boundaries of the possible."
The Russian invasion of Ukraine has divided countries in the Asia-Pacific region, with some finding themselves wedged between Sino-U.S. frictions and strategic differences over the issue.
"Russia's invasion of Ukraine is what happens when oppressors trample the rules that protect us all," U.S. Defense Secretary Lloyd Austin said in a speech at the Singapore forum earlier in the day.
"It's a preview of a possible world of chaos and turmoil that none of us would want to live in," he said, adding that "the rules-based international order matters just as much in the Indo-Pacific as it does in Europe."
In his late-afternoon speech to the high-level delegates gathered in Singapore, the Ukrainian president listed alleged atrocities committed by Moscow's forces and said Russia had destroyed "all achievements of the human kind."
As Ukraine is unable to export enough food because of a Russian blockade, "the shortage of foodstuff will lead to chaos," Zelenskyy said.
"We must stop Russia. We must stop the war," he pleaded.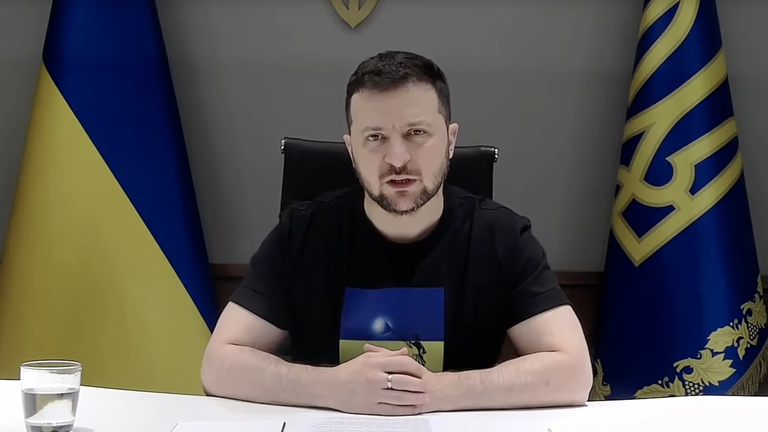 Pre-emptive measures
Responding to a question that drew a parallel between Ukraine and Taiwan, the Ukrainian leader said the world "must use pre-emptive measures" and come up with diplomatic resolutions to support countries in need, not leaving them at the mercy of more powerful nations.
Zelenskyy did not mention China by name, but Beijing has always insisted that "Taiwan is not another Ukraine." Beijing considers Taiwan one of its provinces and as an inalienable part of China.
So far, China has refrained from condemning Russia for its actions in Ukraine. In February Chinese leader Xi Jinping and Russian President Vladimir Putin proclaimed a "no limits" partnership with no "forbidden" areas of cooperation.  
In Southeast Asia, most countries have hesitated in denouncing  Russia or joining in international sanctions against Moscow. The ASEAN regional bloc has found it difficult to come up with a clear and united framework when dealing with the Russian war.
Some members of the Association of Southeast Asian Nations that experienced sanctions in the past are close to Russia and vehemently oppose them.
On Saturday, Cambodian Defense Minister Tea Banh told the security forum in Singapore that "the use of sanctions in any form is not the right option to solve problems."
When it was his turn to speak, Malaysia's defense chief pointed to how the war in Ukraine was testing regional security alliances such as the North Atlantic Treaty Organization.
"Members of NATO have met Russia's invasion of Ukraine with outrage, deploying thousands of troops to Eastern Europe to protect their alliance members," Minister Hishamuddin Hussein told the forum.
"Even though Ukraine is not a member of the alliance, the potential of the conflict sparking into a much larger world war exists and the fear of it becoming a reality is conceivable, as much as we want to deny it."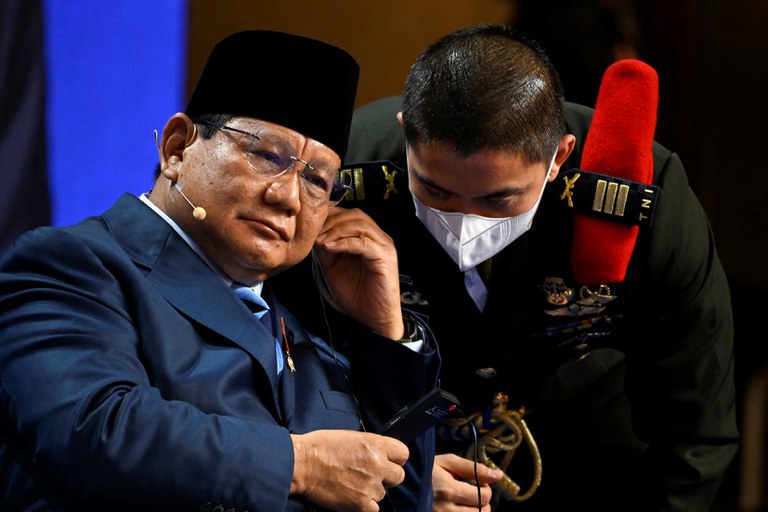 Rules-based international order
The war in Ukraine has featured prominently during sessions at the Shangri-La Dialogue so far.
Austin, the U.S. defense secretary, said that "Russia's indefensible assault on a peaceful neighbor has galvanized the world."
"It's what happens when big powers decide that their imperial appetites matter more than the rights of their peaceful neighbors," he said in a thinly veiled reference to China.
The Ukraine war highlights "the dangers of disorder," Austin said, as he urged countries in the region to cooperate to strengthen the rules-based international order.
It's yet to be seen, though, how his calls resonate among smaller nations in Southeast Asia who, up to now, have remained reluctant to pick sides.
For his part, the defense chief of Southeast Asia's largest country indicated that Indonesia was keeping an eye on the situation in Ukraine, but throughout its history as a nation, Jakarta has pursued an "Asian way" in approaching challenges to its security amid big-power rivalries, he said.
"The situation in Ukraine teaches us that we can never abandon our security and independence and never take them for granted. Therefore, we are determined to strengthen our defense. Our outlook is defensive, but we will defend our territory with all of our resources," Indonesian Defense Minister Prabowo Subianto said in his speech Saturday to the Singapore forum.
"In our experience, over the last 40 to 50 years, we have found our own way, the Asian way, to solve this challenge. We decided that our shared experience of being dominated, enslaved, and exploited, forced us to struggle and create a peaceful environment," he said.