Police in Hong Kong have arrested six people on public order offenses around the 33rd anniversary of the Tiananmen massacre near Victoria Park, commemoration of which has been banned under a draconian national security law for the third year in a row.
Police said they had arrested five men and one woman aged 19-80 by 11.30 p.m. on June 4 after stepping up patrols around Causeway Bay and Victoria Park and warning people not to try to stage their own personal memorials.
The six arrestees were taken away on charges that included "inciting others to take part in an illegal assembly," "possessing an offensive weapon" and "obstructing police officers in the course of the duties."
The soccer pitches, basketball courts and central lawn areas — where mass candlelight vigils had taken place for three decades since the June 4, 1989 massacre by the People's Liberation Army (PLA) in Beijing — were reopened on Sunday after being closed to the public.
Police remained at the park on Sunday, stopping passers-by for questioning, but otherwise allowing people in and out again.
Large numbers of Hongkongers in exile turned out to mark the massacre in London at the weekend, lighting candles and writing messages of commemoration, including outside the Chinese Embassy, where protesters mock-charged the building with paper effigies of tanks, only to be pushed back by police.
Protesters held up photos of political prisoners jailed in Hong Kong under a draconian national security law imposed on the city by the ruling Chinese Communist Party (CCP) in the wake of the 2019 protest movement, which called for universal suffrage and greater official accountability, as well as opposing plans to allow extradition to mainland China.
A former Hong Kong teacher who gave only the English name Jeremy said he had emigrated to the U.K. with his family, and had continued his annual attendance at the vigil in London, this time bringing his daughter along too.
"The regime did something wrong, and we are here as proof of that, and to tell the next generation that justice should be done, and that someone should admit responsibility for that wrongdoing," he said. "It's that simple."
"The people of Hong Kong see you, and we haven't forgotten the June 4 massacre," he said.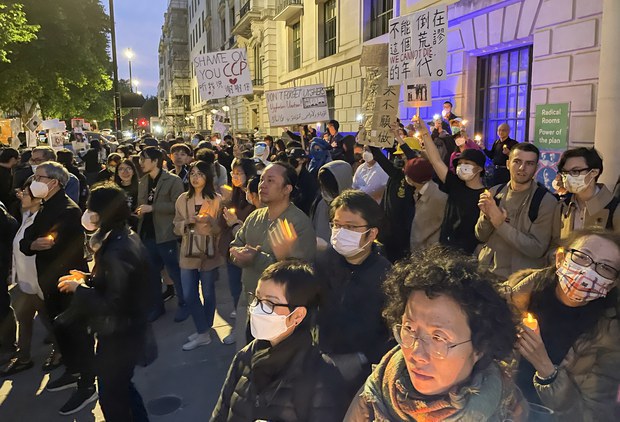 Danger to families
A participant who gave only the surname Liew said Hongkongers are beginning to have similar fears to mainland Chinese in exile, namely that their friends and families back home could be targeted if they speak out overseas.
"Of course I'm scared too, but my view is that if we do nothing, they'll be even more contemptuous of our rights," she said. "They won't go any easier on us if we do nothing; the abuse of our rights will only intensify."
Around 2,000 people turned out to mark the anniversary on the democratic island of Taiwan, many of them chanting now-banned slogans from the 2019 protest movement including "Free Hong Kong! Revolution now!"
A replica of the now-demolished Pillar of Shame sculpture that once stood on the University of Hong Kong campus formed a focal point for the event, as Taiwan president Tsai Ing-wen wrote on her Facebook page that the authorities in Hong Kong are currently working to erase collective memory of the massacre.
The country's foreign affairs ministry sent an open letter to the people of China in the simplified Chinese used in China, calling on them to research the massacre for themselves, beyond the Great Firewall of internet censorship.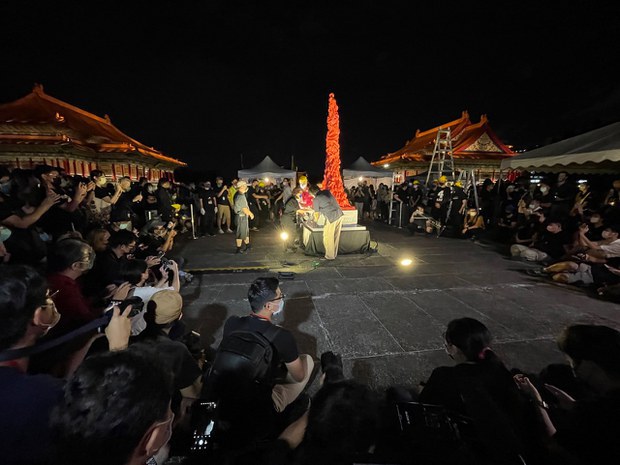 Hong Kong artist Kacey Wong, now in exile in Taiwan, gave a speech to the crowd, saying the CCP fears such events because of how many people they killed.
"Friends looked for friends in piles of corpses, wives looked for husbands in piles of corpses, parents looked for their sons and daughters among the blood and corpses," Wong said. "The Chinese Communist Party is very afraid of passing on [that knowledge] from generation to generation, but that's exactly what we want."
"Make sure everyone knows they killed those people … fight for freedom and democracy, and then their deaths will have made sense."
Back in Hong Kong, national security judge Peter Law handed over the "subversion" cases of 47 former opposition lawmakers and democracy activists to the High Court, paving the way for potential life imprisonment under the national security law for organizing a democratic primary in 2020.
Translated and edited by Luisetta Mudie.