A string of recent defections and public apologies by opposition party officials and critics of Prime Minister Hun Sen has given the longtime leader a boost less than three months before July's parliamentary elections.
The high-profile defections to the ruling Cambodian People's Party are just the latest – at least nine opposition party officials have switched their allegiance to the CPP since November 2022 as the party works to co-opt and silence opposition figures.
On Sunday, the president of the little-known Khmer Win Party was appointed to be the secretary of state of the Council of Ministers. Suong Sophorn has been a fierce critic of Hun Sen and once served as the youth movement leader of the Cambodia National Rescue Party, the country's main opposition party before it was banned in 2017.
"I, Suong Sophorn, have made a clear decision to join my political life with the CPP," he said in a pre-recorded video addressing both Hun Sen and the prime minister's son and presumed successor, Hun Manet. 
"I love my nation and love my people dearly. However, being in the opposition, I appear to think that I have contributed so little to the nation and our homeland, so I have made a clear decision to join the government so that I may use my abilities to serve our people directly."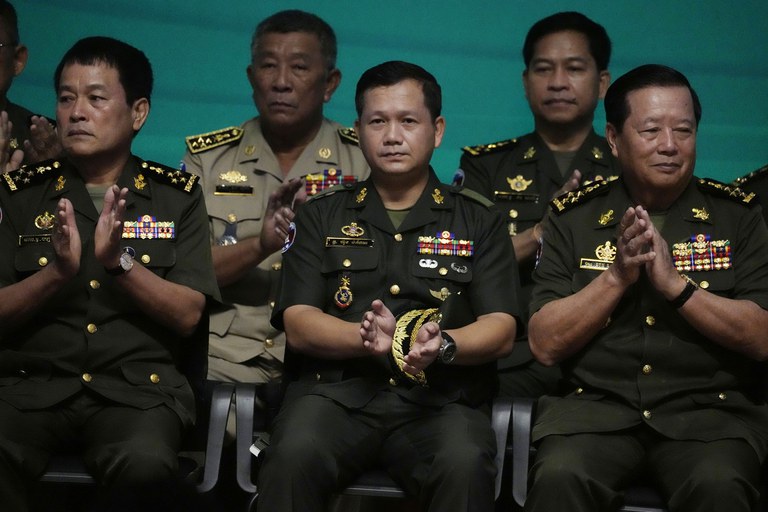 'I was too young'
The video was posted on Hun Sen's Telegram channel. On Monday, the prime minister posted on the same channel a handwritten apology letter and a pre-recorded video from the deputy chief of the opposition Candlelight Party's organization in Takeo province.
Ir Channa, a Norwegian citizen and a former outspoken border critic, was arrested last year after he returned from exile to support the Candlelight Party in last year's local commune elections.
Speaking from jail, he apologized for information he shared on Facebook in 2020 regarding the possible return to Cambodia of a top opposition leader. 
"I admit all these mistakes and leniently beg you to accept my apologies," he said. "I pledge to always comply with the national laws and the constitution of Cambodia."
He was released later on Monday, and Hun Sen posted another video clip in the evening of Ir Channa thanking him. Ir Channa did not mention whether he would defect to the CPP in exchange for his release.
Another critic, Kean Ponlork, also issued a hand-written apology letter and a pre-recorded video on Monday in which he asked to join the CPP.
The former CNRP official was in charge of the party's training department and has also served as the secretary-general of the Federation of Cambodian Intellectuals and Students.
"I, Kean Ponlork, would like to apologize to Samdech Hun Sen for having joined hands with the opposition and civil society, and for providing interviews to Radio Free Asia, Voice of Democracy and The Cambodia Daily to attack your leadership that causes confusion on your legitimate government," he said. "I was too young to be able to fully understand the depth of Cambodian politics." 
Hun Sen responded on Telegram: "I warmly welcome Mr. Kean Ponlork. Since he is residing in Takeo province, the Takeo provincial CPP committee is requested to make proper arrangements for Mr. Kean Ponlork in accordance with the party procedures."
'Positions, benefits and titles'
Last month, former CNRP youth leader Yim Sinorn was appointed secretary of state for the Ministry of Labor and Vocational Training. Just weeks before that, he was in jail. 
Yim Sinorn was arrested in March after posting a comment on Facebook that seemed to highlight the political powerlessness of King Norodom Sihamoni. Another opposition activist, Hun Kosal, was also arrested at the same time for similar remarks.
They were both released after posting their own online apologies to Hun Sen. Afterward, Yim Sinorn met with the prime minister at his home in Kandal province, where he and his family posed for photos as Hun Sen sat at his desk. 
Hun Kosal also recently received a government appointment – undersecretary of state at the Ministry of Land Management and Urban Planning.
Um Sam An, a former CNRP member of parliament, said he's not worried about the possibility of more opposition defections in the coming months. The politicians who share a genuine belief in the future of the nation won't take Hun Sen's bait, he said.
"Both positions, benefits and titles will not be essential for us. What we really want is for a positive change in Cambodia, a true respect of human rights and democracy," he said. 
The recent defections will help clean the "rubbish" politicians away from the true democrats, said Seng Sary, a political commentator who lives in Australia.
"I accept the fact that some defectors are successful in their political life after defections," he said. "However, 95 to 99 percent among those defectors have lost their political lives and their reputations in Cambodian politics."
CNRP Vice President Eng Chhai Eang, who lives in the United States, told Radio Free Asia last week that Hun Sen has, in the past, made serious overtures to him about joining the CPP and the government.  
But last week, the prime minister grew angry after Eng Chhai Eang made critical comments online following the news of the defections of Yim Sinorn and Hun Kosal.
"He posted a comment to mock me," Eng Chhai Eang said. "He said, 'If you want to get the government positions, first you must join the opposition party. If you want, I will pardon you and appoint you to a position in the government.'"
Translated by Keo Sovannarith. Edited by Matt Reed.