Myanmar's military has subjected ethnic civilians in Kayin and Kayah states to "collective punishment" through aerial and ground attacks, detentions that lead to torture or extrajudicial executions, and the razing of villages, according to a new report by London-based rights group Amnesty International.
The report, entitled "'Bullets rained from the sky": War crimes and displacement in eastern Myanmar'" and published Wednesday, found that clashes between the military and armed groups in the two regions reignited in the wake of the military's February 2021 coup and worsened significantly from December to March this year. Hundreds of ethnic Karen and Karenni civilians have been killed in the fighting and more than 150,000 people have been displaced.
"The world's attention may have moved away from Myanmar since last year's coup, but civilians continue to pay a high price. The military's ongoing assault on civilians in eastern Myanmar has been widespread and systematic, likely amounting to crimes against humanity," Rawya Rageh, senior crisis adviser at Amnesty International, said in a statement accompanying the report.
"Alarm bells should be ringing: the ongoing killing, looting and burning bear all the hallmarks of the military's signature tactic of collective punishment, which it has repeatedly used against ethnic minorities across the country."
Amnesty based its report on research it carried out in March and April this year, including interviews dozens of eyewitnesses and survivors of attacks as well as three defectors from the military. The group analyzed more than 100 photos and videos related to rights violations, in addition to satellite imagery, fire data and open-source military aircraft flight data.
Amnesty said that since the coup, the military "has relentlessly attacked civilians" to punish those who purportedly support a particular armed group or the wider anti-junta uprising, while at other times "fir[ing] indiscriminately into civilian areas" where there are also military targets.
"Direct attacks on civilians, collective punishment and indiscriminate attacks that kill or injure civilians violate international humanitarian law and constitute war crimes," the group said.
"Attacks on a civilian population must be widespread or systematic to amount to crimes against humanity; in Kayin and Kayah States, they are both, for crimes including murder, torture, forcible transfer and persecution on ethnic grounds."
Amnesty said it documented two dozen attacks by artillery or mortars between December and March that killed or injured civilians or that destroyed civilian buildings, adding that eyewitnesses said some of the attacks lasted "days at a time."
The group also documented eight air strikes on villages and camps housing refugees fleeing clashes in the first quarter of 2022 that killed nine civilians and injured at least nine others. Eyewitnesses described the attacks on locations where "only civilians appear to have been present" as extremely traumatic, leaving many unable to sleep or unwilling to return to their homes out of fear that they would be targeted again.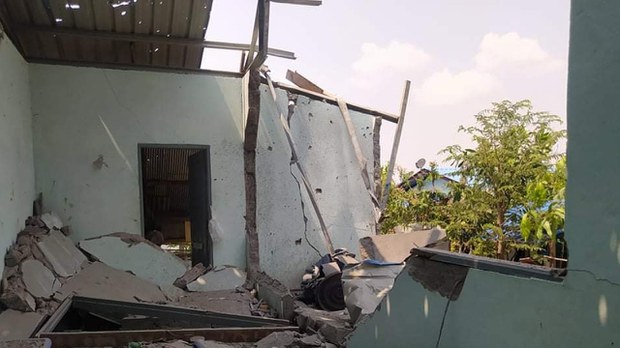 Extrajudicial executions, looting and burning
Additionally, Amnesty's reporting found that the military regularly carried out arbitrary detentions of civilians based on their ethnicity or because of their suspected support of an anti-junta group. Detainees "were tortured, forcibly disappeared or extrajudicially executed," Amnesty said.
The group specifically pointed to an incident that drew international condemnation in Kayah state's Hpruso township on Christmas Eve last year, when the military stopped at least 35 women, men and children in multiple vehicles, killed them, and burned their bodies.
An examination found that many of the victims had been tied up and gagged and were likely shot or stabbed to death. Amnesty has called for an investigation into the incident as a case of extrajudicial executions which, during armed conflict, constitute war crimes, the group noted.
Other incidents mentioned in the report were related to what Amnesty called the military's "systematic" looting and burning of villages in Kayin and Kayah state.
Together, violence in the two regions has displaced more than 150,000 people, the group said, "including between a third and a half of Kayah state's entire population."
The victims of this displacement are forced to shelter in "dire conditions," it said, while aid workers are obstructed by the military from providing them access to much-needed food and health care.
"Donors and humanitarian organizations must significantly scale up aid to civilians in eastern Myanmar, and the military must halt all restrictions on aid delivery," said Matt Wells, Amnesty International's crisis response deputy director for thematic issues.
"The military's ongoing crimes against civilians in eastern Myanmar reflect decades-long patterns of abuse and flagrant impunity. The international community — including ASEAN and U.N. member states — must tackle this festering crisis now. The U.N. Security Council must impose a comprehensive arms embargo on Myanmar and refer the situation there to the International Criminal Court."