Police in northern Laos have seized 12 million methamphetamine pills and arrested two suspects in the fourth major drug haul in the region this year, Lao sources say.
The June 4 operation in Bokeo province's Huayxi district blocked delivery of the drugs to the Lao capital Vientiane, with police also seizing guns and cell phones from the suspects, police sources told RFA on Tuesday.
Arrested were a member of the Lao Hmong ethnic group, age 30 and a resident of Bokeo, and a 29-year-old Lao resident of the northern province of Luang Namtha, one source told RFA, speaking on condition of anonymity for security reasons.
Both are citizens of Laos and told police they had been hired by a dealer in Bokeo's Tonpheung district to move the drugs for around $70,000 U.S. dollars in cash, RFA's source said.
"Everything is now being handled by officials, and we are carrying out an investigation to find out where these drugs came from. Nothing is clear at the moment," he said.
Also declining to be named, a second police official in Bokeo said the suspects' attempt to take the drugs to Vientiane in pickup trucks had failed because of the many police checkpoints set up along the road.
"Most of the drugs we seize come from the northern part of Laos, but we can't say for sure yet whether these drugs also came from the north. This is still under investigation," he said.
"The suspects are Lao citizens and will be punished according to the law."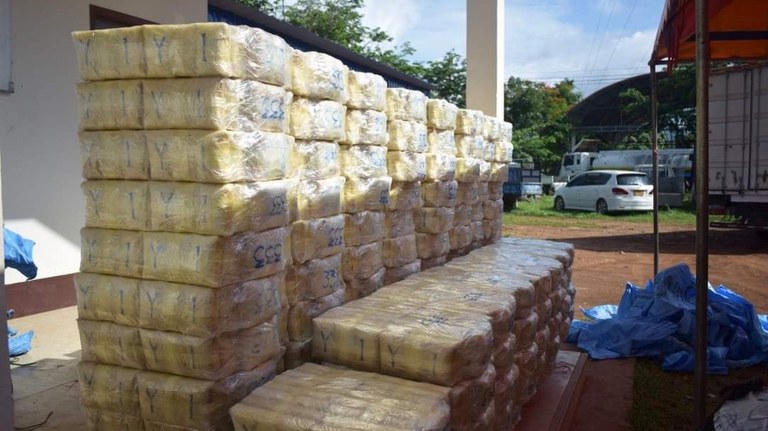 A villager in Bokeo's Tonpheung district told RFA on Tuesday that police have been unable to end the drug trade in the area, where many young people become addicted and then turn to selling drugs themselves, he said.
"If the police let things go on like this, our own children and grandchildren will also become bad people someday. I want the authorities to crack down on this problem," he said.
Police involvement with drugs has also slowed efforts to control the trade, another Tonpheung villager said, speaking on condition of anonymity for security reasons.
"If the police were really serious about solving this problem, all of it would be gone," he said. "The problem still exists because sometimes the police will get drugs from the dealers and then sell them themselves."
The June 4 seizure of drugs in Bokeo was the fourth major haul reported in the province this year, with large quantities of amphetamine pills also seized in January and March, according to Lao media sources.
On May 30, the United Nations Office on Drugs and Crime (UNODC) reported that the trade in synthetic drugs continues to expand in East and Southeast Asia, "with production and trafficking hitting record levels in 2021."
Drug labs in the Golden Triangle area of Thailand, Laos and Myanmar are the major sources of production, "and the supply continues to surge," the UNODC said.
Translated by Phouvong for RFA's Lao Service. Written in English by Richard Finney.