The founder of a major Taiwanese chip-founder has reapplied for nationality of the democratic island after naturalizing as a citizen of Singapore, saying he wants to help in the fight against the military threat from Beijing.
Billionaire Robert Tsao, who founded the United Microelectronics Corp (UMC), told that he has reapplied to hold the passport of the Republic of China, which has controlled Taiwan since it stopped being a Japanese dependency after World War II, saying he hopes everyone will defend the island against the Chinese Communist Party (CCP).
Tsao, 75, joked that he could envision three ways in which he might die, but that he never wants to see Taiwan meet the same fate as Hong Kong, where the CCP has presided over a citywide crackdown on public dissent and political opposition under a draconian national security law, that has seen hundreds of thousands leave the city for good.
"I will once more be a citizen of the Republic of China," Tsao said. "I had to come back; if I'm telling everyone to oppose the CCP, I can hardly skulk overseas myself."
He added: "The people of Taiwan need a morale boost … so I gave up my Singaporean citizenship, and came back here to be with everyone."
Tsao, who was once worth U.S. $2.7 billion, and was among the top 50 richest people in Taiwan, said he has decided he wants to die on the island, which has never been ruled by the CCP, nor formed part of the People's Republic of China.
"The first way [I could die] is illness, which is beyond my control," Tsao said. "The second is dying laughing while watching the fall of the CCP."
"The third also involves laughing, because I never lived to see Taiwan become another Hong Kong," he said. "I decided I will die in Taiwan."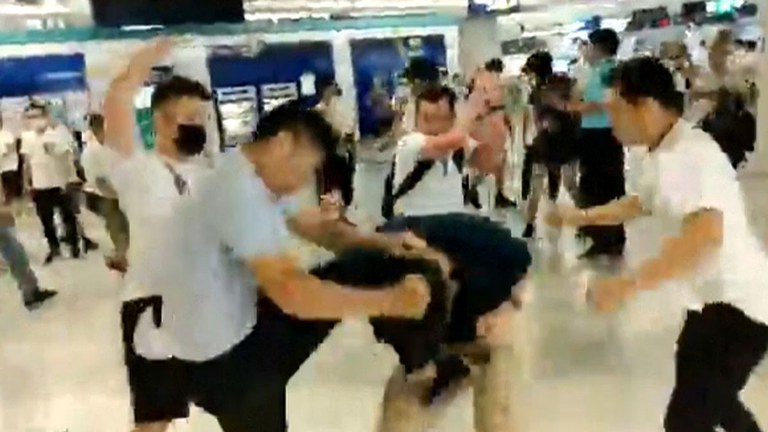 Position change
Tsao was once seen as a pro-Beijing figure who once called for a referendum on whether people supported "peaceful unification" with China, although repeated public opinion polls show that Taiwan's 23 million people have no wish to give up their sovereignty or democratic way of life.
Tsao said his position changed radically after witnessing the July 21, 2019 attacks on protesters and passengers at Hong Kong Yuen Long MTR station by pro-CCP thugs in white T-shirts, while police stood by for 39 minutes and did nothing to stop the attackers, despite hundreds of calls for emergency assistance.
Tsao had also watched in 2014 as the Occupy Central pro-democracy movement pushed back against Beijing's ruling out of fully democratic elections, despite promises that the city would keep its traditional freedoms for at least 50 years after the 1997 handover.
The 2019 protest movement, which began as a mass popular movement against plans to allow extradition to mainland China and broadened to include calls for full democracy and greater official accountability, also made a deep impression on Tsao.
"On July 21, a group of underworld thugs started blatantly attacking ordinary citizens in Yuen Long," Tsao said.
"I said, no! I'm going to oppose the CCP. No going back. I will cut off all ties with Hong Kong, Macau and mainland China."
Defense donation
On Aug. 5, Tsao called a news conference in Taipei to call on everyone to unite against the "evil nature of the CCP," and announced he would donate U.S. $100 million to the country's ministry of defense to boost defenses against a possible Chinese invasion, and to "safeguard freedom, democracy and human rights."
His gesture came in the wake of days of Chinese war games in the air and waters surrounding Taiwan in the wake of the Aug. 2-3 visit by U.S. House Speaker Nancy Pelosi, which Beijing said was a "provocation."
He described the CCP as "a gang of outlaws," and called on Taiwanese voters to boycott pro-unification candidates at forthcoming local elections.
Tsao's two sons hold Taiwan citizenship, and will complete their military training in the course of this year, he told journalists at the time.
Tsao said Pelosi's visit demonstrated that Taiwan doesn't belong to the People's Republic of China, and that Beijing's criticisms showed its "cognitive confusion."
Tsao said the presence of the U.S. 7th Fleet near Taiwan during the Korean War (1950-1953) showed the U.S. was a reliable ally that could be trusted to help defend the island in the event of an invasion by the People's Liberation Army (PLA).
He said democratic systems need to be constantly maintained and improved, if they are to flourish and bear fruit.
Translated and edited by Luisetta Mudie.
This story has been updated to correct the name of Robert Tsao.