Twelve members of a People's Defense Force (PDF) have been shot dead and three others arrested after fighting near Mae Zali Bridge in Myanmar's central Magway region, according to police, a PDF official and local residents.
Locals said a six-wheeled red truck driving from Salin township was inspected by junta security forces at around 6 a.m. Wednesday. Fighting then erupted on Pathein-Monywa road in Pwint Phyu township, killing 12 PDF members in the vehicle.
PDF official Ko Kyar Gyi confirmed the incident and told RFA that the PDF members were not from Pyint Phyu Township. He said the PDF is still trying to find out where they came from.
"PDF groups from other townships confronted the junta forces at the Mae Zali bridge. There were some casualties and arrests from our side by junta forces and also their side had some casualties," he said.
"Our township's PDF group was asked for some help after the fighting and we are assisting. We can explain in detail when the remaining members are safe. It will be announced on our township [social media] page."
The local news outlet Myay Latt Voice said that the PDF members killed Wednesday morning were from Thayat and Kanma Townships in Magway region. It said the vehicle was carrying weapons from Sagaing region and was attacked by the military forces on the way back.
A confidential telegram from Pwint Phyu Police, seen by RFA, stated that a red-six-wheeled vehicle driving along the Pathein-Monywa road from Salin township was stopped by junta forces led by Brigadier General Min Paing Soe near Mae Zali bridge and fighting broke out. It says that 12 PDF members were shot dead and three captured alive. Two of the arrested are said to be in critical condition.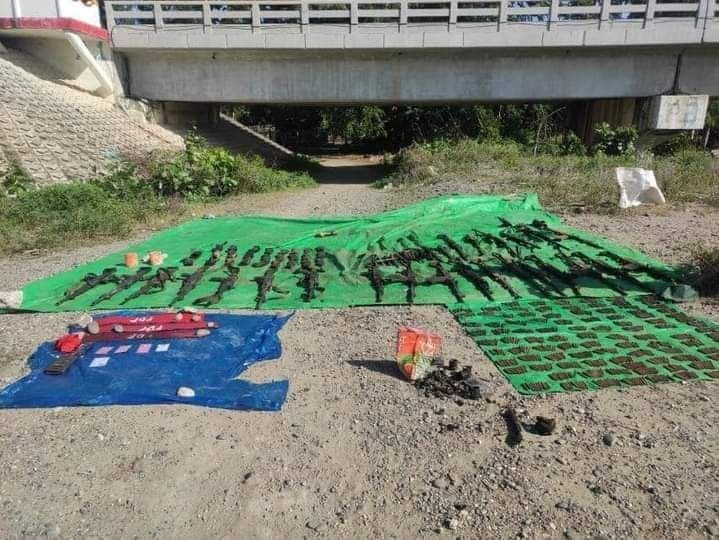 Police confiscated 25 KA-25 rifles and a 40 milimeter grenade launcher according to the telegram.
Residents said 12 people died when a rocket propelled grenade was fired at the vehicle carrying PDF members by security forces guarding the Mae Zali bridge. They said the vehicle was carrying weapons provided by the National Unity Government.
RFA could not independently verify the claims and calls to a military council spokesman went unanswered.
Photographs from pro-military websites show the bodies of the 12 dead PDF members were badly mutilated.
Myay Latt Voice quoted a PDF spokesman as saying members were killed when their vehicle was shot by heavy artillery at close range by military forces.
Magway is Myanmar's second largest region and PDFs there have fought fiercely with junta forces since the coup on February 1 last year.