Two suspected bombings in Hlaing Tharyar Township's No. 5 Ward this morning injured three people, including a child.
The first blast, at around 6 a.m. in a garbage dump on Narawat Road, injured a 30-year-old man walking along the road.
Hlaing Tharyar resident Ko Lwin Oo told RFA a second explosion took place while police and soldiers were investigating the first. It injured a middle-aged woman and a young child.
"The first bomb blast hit the man who was walking at 6 a.m. in the morning. The second bomb exploded when the troops arrived at 7 a.m.," he said.
"A woman and a child in a house close to the blast were hit and the woman has been critically injured, wounding her left arm."
The local said the three injured were picked up immediately by an ambulance but it was still not known which hospital they were taken to.
Ko Lwin Oo said he believed the child to be over 5-years-old. He said he could not tell whether the child was a boy or girl because he only saw the head and the child's red shirt during the immediate evacuation of the injured. It is also unclear if the woman was the child's mother or a relative.
No group has so far claimed responsibility for the blasts. Calls to a military council spokesman by RFA throughout the day went unanswered.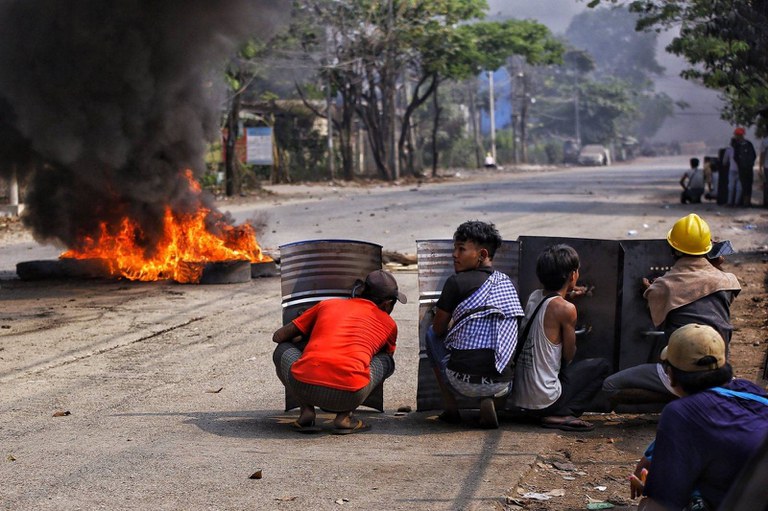 The suspected bombings are the second in a week. On May 31, a bomb blast near the Bar Street bus stop on Anawrahtar Road in Kyauktada Township killed a man and injured nine others.
A military spokesman said the dead man was secretly carrying the bomb and was a member of a local People's Defense Force (PDF).
The shadow National Unity Government (NUG) and members of PDFs in Yangon denied carrying out last week's bombing. They accused the military junta and military-affiliated groups of manipulating the incident to mislead the public.