The World Health Organization says one of its employees was shot dead in Mawlamyine city, Mon State, on Wednesday. Myo Min Htut was killed near a statue of General Aung San close to Than Lwin Park at around 5:45 p.m., the WHO said today.
Myo Min Htut worked as a driver for the WHO Myanmar Office for nearly five years. He was shot dead on his way home from work by motorcycle. The WHO statement offered condolences to his family but gave no further details.
People's Defense Organization Mawlamyine (PDOM) said on its Facebook page yesterday that it was behind the shooting. A statement said that Myo Min Htut used to take the lead in conducting searches for the military junta based on the family's household registration. It said Myo Min Htut had threatened members of the anti-regime Civil Disobedience Movement (CDM) and their families. It said the victim was also a relative of Lt. Gen. Aung Lin Dway, one of the top Military Council leaders. The statement said he was shot five times. RFA has not yet been able to confirm the PDOM's claims.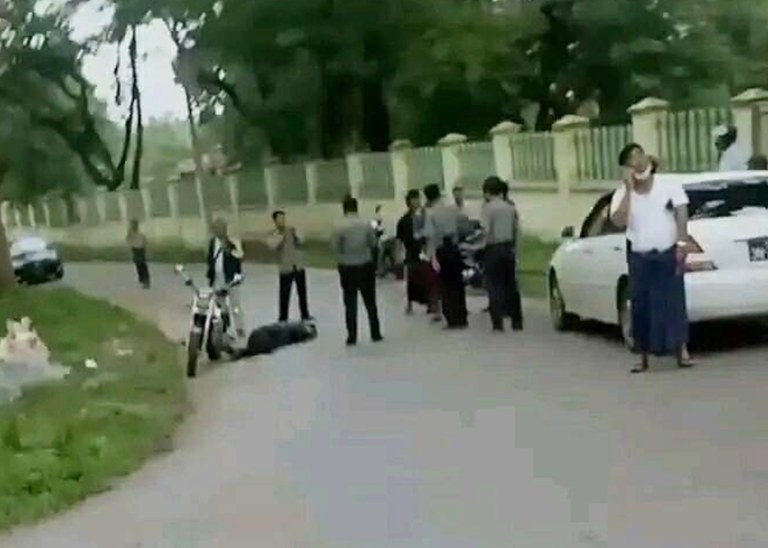 Ramanathan Balakrishnan, the UN Resident Coordinator and Humanitarian Coordinator ad interim in Myanmar, condemned the killing in a statement issued today.
"The United Nations appeals to all parties and stakeholders to respect the neutrality of the United Nations and humanitarians and further calls for all parties to protect the rights and safety of civilians and strongly condemns acts of violence against civilians," the statement said.       
"The United Nations expects an impartial investigation into the incident and the perpetrators to be held accountable."
"During these difficult times, against significant odds, the United Nations continues to stay and deliver essential humanitarian and development support for the people of Myanmar," the statement added.
This is not the first attack on humanitarian workers in Myanmar since the military coup on February 1 last year.
On December 24, two Save the Children staff members were among 35 people killed in a terrorist attack near Moso village, in Hpruso Township, Kayah State.