Junta forces targeted three Sagaing townships this week, killing four civilians and injuring 17, as they continued to try to impose martial law in the region, locals told RFA Friday.
On Wednesday the army turned its heavy artillery on Shwebo township, bombarding Tet Tu village twice, killing a man and injuring 11 people including a four-year-old child.
"The child was hit in the abdomen and another seven people were critically injured," said a local, who didn't want to be named for fear of reprisals. "The other three were slightly injured."
On Thursday the guns turned on Kale township, killing two people and injuring six.
"A heavy artillery shell hit a house in See San village, killing a couple in that house," said a local, who didn't want to be named for safety reasons. "A child and a woman near her house were also injured."
The other locals were injured in attacks on two neighboring villages.
Locals said troops shell their villages nearly every day, and mine explosions are also common.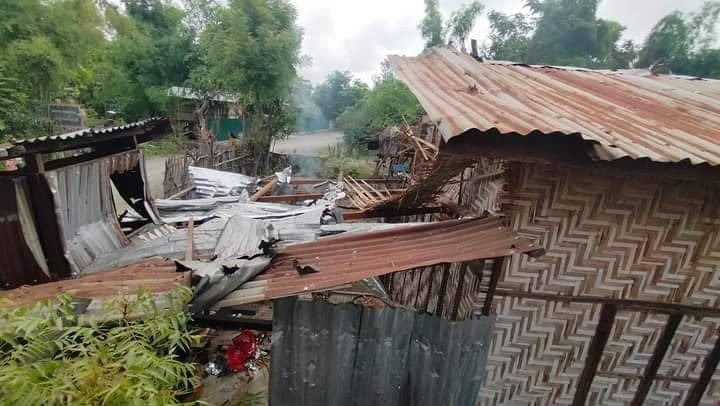 The junta also sent ground troops into Wetlet township Thursday, burning around 100 homes. Locals said an elderly man died in his home in Thone Sint Kan village.
"The column spent the night in Thone Sint Kan village Wednesday night and troops torched the houses when they left on Thursday morning," said a local, who also requested anonymity for safety reasons. "An old man who was paralyzed died in the fire."
Around 40 homes are still standing but residents have fled the village and say they are afraid to return home until troops have left.
The junta has released no statement on the incidents and junta spokesperson for Sagaing region, Saw Naing, did not return RFA's calls.
The junta placed Shwebo and Wetlet under martial law last February but has struggled to seize control of the townships.
Junta leader Senior Gen.Min Aung Hlaing told a military council meeting in Naypyidaw Thursday that he needed to step up security due to serious violence in Sagaing region, Chin and Kayah states.
The continuing violence has brought widespread international condemnation and calls on this year's Association of Southeast Nations chair Indonesia to put more pressure on ASEAN member Myanmar to end the fighting and restore democracy.
The latest came from U.S. Secretary of State Antony Blinken. Speaking on the sidelines of the ASEAN Foreign Ministers' Meeting in Jakarta Friday, he said Myanmar's military rulers must be pushed to stop violence and implement the "five-point consensus" peace plan they agreed with the rest of the 10-member grouping two years ago.
Translated by RFA Burmese. Edited by Mike Firn.