Prime Minister Hun Sen has removed a Twitter post that attempted to connect the Cambodian opposition to a Thai politician's failure this week to win enough parliamentary votes to become the country's next prime minister.
Pita Limjaroenrat and his Move Forward Party fell short of the 375 votes needed to clinch power in an initial round of voting on Thursday.
Hun Sen tweeted that Pita's setback was also "a major failure" to Cambodia's exiled opposition activists. He was most likely referring to Sam Rainsy, the former head of the now-disbanded opposition Cambodia National Rescue Party who fled to France in 2015.
"These traitors always expected that when Pita becomes the prime minister of Thailand, they would use Thai territory to do a campaign against the Royal Government of Cambodia," Hun Sen wrote in the tweet.
"Now the expectations of the brute opposition group have vanished like salt in water," he said.
In May, Sam Rainsy told Radio Free Asia that if a new pro-democracy Thai government is formed, he would look into traveling to Cambodia through neighboring Thailand. 
Thailand's progressive Move Forward Party was the top vote getter in the May 14 general election. It heads a pro-democracy coalition trying to unseat an administration with deep military ties that has ruled Thailand for almost a decade.
Hun Sen has asked Thailand to arrest Sam Rainsy if he travels there. Last month, he publicly threatened to attack Sam Rainsy with a rocket launcher if he led workers from Thailand into Cambodia. 
"Do not do politics that depend on somebody else," the prime minister wrote in Thursday's deleted tweet. "This is my goodwill message for the extremist groups."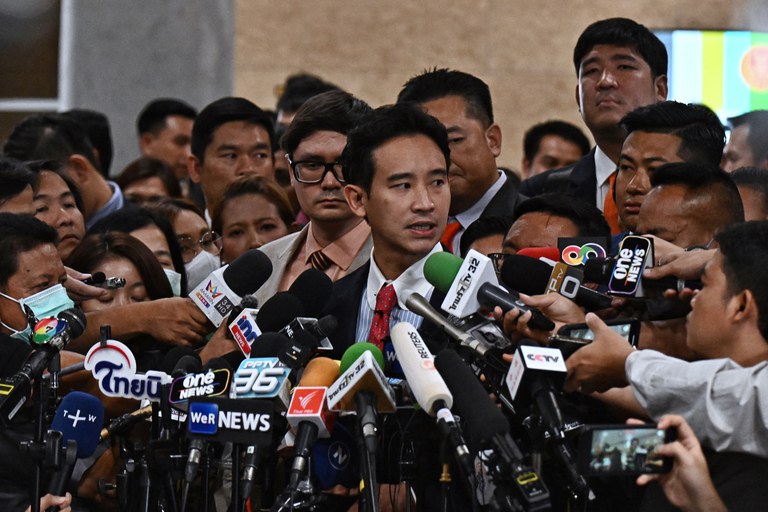 Online reaction
After it drew angry online comments, Hun Sen removed the post from Twitter.
"Absolutely ludicrous," wrote Phil Robertson, Human Rights Watch's deputy Asia director. 
Thai journalist Pravit Rojanaphruk tweeted that the 70-year-old Hun Sen is "a political dinosaur comfortable in the company of dictators."
"When he looks at Pita, he sees the [political] liberalization & reform he fears might some day come to Cambodia," he wrote.
Hun Sen posted another message on both Twitter and Telegram on Friday, writing that he doesn't oppose Pita's candidacy for prime minister. 
"I respect the decision of the Thai people and I will not interfere in the internal affairs of Thailand," he wrote. "I am ready to work with Thailand's leader, regardless of who or which party."
He added that Cambodian opposition activists should stop using Pita's name – "who does not know he is being used" – to oppose the Cambodian government.
Finland-based political commentator Kim Sok said the first message made it seem like Hun Sen doesn't understand diplomacy and politics, even though he served as Cambodia's foreign minister during the 1980s.
"Normally, a leader of a country uses good words and avoids bad words to other countries' politicians, especially those who win the election," he said in an interview with Radio Free Asia on Friday.
Translated by Chandara Yang. Edited by Matt Reed.