Schoolteachers in Myanmar, many of whom joined a national strike to protest the ruling military regime, have been increasingly caught in the crossfire following the February 2021 coup that overthrew the elected government.
As of May, at least 40 teachers had been killed, according to the ruling junta. Educators who have gone on strike to oppose the regime and those who have not have both been killed in fighting between soldiers and members of anti-regime militias.
At least 10 teachers have been killed in 33 arson attacks in the past two months alone, according to Save The Children, an aid group. About 260 schools and other educational buildings have been attacked since the coup.
Now, the junta is asking schoolteachers who joined the Civil Disobedience Movement (CDM), a massive strike by teachers, doctors and other professionals against the military coup, to return to classrooms in schools administered by the regime's Education Department.
Maj. Gen. Zaw Min Tun, a spokesman for the junta, told reporters on May 19 that People's Defense Forces (PDFs), militias that have fought against the military, were to blame for harassing and killing teachers who resumed working after they quit the CDM.
Military officials blamed a local militia for the deaths of Moe Moe Khaing, a middle school principal, and Kay Zar Khine, her younger sister, who were killed inside their home in Wetlet township, Sagaing region, on Jun. 6.
A spokesman for the Wetlet PDF denied the accusation and condemned the attack.
Zaw Min Tun said the shadow National Unity Government (NUG) and PDF "terrorists" are behind threats to close down schools.
"A total of 504 schools were destroyed by terrorists who blew them up with mines in the last academic year, and 37 school teachers were killed," he said.
Naing Htoo Aung, secretary of the shadow National Unity Government's Defense Ministry, which oversees PDFs across the country, said he had instructed militias not to attack civilian targets.
"We have explicitly instructed our forces to target only military personnel," he said. "We do not condone such killings of civilians [accused of being] dalan [pro-junta informants]."
"We don't accept this kind of killing although we are carrying out a revolution," he said. "This is not acceptable. It is not in line with international law. We are launching a revolution because we want democracy. We are taking up arms because we have no choice. We cannot be seen by the international community as a terrorist group."
Naing Htoo Aung also said the NUG would act if it had information about the perpetrators of the attacks.
'They do not trust us'
Zaw Min Tun told a news conference in Naypyidaw on June 16 that the regime contacted 3,156 teachers to urge them to return to work. Of these, 379 are high school teachers, 1,005 are middle school teachers, and 772 are primary school teachers.
The junta pledged that it would take no action against CDM teachers who have been holding spring classes in NUG-dominated areas if they have not committed any crimes.
But some who have quit the CDM and have resumed working for the junta are being monitored, said Chi Cho, a high school teacher in Yangon who joined the CDM in April 2021, but decided to come back due to financial difficulties.
"Even though we have to go back to work to earn a living, we've noticed that the junta has asked the teachers to keep an eye on each other," she said. "It shows they do not trust us."
Chi Cho added that teachers who return have not yet received their salaries because they had joined the CDM.
Other teachers are adamant about remaining involved in the CDM movement because they do not want to work under the military junta.
Salai Nwe Oo, a high school teacher in Falam township in western Chin state, said he will not work for the military regime.
"From the very beginning, we had decided not to work under this military dictatorship," he said. "We did not want to be a tool of a dictator. Therefore, from the beginning, we said we would not return to work until we regained power — never under a military junta."
According to the Myanmar Teachers' Federation, there were almost 450,000 teachers nationwide in the 2020-21 academic year under the NLD government. About 200,000 teachers took part in the CDM, and about 130,000 of them were fired by the junta last year.
Only a small percentage of experienced teachers are returning to classrooms in schools, said an official from the Teachers' Federation who spoke to RFA on condition of anonymity for safety reasons.
Regardless of whether teachers are striking or at work, they face various threats, the person said.
"Most employees, whether they are involved in the CDM or not, are facing anxiety, fear and social problems from both sides," the official said.
Sai Khine Myo Tun of the NUG's Education Ministry said the junta was recalling CDM staff as part of their efforts to reassert control over the country.
"They have a big dream to hold elections in 2023 and to form a legitimate government, so they are trying to show that they can provide public services that support the administrative machinery," he said. "That's why CDM teachers and other staff are being called back to work.
"Teachers and staff fully understand that the junta's commitment is not to sustain education and develop the country but to establish their governing mechanism," he said.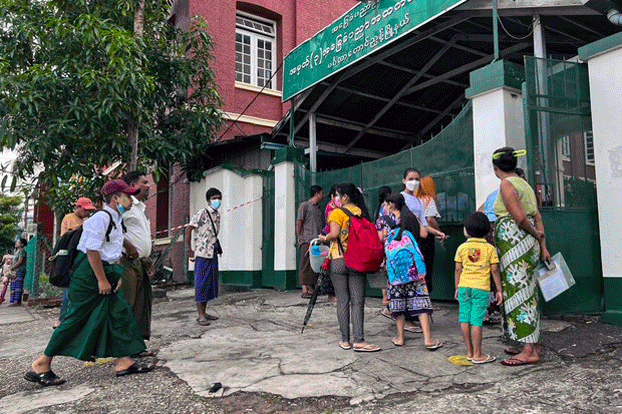 'These dangerous times'
In the meantime, the NUG has been trying to assist education staff in the CDM who have been threatened with arrest, or have lost homes, or are in poor health. But it doesn't have the means to provide full assistance to all the teachers whose lives have been upended in the conflict.
As the teachers suffer, so do their students, who had already lost crucial classroom time to closures during the coronavirus pandemic. The conflict adds another layer of turmoil in their education.
A teacher in Yangon who is a CDM member told RFA that both the junta and the PDFs should respect the rights of children to receive an education and refrain from targeting schools.
"I do not want the children to be hurt because of this. It doesn't matter who does it," said the educator, who declined to be named for safety reasons. The source said that teachers who opted not to participate in the CDM should not be targeted.
A parent in Yangon speaking on condition of anonymity for safety reasons told RFA that he did not send his children to school out of fear of shootings and bomb blasts.
"We dare not let our children go to school in these dangerous times," he said.
In some cities, parents have rushed to schools to collect their children early after hearing rumors of a bomb being found inside the building.
Political analyst Sai Kyi Zin Soe said preventing children from going to school holds long-term consequences for the country of 54 million people.
"We have to work to get the perpetrators responsible for these crimes someday," he said. "If we cannot do that, we can never be happy in a society where justice cannot be built."
This month Tom Andrews, the U.N.'s special rapporteur on Myanmar's human rights situation, urged the international community to do more to protect children in a report that alleged the junta has brutally attacked children and was systematically abusing their rights.
Sai Khaing Myo Tun, the NUG's deputy education minister, told RFA he understands that parents are worried about their children, especially since the junta has deployed armed troops in schools in some instances and arrested teachers.
"Some teachers have been tortured, and some have lost their lives," he said. "We have heard that parents and students have these worries when they have to go to school in such an insecure environment."
The NUG said it is working to develop safer ways for children to return to class, whether at home, somewhere in the community or at private institutions.
Translated by Khin Maung Nyane for RFA Burmese. Written in English by Roseanne Gerin.