Myanmar's junta is using weapons purchased from abroad to commit "war crimes" against its people and must be targeted with new sanctions to end violence in the country, former military officers and political observers said Monday.
On Friday, the United Nations human rights office in Geneva said in a report that countries should do more to prevent money and arms from reaching the junta, which rules through terror and repression.
The office called for further isolation of the military regime, which it said had failed to govern effectively, suggesting U.N. members impose bans on arms sales and more narrowly defined sanctions to prevent its business network from gaining access to foreign currency.
While the U.S., Britain, Canada and the EU have imposed sanctions on Myanmar since the military seized power in a February 2021 coup, several countries have continued to supply the junta with arms — most notably Russia, China and Serbia. 
Speaking to RFA Burmese on Monday, former army Capt. Lin Htet Aung, who is now a member of the anti-junta Civil Disobedience Movement (CDM), said sanctions are key to cutting the junta off from the modern weapons and raw materials it needs to maintain its hold on power.
"The military's domestic production capacity cannot provide all the weapons it needs for the army," he said.
"Missiles and heavy weapons and their accessories, as well as ammunition used by its armed forces, are all imported from abroad. All these things, as well as raw materials, have to be purchased from foreign nations."
The CDM captain said the military will continue to commit human rights violations, including bombing attacks on towns and villages, if the international community fails to level effective sanctions.
On June 18 last year, the U.N. General Assembly approved a proposal to ban arms exports to the Myanmar military. One hundred and nineteen countries voted in favor of the resolution, while 36 countries — including China, India and Russia — abstained. Russian ally Belarus voted against it.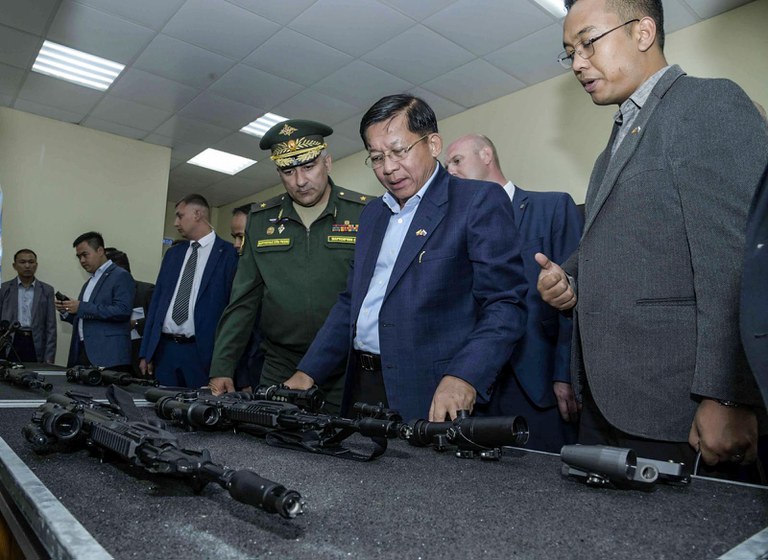 Ineffective sanctions
Observers told RFA that the junta continues to obtain military equipment and technology via large domestic and international arms brokering companies.
Hla Kyaw Zo, a Myanmar political analyst based in China, said sanctioning these companies would have a significant effect on ending the junta's domination.
"Western countries consider their own interests and big arms companies are more or less connected with the Western world, so this issue is difficult to discuss," he said.
"If the West blocks [these sales] effectively, it'll be good, but I don't think they will press on the issue."
According to a list compiled by NGO Justice For Myanmar, there are more than 150 companies selling arms to Myanmar's military, 135 of which are based in Myanmar, Russia and Singapore.
Yadana Maung, the group's spokeswoman, told RFA that many companies have been able to evade Western sanctions, meaning financial and military support continues to flow to the junta.
Thein Tun Oo, executive director of the Thayningha Strategic Studies Institute, which is made up of former military officers, said using human rights to justify sanctions against Myanmar is "weakening the defense of the country."
"All we have heard so far is the noise they're making about human rights," he said. "In reality, what we understand is that they are using that premise to allow those who are pulling the strings to obtain more power."
He said the junta will continue to purchase arms from its allies despite attempts to block them.
Propping up a brutal regime
In February, former U.S. Rep. Tom Andrews, who serves as U.N. special rapporteur on human rights in Myanmar, said in a report to the U.N. Security Council that countries should stop selling arms to the junta, citing a brutal crackdown on civilians since the coup.
The report called out permanent Security Council members China and Russia, as well as India, Belarus, Ukraine, Israel, Serbia, Pakistan and South Korea, for selling the weapons, which Andrews said are almost certainly being used by the military to kill innocent people.
However, analysts say it is unlikely that the sale of arms to the junta can be cut off completely as Russia and China, which are its main suppliers, wield veto power at the Security Council.
In the meantime, junta chief Senior Gen. Min Aung Hlaing has visited Russia three times in the 19 months since the coup. During his last trip, earlier this month, he signed an agreement with Russian government officials to build a nuclear reactor factory in Myanmar.
Translated by Khin Maung Nyane. Written in English by Joshua Lipes.