Prolonged military exercises around the democratic island of Taiwan by China's People's Liberation Army (PLA) could mean a longer-term impact on the island's trade and economic development, especially if Beijing decides to normalize blockading the island, analysts told RFA.
Some cited recent activity as suggesting that the Chinese Communist Party (CCP) is shifting from a policy of seeking peaceful "unification" to an emphasis on military force to put pressure on the island, which has never been ruled by the CCP, nor formed part of the 73-year-old People's Republic of China.
They said there are growing concerns that China will normalize military exercises, ignore the median line of the Taiwan Strait, and use ongoing military exercises to blockade the island and prepare the PLA for invasion.
Tso Chen-Dong, political science professor at National Taiwan University, said military action was unlikely to occur immediately, however.
"They need to take into account how they would actually do this, and they will only get behind the idea if it's doable," Tso told RFA. "Otherwise, it's not very useful just to look at the numbers of troops on paper."
"The main thing is that they want to use this opportunity to put further pressure on the relationship with Taiwan," he said.
According to Wang Chi-sheng of Taiwan-based think tank the Association of Chinese Elite Leadership, China's People's Liberation Army has already been doing this by repeated incursions over the median line and into Taiwan's territorial waters near the islands of Kinmen and Matsu, which are visible from China's southeastern province of Fujian.
"Flying over the median line of the Taiwan Strait is an attempt to erase that line by means of a fait accompli," Wang told RFA. "Chinese ships have also started moving into [Taiwan's] restricted waters around Kinmen and Matsu, which they haven't done up until now."
"The focus is on normalization," he said, adding that Beijing's future intentions will only likely become clear after the CCP's 20th National Congress later this year.
He said Beijing will likely continue to insist on "unification" with Taiwan, which has never been ruled by the CCP nor formed part of the 73-year-old People's Republic of China, under the same system it currently applies to Hong Kong, where a citywide crackdown on dissent is under way.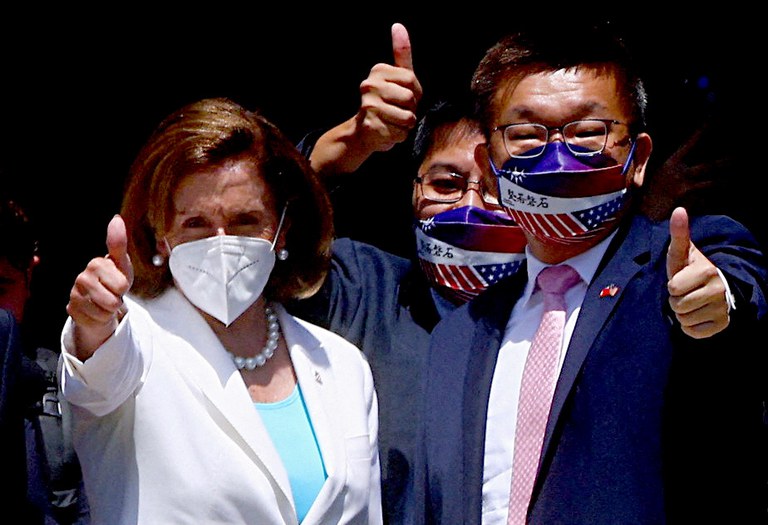 Repeated incursions
Taiwan government legal expert Shen Shih-wei agreed, saying that the positioning of the military exercises following Pelosi's visit made repeated incursions across the median line.
"This has a very significant impact on the compression of our airspace for training purposes, and on international flight routes," Shen told reporters.
"This kind of targeted deterrence [contravenes a United Nations charter], which stipulates that no country should use force to threaten the territorial integrity or political independence of another country," he said.
"We believe that the CCP is very clear about these norms, and we hope that it will abide by them."
Vincent Wang, Dean of the College of Arts and Sciences at Adelphi University, said Taiwan's democratic way of life is walking a tightrope, as far as the CCP is concerned.
"This is why China had such a big reaction to Pelosi's visit," he said. "China doesn't want the world to see a high-ranking U.S. politician visiting a democratic society [run by people it considers Chinese] yet is independent of China," Wang said.
"The visit was a public show of support for Chinese democracy [as China sees it]," he said.
The visit doesn't appear to have deterred other foreign politicians from visiting Taiwan.
Britain's parliamentary foreign affairs committee said it will send a delegation to the island by the end of the year.
"If American dignitaries can visit Taiwan one after the other, this will provide moral support for people from other democratic countries who want to make similar visits," Wang said.
He said recent economic sanctions imposed on more than 100 Taiwanese food companies would have a short-term impact on trade with China, which accounts for 30 percent of exports in that sector, but later recover.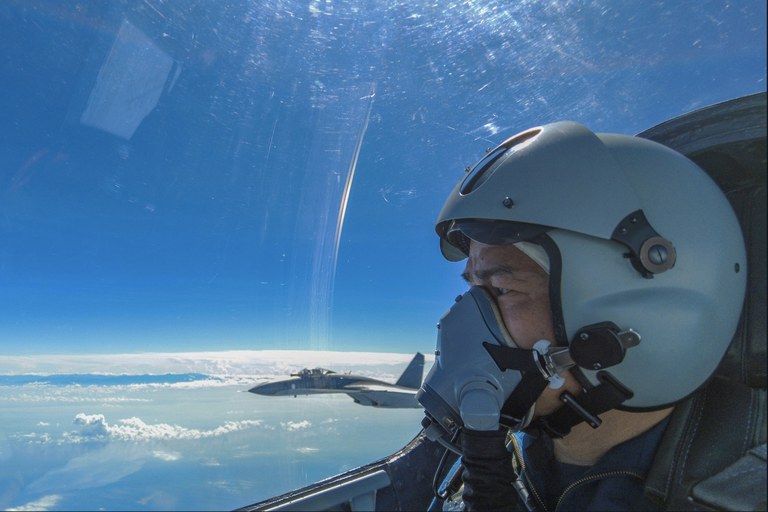 Blockade concerns
Meanwhile, Frank Xie of the Aiken School of Business at the university of South Carolina, said the CCP's lifting of a fishing moratorium in the area could mean it starts blockading the island.
"Such a blockade would have a huge impact on international shipping and air traffic, further amplifying the global supply chain crisis," Xie said.
"Taiwan, including its chip industry, would bear the brunt of the impact."
Xie said the military exercises have had a small impact on international trade, mainly in the field of transportation, including flight delays and cargo ship detours to avoid military exercise areas.
But a longer-running blockade would be hugely damaging to Taiwan, both because of the increased risk of miscalculations, and the economic impact from increased transportation costs, Xie said.
A Taiwanese businesswoman surnamed Lee who has run a plastics business in mainland China for many years, says many Taiwanese businesses in mainland China are currently thinking about relocating.
"Of course they're nervous, because most of the Taiwanese businesses are in coastal areas, which is where the military exercises are," Lee said. "But there's very little they can do."
"If they were to relocate to Taiwan, that would be easier said than done … because it's hard to find cheap labor," she said. "But many countries in Southeast Asia aren't very stable."
William Yu, an economist at UCLA Anderson Forecast, said Taiwan's economy is still in a robust state despite the rising tensions with China, however.
"There will be no impact on Taiwan's economy in the short term," Yu told RFA. "Even if there is a bigger negative impact [later], it will turn into a positive impact in the longer term."
He said many Taiwanese businesspeople had already returned to the island in the wake of the U.S.-China trade war in 2018, giving the domestic economy a strong boost as they relocated high-end manufacturing operations to the island after years of outsourcing to China.
"Continued military exercises will make cross-strait relations worse and worse, and it will become increasingly difficult for Taiwanese businessmen to survive in mainland China," Yu predicted.
"On the other hand, it will encourage Taiwanese businesspeople to return, which is good for Taiwan's economy," he said.
Translated and edited by Luisetta Mudie.