Authorities in Hong Kong are rolling out a "traffic-lights" COVID-19 system already in use in mainland China this week, sparking concerns that the system could be used to target critics of the government.
From Friday, anyone arriving in the city will be required to stay in a designated quarantine hotel for three days, before being allowed to leave with an amber code for a further four days while taking "multiple" COVID-19 tests, the government announced on Aug. 8.
A red code will be applied to any confirmed cases in Hong Kong.
People given an amber code will be required to stay away from restaurants, bars, pubs, game centers, bathrooms, fitness rooms, beauty salons and karaoke parlors, but will be allowed to take transport, go to work, and shop for groceries.
"We need to balance between people's livelihood and the competitiveness of Hong Kong to give the community maximum momentum and economic vitality," chief executive John Lee told journalists.
The move will end an onerous three-week quarantine requirement in designated hotels that needed to be booked months in advance.
A rule banning flights if they brought in passengers infected with COVID-19 was scrapped last month.
Lee said the measures only apply to people arriving in Hong Kong from Taiwan and the rest of the world.
"At this stage, there is no plan to extend the amber code to local close contacts in Hong Kong, because … PCR tests are able to accurately identify those risks," he said.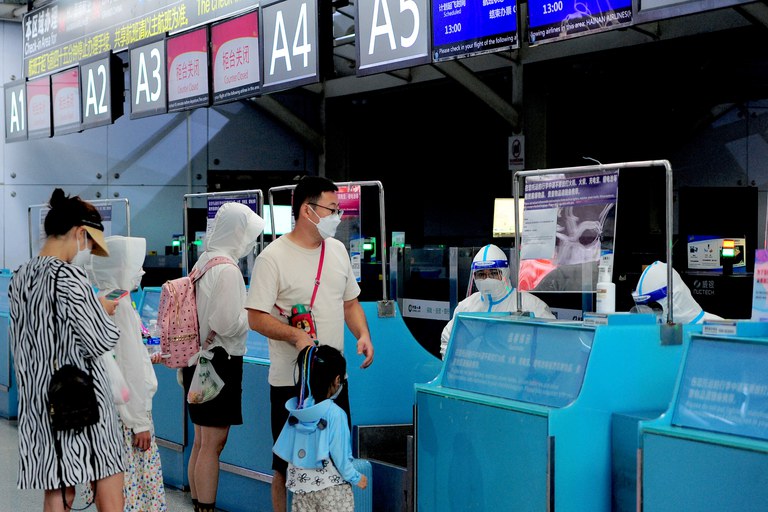 Political tool
Lee said the Hong Kong authorities are currently in discussions with mainland Chinese officials over opening the border with the rest of China.
"The government will not let its guard down in the face of the COVID-19 epidemic," a spokesman said. "We will continue to adjust anti-epidemic measures … to safeguard the wellbeing of citizens while reducing the disruption to normal social activities, with a view to achieving the greatest effect with the lowest cost."
Chinese current affairs commentator Si Ling said the Health Code traffic lights have already been deployed by authorities in mainland China to control the movements of protesters and critics of the ruling Chinese Communist Party (CCP).
"Actually, the Chinese government can discriminate against political dissidents or people the government doesn't like with amber codes, especially in the run-up to the CCP's 20th National Congress later this year," Si told RFA. "Red codes can be used to put people under strict surveillance."
"The health codes have become a political tool that is deployed by the government to conduct mass surveillance, and to greatly limit their freedom of speech and political participation," he said.
Si said he wouldn't be surprised to see it used similarly in Hong Kong.
"China doesn't want Hong Kong to become a base for making various kinds of noise, including contentious voices from overseas, ahead of the 20th National Congress," he said. "But it needs to use public health as an excuse … to clamp down politically and monitor people's actions."
The U.S. State Department recently updated its travel advice for mainland China and Hong Kong to warn people to "reconsider travel."
"The zero-tolerance approach to COVID-19 by [Chinese] and Hong Kong … governments severely impacts travel and access to public services," the advisory read at 1100 GMT on Tuesday.
"Even after completing quarantine on-arrival, travelers … may face additional quarantines and mandatory testing as well as movement and access restrictions, including access to medical services and public transportation," it said.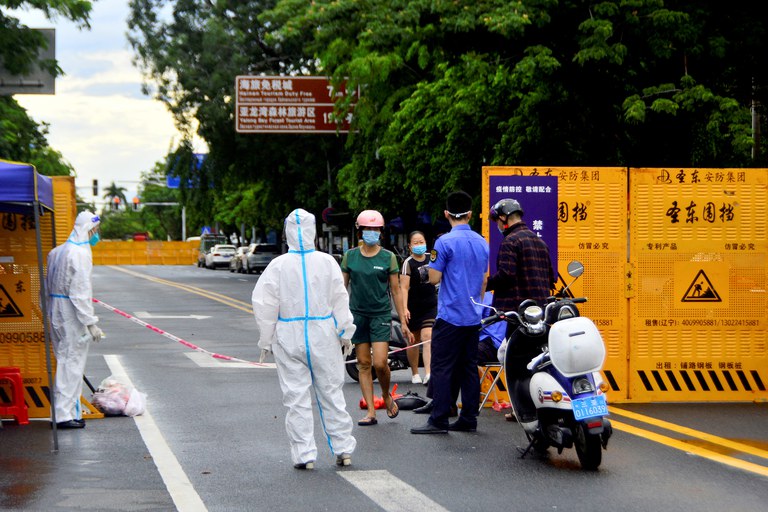 Hainan outbreak
It warned that children who test positive in Hong Kong or mainland China could be separated from their parents and kept in isolation until they meet local hospital discharge requirements.
Hong Kong's new rules were announced as tens of thousands of tourists were left stranded in the island province of Hainan — a popular beach holiday destination — after local authorities ordered a local lockdown following a spike in COVID-19 cases.
Hainan has reported more than 1,800 domestically transmitted infections already in August, locking down millions of residents in a bid to contain the outbreak, Reuters reported.
About 178,000 tourists were stranded in Hainan, including around 57,000 in Sanya, it cited state media as saying.
An online video clip from the resort city of Sanya showed hundreds of people chanting "We want to go home! We want to go home!" despite promises that special lodging and transportation would be provided during the lockdown.
"Nobody here has tested positive!" they shouted.
Tourists are already required to complete five PCR tests across seven days, so would only have been allowed into the airport for departure if all of them came out negative.
State broadcaster CCTV reported on Sunday that all departing flights have been grounded in Sanya, while train ticket sales have also been suspended for services leaving the city, although inbound trains are still arriving.
The Global Times said the moves came amid "a sudden outbreak" of the BA5 omicron variant of COVID-19, which is believed to have been triggered by contact with overseas fishermen.
"The current epidemiological investigation shows that most of the infections are related to fishing ports, fishing boats, fishermen and fishing markets … with the number of infections … on a rapid rise due to the variant's hidden and strong transmission characteristics," the paper said.
Sanya had reported 23 confirmed cases and 11 asymptomatic cases by noon on Aug. 8.
The paper said outbreaks had also been reported in the eastern province of Zhejiang, where a spike in cases had spilled over into neighboring cities from Yiwu, home to a major small commodity market.
 Translated and edited by Luisetta Mudie.