The number of internally displaced persons (IDPs) in Myanmar has surpassed 1 million people for the first time in the nation's history, including nearly 700,000 forced to flee conflict and insecurity since the military's coup in February 2021, according to a new report by the United Nations.
In an update published on Tuesday, the United Nations Office for the Coordination of Humanitarian Affairs (OCHA) said that the new estimate of IDPs fleeing fighting between the military and ethnic armies or anti-junta paramilitaries includes around 346,000 internal refugees displaced mainly in Rakhine, Kachin, Chin and Shan states by conflict prior to the coup.
"During the reporting period, various parts of Myanmar have witnessed an escalation in fighting, further entrenching the already fragile humanitarian situation," the agency said in a statement.
"The impact on civilians is worsening daily with frequent indiscriminate attacks and incidents involving explosive hazards, including landmines and explosive remnants of war."
According to OCHA's findings, thousands of IDPs who have already fled their homes are being forced to move for a second or third time, while more than 40,000 people have crossed borders into neighboring countries since the coup. It counted nearly 13,000 civilian properties as having been destroyed in the fighting, which it said will complicated the return of refugees, even if the situation improves.
"Consequently, complex needs are surfacing, requiring immediate humanitarian responses to save lives and protect those affected, supporting them to live in dignified conditions," it said.
Adding to the threat of violence, OCHA said that thousands in Myanmar have been hit by the increasing cost of essential commodities, such as food and fuel, noting that on average the price of diesel in mid-April 2022 was nearly 2.5 times higher than it was in February last year.
"This inflation has affected people's purchasing power and is starting to impact on the work of several clusters, particularly food security and shelter, who depend on commodities to implement their humanitarian programming," OCHA said.
To make matters worse, coastal areas of Myanmar — including Rakhine, Kayin, Kachin and Shan states — have been battered by strong storms and heavy rain since April, destroying civilian structures and compounding the vulnerabilities of IDPs in displacement sites.
OCHA said that while by the end of the first quarter of 2022, 2.6 million people — or some 41% of those targeted in this year's Humanitarian Response Plan — had been provided assistance, the funding situation for the plan is now "dire" and currently around U.S. $740 million short of its goal.
"The consequences will be grave if this level of underfunding continues in the remainder of 2022," it said.
"Humanitarian partners will be forced to cut back on their support at a time when this assistance is needed the most, particularly as the monsoon season is just getting underway."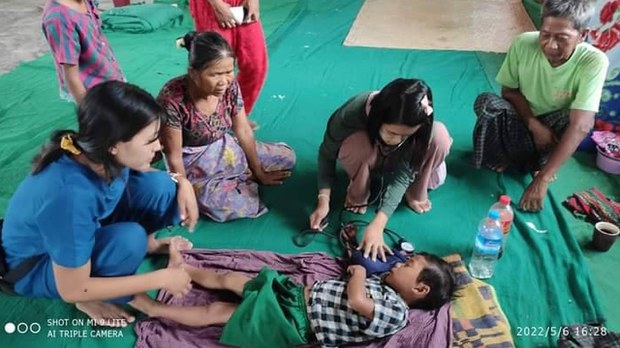 Nationwide hardships for IDPs
OCHA's update came as IDPs and aid workers told RFA's Burmese Service that those displaced by conflict in Myanmar are facing severe hardship in securing food, shelter and healthcare as the monsoon season begins. They said that while local and international humanitarian organizations have been made aware of the needs, transportation complications — largely due to weather or conflict — have made it nearly impossible for aid to be delivered.
A resident of Salingyi township in war-torn Sagaing region told RFA that IDPs are facing an increasing number of life-threatening illnesses because of a lack of access to basic supplies and medical care.
"We are currently facing a shortage of food and tarps for shelter, as well as health problems," said the resident, who spoke on condition of anonymity citing fear of reprisal.
"It is the rainy season now and we are afraid of malaria, as we are living in the forests."
The junta's Health Ministry recently said it had recorded 1,516 cases of dengue fever leading to two deaths in Myanmar in the nearly five months from January to May 20, adding that it expects a significant increase in cases this year.
An aid worker in Sagaing's Debayin township, who also declined to be named, described the plight of refugees as "serious" — mostly due to worsening food shortages.
"We don't have much rice or cooking oil. [The military] set fire to everything," they said.
"With a couple of thousand to feed, we do not have enough supplies. We just must share what we have."
In Kayah state's Phruso township, where clashes continue to occur frequently, an aid worker said that road closures due to weather have left more than 6,000 refugees dangerously short of food.
"It was difficult even during the summer, and now we're having transportation problems," they said.
"We can't use the main road [due to fighting] and the roads we are using now are very bad. When it rains continuously, the cars can slip off the road. It happens a lot with vehicles delivering food."
Landslides and floods in Chin state's Mindat township have also made travel difficult, residents said. Nonetheless, sources in the area told RFA that the military has continued operations in the area, ignoring the growing number of refugees.
Junta deputy information minister, Maj. Gen. Zaw Min Tun, assured RFA that the authorities "are taking full responsibilities for delivering aid" when asked about the situation on Tuesday but blamed slow distribution on the need to "inspect" donations.
"We could deliver aid to those in need in time, but … any aid coming to the country must go through ruling government agencies or groups that are sanctioned by the government to operate," he said, referring to the junta.
"The complaints [about delayed distribution] come from groups that want to skirt the regulations," he added, without providing details.
The decision to send international assistance to Myanmar through the junta was made at a May 6 meeting on the country's humanitarian crisis by the Association of Southeast Asian Nations (ASEAN) in Cambodia.
In the meantime, Win Myat Aye, the minister of humanitarian and disaster management for the shadow National Unity Govrenment (NUG), said the NUG is coordinating its own assistance for refugees, including food and healthcare.
"There are more than 600,000 IDPs [since the coup] and we are trying to find ways to prevent any further increase in that number," he said.
"Our Ministry of Health has certain connections that allow us to fight seasonal diseases. We also are collaborating with mobile health teams in some areas. … We are doing whatever we can to provide immediate humanitarian assistance to [refugees] as soon as we have the required information."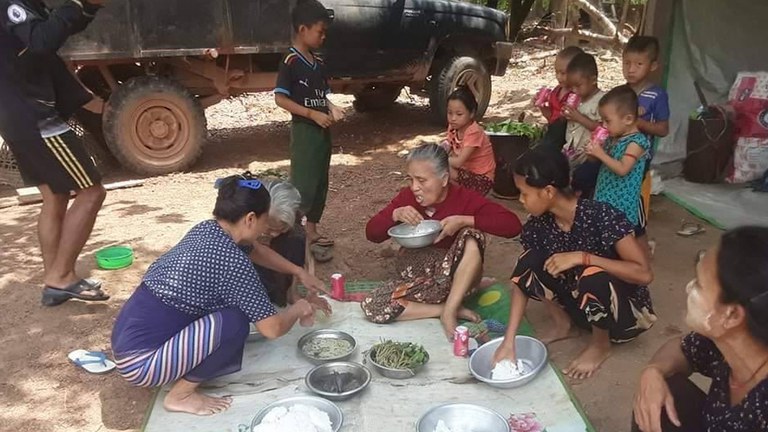 International aid distribution
On Monday, the NUG, along with the Karen National Union (KNU), Karenni National Progressive Party (KNPP), and the Chin National Front (CNF) ethnic parties, issued a joint statement calling on ASEAN and the United Nations to refrain from sending humanitarian assistance for war refugees through the junta, saying that doing so would recognize the legitimacy of an illegal government and prevent aid from reaching those most in need.
The groups said that it is inappropriate to work with the junta to distribute aid, given the military's responsibility for conflict and loss of lives in Sagaing, Kayin, Kayah and Chin, and warned that fighting could intensify in the regions if the junta uses the cover of humanitarian work to replenish the strength of the military's frontline bases.
Padoh Saw Tawney, KNU foreign affairs officer, said he believes the junta deliberately ordered the international community to hand over aid as part of a bid to earn legitimacy.
"If they want to go ahead with this plan, it will be very difficult for us to accept it, and if we try to stop it, we will be seen as the bad guys," he said.
"It's clear that this plan will be used politically. That's why we want [the international community] to review the situation and the program."
Monday's joint statement criticized the ASEAN Center for Humanitarian Aid and OCHA for announcing the plan to distribute aid to Myanmar through the junta without consulting with all stakeholders in the four regions, saying that it is unlikely to reach many of the country's IDPs.
It also called on ASEAN, the U.N. and international donors to ensure that the junta does not interfere in the distribution of humanitarian assistance, to push for discussions on a ceasefire agreement, and to request the formation of a third-party monitoring group.
Translated by Khin Maung Nyane. Written in English by Joshua Lipes.