Myanmar's junta carried out 47 airstrikes, killing at least 19 people and destroying multiple religious buildings and civilian homes in Chin state in April alone, a rights group said Thursday.
The campaign, which saw an average of nearly two bombs dropped on the western state each day this month, comes as the Chin National Front claimed new territorial gains in the region, suggesting the military has stepped up air operations amid an increasingly stymied ground offensive.
Since April 1, Myanmar's air force has dropped more than 80 bombs on Chin state, according to the Chin Human Rights Organization. The attacks killed 17 civilians and injured 34 others, the group's managing officer Salai Man Hre Lian told RFA Burmese, as well as two members of the armed resistance.
"Most of the injured were civilians, as well," he said.
The worst loss of life occurred on April 10, when the junta launched three airstrikes on Falam township in a single day, dropping six bombs near Var village at around 9:00 a.m., four near a high school in Webula at 11:00 a.m., and six near Ramthlo village at 4:00 p.m.
Residents said the attack on Webula killed nine civilians, including the school headmaster and his wife and son, and injured four others.
Six days later, fighter jets attacked Pan Par village in Mindat township, killing three people – including a child – and injuring seven others.
The CNF confirmed that two members of the armed resistance were killed and four others injured when the junta launched an airstrike earlier this month on a base operated by the 4th Brigade of the Chin National Army in Tedim township, near Myanmar's border with India.
CHRO said that multiple buildings – including a Buddhist monastery, a Christian church and at least 20 civilian homes – were destroyed in the April strikes.
The carnage in April followed a March 30 airstrike on Thantlang township's Khuafo village that killed 10 civilians and injured 20 others, residents told RFA.
According to the CHRO, nearly 10,000 civilians have been forced to flee their homes due to junta airstrikes so far this month.
The group said the junta has launched nearly 200 airstrikes and dropped more than 350 bombs on targets in Chin state since the military orchestrated a Feb. 1, 2021 coup d'etat. The strikes have killed 38 people and injured nearly 100.
Fighting back against the junta
The April bombing campaign comes amid growing success by anti-junta forces on the ground in Chin, according to CNF spokesman Salai Htet Ni.
On April 23, a People's Defense Force paramilitary unit attacked a junta military convoy of 30 vehicles, including two armored cars, near Hakha township's Chuncung village, touching off an intense firefight. 
Despite the military's advantage in equipment, the PDF was able to rout its opponent and prevent the convoy from continuing on to the seat of Hakha, Salai Htet Ni said.
"All of the military vehicles were destroyed by the resistance forces," he said, adding that around 30 junta troops remain stationed in Chuncung. "We now have control over 70 out of 100 territories in nine [of 19] townships in Chin state."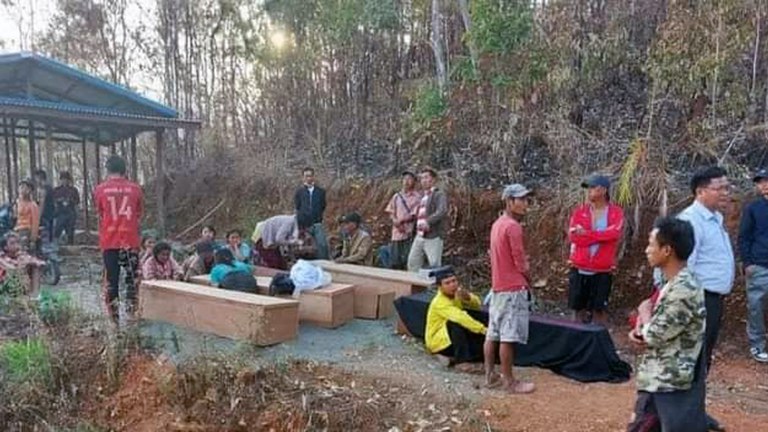 Given the success of anti-junta forces on the ground in Chin, the military has stepped up its air attacks, and villagers have responded by digging trenches and other crude defenses.
"Every village has built bomb defenses, such as trenches, to protect against the junta's airstrikes," said a Hakha resident who, like other inhabitants of Chin villages RFA spoke to, declined to be named for security reasons. "But with such unexpected attacks as these, it's been very difficult for us to set up effective defenses."
The military has yet to issue any statements regarding the April airstrikes and attempts by RFA to contact Thant Zin, the junta's social minister and spokesman for Chin state went unanswered Thursday.
A legal expert, who also spoke on condition of anonymity citing fear of reprisal, noted that Myanmar is a signatory to and should be held accountable under the Geneva Convention, which lays out international legal standards for humanitarian treatment during conflict.
"[The convention] prohibits all armed forces from attacking non-military or civilian targets during times of war," he said. "It also restricts armed forces from using highly destructive airstrikes and dropping bombs in civil wars."
One resident of Thantlang called the junta's unprovoked aerial attacks "cowardly."
"I think the junta attacks villages to terrorize the people," he said. "If they are truly brave, they would only fight the armed groups. Targeting innocent people like us is extremely cowardly."
Translated by Myo Min Aung. Edited by Joshua Lipes and Malcolm Foster.