Myanmar's New Years, called Thingyan, is normally a water festival in which people can drench each other during the hottest time of the year. And junta troops have been busy building pavilions around the country to create a sense of normalcy in the war-wracked country.
But in an apparent attempt to dispel any notions of stability under military rule, rebel groups set off several bombs this past weekend at these pavilions in the cities of Yangon, Mandalay and Mawlamyine.
No one was injured in the blasts, but they have clearly contributed to the turmoil in the country that has slid into civil war since the military's February 2021 coup d'etat. 
An anti-junta urban guerrilla group known as the Dark Shadow claimed responsibility for the explosions in Yangon's Sanchaung, Dagon, and Thar Kay Ta townships, and at People's Square downtown, in a statement issued on April 8. 
The perpetrators of the bombings in Mandalay's Zay Cho Market and in the Mon state city of Mawlamyine remained unknown on Monday.
A resident of Yangon named Ye Myo told RFA Burmese that while no one was hurt in the explosions, the junta has responded with increased security at the sites ahead of the April 13-16 Thingyan celebrations.
"The bombs that went off in the pavilion in front of the Sanchaung Police Station and the pavilion in front of People's Square were very loud," he said.
"The junta has increased security after the blasts. We used to see only one or two military security personnel [near the sites], but after the blasts, we can see around 10 security personnel have been assigned to keep watch at night."
Ye Myo said that authorities dismantled at least three pavilions on Sunday in Yangon's Mingalardon township amid reports that anti-junta forces planned to fire "remote-controlled missiles" at the sites.
On Monday, the pro-junta Myawaddy newspaper reported that two members of the anti-junta Special Task Agency were arrested in Yangon's Alone township for allegedly planning to carry out bombings during the water festival. The report said they were planning to frighten away would-be participants at the festival and that "effective action" will be taken against them.
Attempts by RFA to reach the Special Task Agency for comment on the report went unanswered by the time of publishing.
Trying to create a celebration
Sources said that despite the bombings, the junta is continuing preparations for Thingyan with beefed up security in Myanmar's various regions and states.
They said that in addition to a festival pavilion planned for city hall in Naypyidaw, the junta is preparing some 20 smaller pavilions on Pyinmana-Taung Nyo Road in the capital's Zabu Thiri township and a water festival parade. 
But most people have no intention of taking part in Thingyan celebrations this year, a resident of Pyinmana, who declined to be named for security reasons, told RFA.
"I haven't heard anything about preparations for the celebration by residents so far," he said. "But I think the junta is trying very hard to create a very big celebration."
The Pyinmana resident said junta troops are on patrol at the pavilion sites "around the clock."
Other sources told RFA that the junta has been ordering civil servants from several government departments to take part in the Thingyan festivities and to organize traditional dance performances.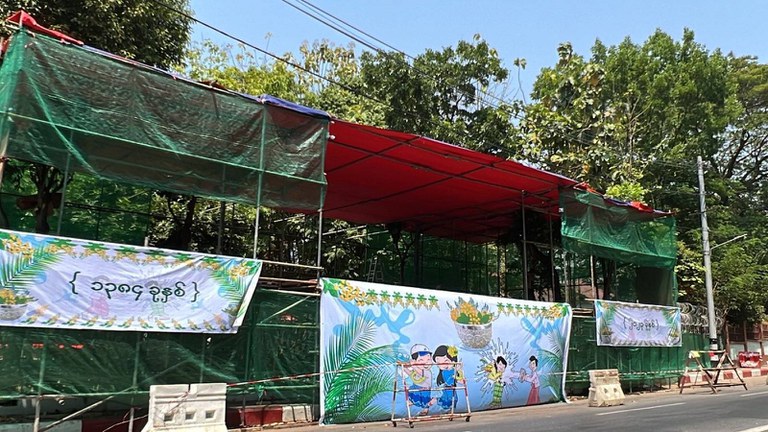 A resident of Mandalay named Ko Moe said that the junta is preparing to hold Thingyan festivities as usual, despite the bombing there, adding that there are "more pavilions this year" than last.
"One significant addition compared with last year is the pavilion at Nay Cho market," he said. "The junta is trying to bring large crowds to that area, too. I think they are building the pavilions at a vast cost with the help of those who support them and people in their inner circle."
He said that last year's Thingyan Festival parade organized by the junta was a failure as residents boycotted the event.
Tin Oo, a resident of Yangon, said that in addition to a pavilion being built at city hall, the junta has instructed each township administrator to build large pavilions for their townships and to organize traditional dance presentations for entertainment.
"The junta's intent is to make this year's water festival crowded with people, whatever it takes," he said.
Tin Oo said the junta is offering 10,000 kyats (U.S.$5) per day to security guards and anyone who is willing to join celebrations at the pavilions, and 50,000 kyats (U.S.$24) per day and festival wear to dance troupes that are willing to take part.
"[These offers are meant] to draw large crowds during the festival, which I think will be impossible," he said. "We'll have to wait and see if this year's Water Festival will be crowded or not."
Calls for boycott
Anti-junta political groups, meanwhile, are urging people across the country to go on strike instead of participating in the regime's Thingyan celebrations. 
Nan Lin of the Ta-Ka-Tha University Students' Union Alumni Force told RFA that the junta is trying to draw large crowds during the Thingyan festival because it wants to "divide the people" and "make an impression that the situation in the country is under control." 
"The junta is forcefully controlling Myanmar's heartland regions by burning down civilian villages, killing everyone in its way, and committing excessive, forceful and cruel atrocities, but in urban areas, it aims to make an impression that things are back to normal," he said. "This is part of the junta's plan to divide the people."
The armed opposition has called on people not to associate with the junta during the Water Festival and not to use military-related products.
Translated by Myo Min Aung. Edited by Joshua Lipes and Malcom Foster.