Telegram is becoming the messaging platform of choice for fans of Myanmar's junta, who are using it to report on critics – some of whom have gotten arrested or even killed.
For example, actress Poe Kyar Phyu Khin recently posted a video entitled "Daw Aung San Suu Kyi (Our True Leader)" to the TikTok social media platform ahead of the jailed former state counselor's June 19 birthday, prompting several users to post photos of themselves bedecked in flowers and express their best wishes.
Incensed by the post, supporters of the military junta – which took control of the country in a February 2021 coup – took toTelegram to demand that Phyu Khin and those who responded to her be arrested.
On the night of Suu Kyi's birthday, junta security personnel showed up at the door of Phyu Khin's home in Yangon and took her into custody. Pro-junta media reported the arrest and said that some 50 people had been detained that week alone for "sedition and incitement."
This is the new reality in post-coup Myanmar, where backers of the military regime regularly scour the internet for any posts they deem critical of the junta before using Telegram to report them to the authorities, activists say.
Telegram has become a "form of military intelligence," said Yangon-based protest leader Nang Lin.
"It may look like ordinary citizens are reporting people who oppose the military, but that's not true," he said. "It's the work of their informers. It's one of the junta's intelligence mechanisms. In other words, it's just one of many attempts designed to instill fear in the people."
'Online weapon'
In a similar incident, rapper Byu Har was arrested on May 24, just days after being featured on pro-military Telegram channels for a video he published on social media in which he complained about electricity shortages and said that life was better under the democratically elected government that the military toppled.
Additionally, authorities arrested journalist Kyaw Min Swe, actress May Pa Chi, and other well-known personalities after pro-junta Telegram channels posted information about them changing their Facebook profiles to black to mourn the more than 170 people – including women and children – killed in a military airstrike on Sagaing region's Pazi Gyi village in April.
"Military lobbyists and informers go through these comments and … report the owners of the accounts to Han Nyein Oo, who is a major pro-junta informer on Telegram," said an activist in Yangon, who declined to be named out of fear of reprisal. "Then, because of a small comment, the poster and their families are in trouble."
London-based rights group Fortify Rights also recently reported on the junta's use of Telegram as an "online weapon" against its critics.
"We can say that they are increasingly using Telegram channels as an online weapon as one of various ways of instilling fear in the people so that they dare not speak out," the group said in a statement.
RFA sought comment from Telegram's press team but was forwarded to an automated answering system, which said that the company "respects users' personal information and freedom of speech, and protects human rights, such as the right to assembly."
The answering system noted that Telegram "plays an important role in democratic movements around the world," including in Iran, Russia, Belarus, Hong Kong and Myanmar.
The founder of the Telegram channel is Russian-born Pavel Durov. In 2014, he was forced to leave the country and move to Saint Kitts and Nevis, a small Caribbean island nation, because he refused to hand over the personal information of Ukrainian users to Russian security services during the Crimea crisis in Ukraine.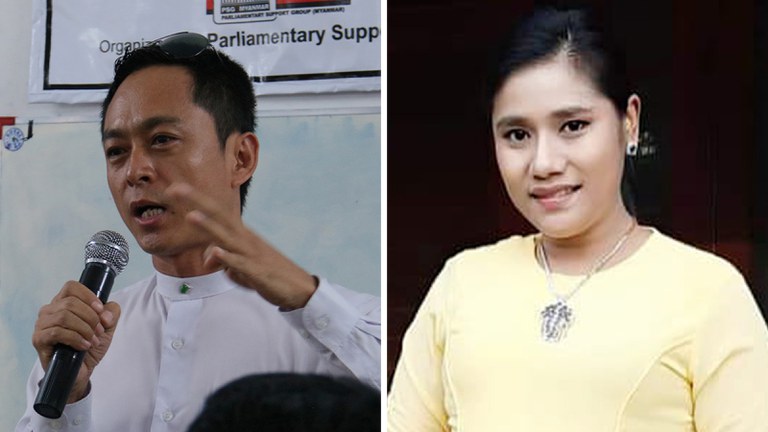 Telegram headquarters is located in Dubai, United Arab Emirates.
Attempts by RFA to contact junta Deputy Information Minister Major Gen. Zaw Min Tun regarding the regime's use of pro-military Telegram accounts to arrest people went unanswered Wednesday.
Arrests violate constitution
Thein Tun Oo, the executive director of the Thayninga Institute of Strategic Studies, which is made up of former military officers, told RFA that claims the junta uses Telegram to track down its critics are "delusional."
"If you feel insecure about Telegram, just don't use it," he said, adding that "such problems" are part of the risk of using the app.
But a lawyer in Yangon, who spoke on condition of anonymity citing security concerns, told RFA that even if the junta isn't gathering information about its opponents on Telegram, arresting and prosecuting someone for posting their opinions on social media is a blatant violation of the law in Myanmar.
"It's not a crime to post birthday wishes for someone on Facebook, whether it's for Daw Aung San Suu Kyi or anyone else," he said. "These arrests are in violation of provisions protecting citizens' rights in the [military-drafted] 2008 constitution."
Pro-junta newspapers often state that action will be taken against anyone who knowingly or unknowingly promotes or supports Myanmar's shadow National Unity Government, the Committee Representing the Pyidaungsu Hluttaw made up of deposed lawmakers, and any related organization under the country's Counter-terrorism Act, Electronic Communications Law, and other legislation.
According to a list compiled by RFA based on junta reports, at least 1,100 people have been arrested and prosecuted for voicing criticism of the junta on social media or sharing such posts by others since the military's Feb. 1, 2021, coup d'etat.
Translated by Myo Min Aung. Edited by Joshua Lipes and Malcolm Foster.