The body of a man, whose head and arms had been cut off, was found on Sunday at Phaungkata (North) village, Salingyi township near the Chinese-owned Letpadaung copper mine in Myanmar's northwestern Sagaing region, local residents told RFA.
The victim was identified as 30-year-old Sai Myat Soe. Residents said he was not from the village but came from Sa Don Gyi village, also in Salingyi township.
The junta forces guarding the copper project carried out raids on nearby villages, including Moe Gyo Pyin (North), Zee Taw, Sal Tel and Phaungkata (North) villages from June 21 to 24. The man went missing on June 24 when the junta forces set fire to his village, residents told RFA.
A Phaungkata villager told RFA they found the mutilated body at around 10 a.m. on June 26.
"The body was found near the school where he was arrested, locally called Phaungkata North village," a resident told RFA. "The head, body and arms had been separated and scattered. Everything had to be collected and cremated."
Locals said Sai Myat Soe may have been killed after he was arrested when the junta forces set fire to villages near Sa Don Gyi.
Calls to the military council spokesman by RFA went unanswered on Tuesday afternoon.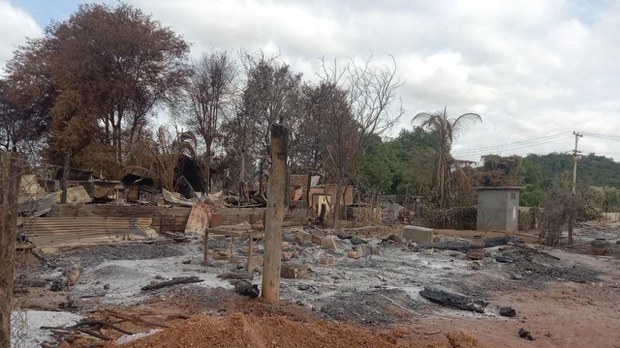 On April 21, 16 local PDFs groups issued a warning that the Letpadaung copper project, a joint venture with the Chinese Government and operated by Wanbao Mining Ltd., would be attacked because it could provide income for the military junta..
Shortly after the PDFs' announcement, the military council stepped up security at the mine. They started raiding nearby villages on June 21. Tensions remain high due to guerilla raids by the PDFs.
The military council spokesman earlier responded to RFA's inquiries, saying the junta had to protect the copper mine because it is a foreign investment.
More than 20,000 residents from 25 villages near the mine have been forced to flee due to attacks on nearby villages and fighting between junta forces and PDFs.