Myanmar's military junta is targeting younger protesters in the country's business capital, Yangon, arresting more than 40 men and women on Monday and Tuesday. Witnesses said those arrested were aged between 18 and 30. 
An activist told RFA the military council tracked down the remaining members of an anti-regime group after rounding up protestors in Yangon's Kyee Myin Daing township on Monday
 "Seven or eight people in one house have been arrested. The junta forces are able to find the location of the rest of protesters and arrest them under the pretext of checking household guest lists. Most of the detainees were UGs [underground], supporters of anti-regime leaders and protesters on the ground," said the person, who declined to be named for safety reasons.
Most of those arrested are from Kyee Myin Daing, San Chaung, Tamwe, Kyauktadar and Yan Kin townships. Junta forces raided their houses day and night under the pretext of checking household lists and forcefully arrested them, sources told RFA.
Protesters still at liberty and their families said the exact whereabouts of the more than 40 detainees are not yet known.
Witnesses and protesters who are currently in hiding said the police and army arrested activists and beat them at their homes, forced them to kneel in the road and tortured them to discover the whereabouts of remaining members.
Calls to a military council spokesman by RFA on Wednesday remain unanswered.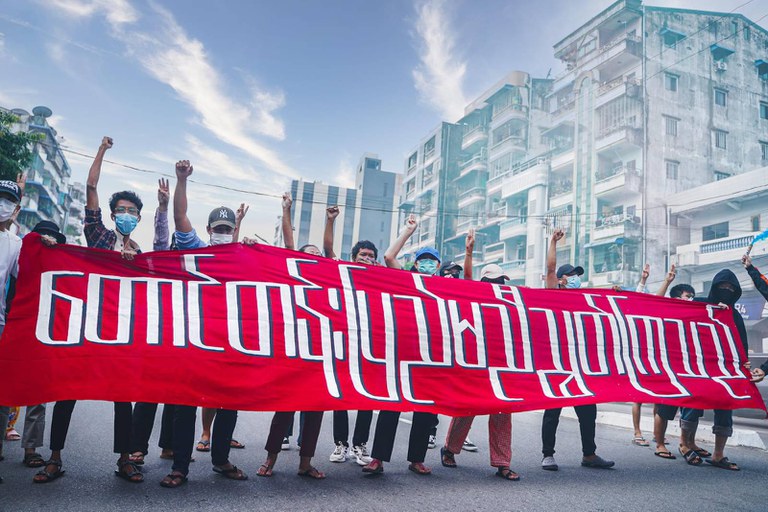 Assistance Association for Political Prisoners (AAPP) said Tuesday that a total of 14,110 Anti-regime activists across the country have been arrested in more than 16 months since the military coup. Of those, 11,053 are still in custody. 
Even younger opponents of the regime are being systematically targeted by police and troops according to a report by the United Nations.
UN Special Rapporteur on the situation of human rights in Myanmar, Tom Andrews called on world leaders to "take immediate coordinated action to address an escalating political, economic and humanitarian crisis that is putting Myanmar's children at risk of becoming a lost generation."
"During my fact-finding for this report, I received information about children who were beaten, stabbed, burned with cigarettes, and subjected to mock executions, and who had their fingernails and teeth pulled out during lengthy interrogation sessions," Andrews said, describing the junta's actions as "war crimes."
The UN report said at least 142 children have been killed, more than 250,000 have been displaced by the military's attacks and over 1,400 have been arbitrarily detained since the coup in February, 2021. It said at least 61 children, including several under 3-years-old, are reportedly being held as hostages, while the UN has documented the torture of 142 children since the coup.