Burmese gemstone dealers are frustrated over the influx of Chinese jade traders who have set up shop in a northern mining town in Myanmar since the 2021 military coup, residents say.
The traders are purchasing gems illegally at lower cost, making already tight margins razor thin for brokers in Hpakant township in Kachin state, driving some out of business out of business, they say.
Myanmar's Law for Gemstone Trading, enacted by the country's parliament in 2019, limits foreign nationals seeking to buy stones to gem fairs in Mandalay and Naypyidaw. 
The illegal export and sale of jade is punishable by up to 10 years in prison, but the junta has held few offenders accountable in Kachin – nestled between India to the west and China to the east – since coming to power.
A resident of Hpakant told RFA that, in the past, only Myanmar nationals bought raw stones directly from township mines and then washed, cut, or transported them for resale in the country's official gem fairs.
"But these days, Chinese buyers use the WeChat messaging app and come to buy everything, including loose soil, directly from the mines," said the resident who, like others interviewed for this article, spoke on condition of anonymity citing security concerns.
"It's only natural that the prices directly offered by major traders are better than local dealers in the sale of any goods, including rice, beans and other crops," he said. "The price gap is hurting local dealers."
According to a report by international rights group Global Witness, from 2014-2017, the annual revenue from the legal sale of jade and other gemstones in Myanmar ranged from US$346 to $417 million, while the illegal jade market netted US$1.73 billion to $2.07 billion annually.
Black market
The situation presents a conundrum for Myanmar's jade dealers, who rely heavily on demand from China's domestic market for their gems. 
That demand has led to entrepreneurs seeking to eliminate the middleman by going straight to the source of the jade, to the point where approximately half of the people traveling to Hpakant to buy gemstones are Chinese, residents said.
Aung Hein Min, a former lawmaker who was elected to represent Hpakant in Myanmar's 2020 election, told RFA that it is critical for authorities to enforce the ban on the illegal purchasing of gemstones.
Jade night market in Hpakant in Kachin state, in July 2020. Credit: Ye Aung Thu/AFP
"The jade and gemstones purchased directly from jade-mining towns by Chinese nationals will not be transported via legal routes, they will arrive in China through the black market," he said. "That's why it doesn't do any good for our country or our people."
However, junta Social Affairs Minister and Kachin state spokesman Win Ye Tun told RFA that foreigners are restricted from traveling to Hpakant, and that those caught skirting the ban are arrested and deported.
He also noted that not all of the Chinese using WeChat in Hpakant are foreign nationals.
"They may be [ethnic] Chinese Myanmar nationals," he said. "We carefully inspect the situation and take action against them in accordance with the law, rather than criticizing baselessly … And it isn't just Chinese – we do not accept any foreign nationals in those areas and we have always taken action accordingly."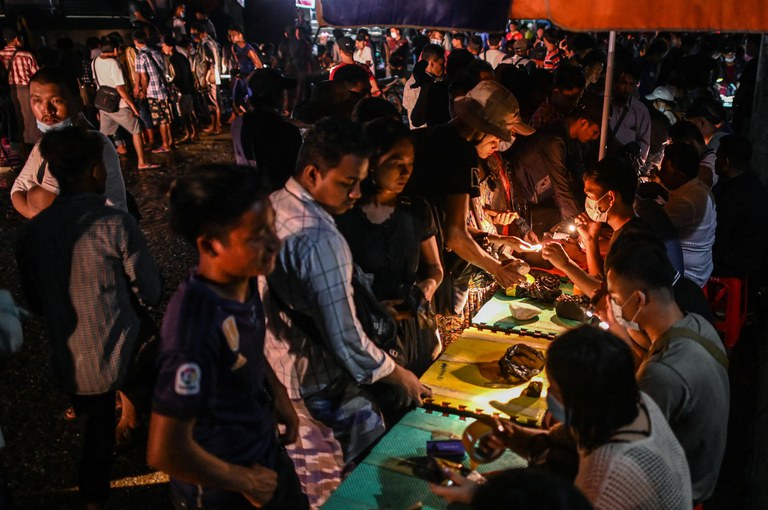 Win Ye Tun said that some Chinese nationals had been arrested and deported during the more than two years since the military coup, although he could not provide an exact number.
He claimed that the junta has not granted any extensions or new permits for jade mining in Hpakant since the takeover.
'Industry is hurting'
Meanwhile, traders in Hpakant told RFA that the domestic jade market has declined since the coup and that only bright, translucent jade is selling in China, adding to the pressure faced by local brokers.
"If you buy stones for resale, you can only earn money for a day's worth of meals and you won't make a living to provide for your family," one local trader said. "The gemstone industry is hurting. There is no longer demand for the opaque stones that used to sell and could earn us an income."
Complicating matters further, Myanmar's military and a joint force of anti-junta Kachin Independence Army and paramilitary People's Defense Force fighters have been locked in a standoff in Hpakant since early this year. Imports of food and fuel from Myanmar's heartland are regularly blocked from entering the region by military checkpoints.
But despite the conflict, jade traders said Chinese nationals are "freely entering and exiting" Hpakant and illegally shipping jade from the area back home.
Translated by Myo Min Aung. Edited by Joshua Lipes and Malcolm Foster.