A Beijing court has once more ruled against former CCTV intern Zhou Xiaoxuan in a landmark #MeToo sexual harassment case, saying there isn't enough evidence to support her claims against state broadcaster CCTV anchor Zhu Jun. The Beijing No. 1 Intermediate People's Court rejected Zhou's appeal on Aug. 10, upholding the original judgment of the Haidian District People's Court in September 2021. Backed by supporters, Zhou filed a second appeal later the same day, after making an impassioned statement to the court asking some tough questions of China's judicial and law enforcement agencies:
On June 9, 2014, I was a third-year university student and 21 years old. My first internship was with CCTV's program "Art Life." At the time I was being sexually harassed by Zhu Jun in that dressing room, I had feelings of shame around sex, and there was no way I was going to be able to resist in the moment or call for help. I knew how powerful Zhu Jun was, so I daren't tell any of the staff who came into the dressing room at that time what I was going through. I think what happened to me is also a common occurrence for women in higher education and in the workplace. The only difference for me was that I had a university lecturer who was willing to help and I made my report to the police with support from that lecturer, a lawyer and my roommate on the day after the incident. Both our lived experience and hard statistics tell us that very few women choose to go to the police when they have suffered sexual harassment or sexual assault.
At the time I made my report to the police in 2014, they told my parents that I should withdraw it, citing Zhu Jun's status in society. At the time the case came to court for the first time in 2020, court officials told me that it was impossible to lay hands on surveillance camera footage or written evidence supporting my case. In the 2021 judgment document, the court said the burden of proof in such cases falls on the plaintiff, and that the evidence I had supplied was insufficient.
Today, this case is back on appeal, in what will probably be my last appearance in court. I have already given an account of the facts of the case to this court, so now I would like to ask the court this: how is a woman who is sexually harassed in a closed space, who hasn't expected it, and who has no recording device on her, nor any way to fight back supposed to prove that the harassment took place? Is she just supposed to put up with it, and act like it never happened?
Back when I reported this to the police four years ago, in the hope that they would help me, their first response wasn't to interrogate the person accused of being the perpetrator. Instead, it was to travel to Wuhan two days later to talk to my parents into having me drop the case. They didn't actually go to CCTV to talk to Zhu Jun until a week after I had filed the report, and even then they only took the simplest of statements.
Four years later, as I filed my case with the court, officials refused to accept a complaint of sexual harassment, refused to call Zhu Jun in for questioning even when it was confirmed that the person who had taken me into that dressing room and the one who had been in the dressing room that day had lied to back him up. Instead, they told my parents that none of the witness statements, the surveillance footage from the corridor, my dress nor photos or me and Zhu Jun together were admissible as evidence, so I didn't have enough evidence to support my case.
I would like to ask the court what kind of evidence it would deem admissible? I didn't know I was going to be sexually harassed, so I didn't bring a secret recording pen on a pinhole camera. I didn't feel able to face down Zhu Jun in the middle of CCTV headquarters, neither did I immediately cry for help. I didn't feel able to go back to CCTV after filing my report with the police, nor to interview him myself, and I didn't have access to the surveillance camera footage. I wasn't able to analyze my DNA or Zhu Jun's. I was 21, and this was the first time I had ever reported anything to the police. I didn't even know to ask for proof of a police report or a receipt for the evidence I gave them.
I want to ask those people who backed up Zhu Jun's story why they did it. Why they even refused to describe what Zhu Jun was wearing in that dressing room that day. I want to ask the police why they went to Wuhan to talk to my parents, and why they didn't go to find Zhu Jun until a week afterwards. I haven't seen them once in all the times I have appeared in this courtroom. I haven't been able to ask them anything. I don't have the wherewithal to find my own evidence: to offer up proof of my own suffering. The university lecturer's statement spoke of my sobs, while my roommate's statement said I was crying that same evening. Yet they seem to have evaporated.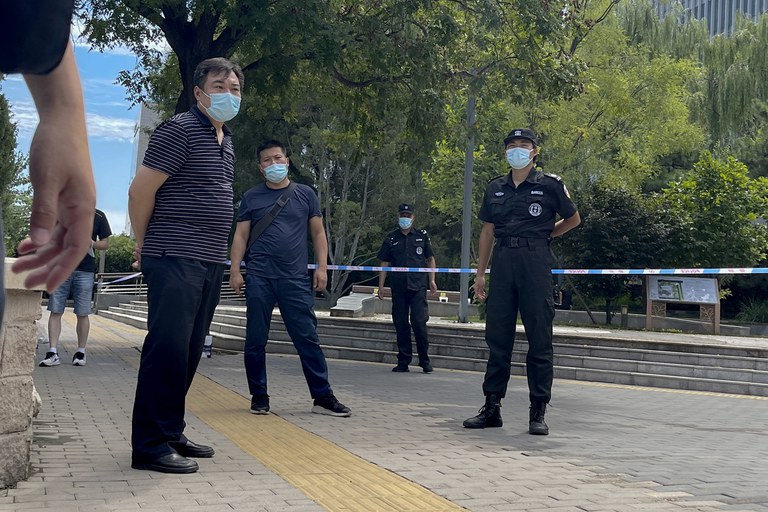 At the age of 21, I chose to go to the police. At the age of 25, I decided to take it to court. I thought the judicial system would help me, and I believed that I had a citizen's right to justice. I thought the police would investigate in a timely manner, take steps to preserve all the evidence, and respond to me as required by law. I believed that the court would at least understand the complexities of workplace sexual harassment, and understand the unequal power relationships between me, Zhu Jun, the police and CCTV, and that it would at least investigate the accused, who was visible on the closed-circuit TV footage. I didn't think that the court would once again decline to investigate the second time around, and just issue its judgment after hearing statements from both parties again.
Today, at the age of 29, this is the third time I have heard a legal judgment, yet I have yet to see a full investigation. All I have are regrets that I didn't foresee my own sexual harassment back then, and come ready with that recording pen or that hidden camera. It seems that this would be the only evidence the court would accept. However, regardless of the outcome, I still want my day in court, to say the things I want to say. I hope the judge won't regard it as meaningless.
I want to say that the judicial system's authority isn't a natural kind of authority; nor are all of its judgments the same thing as the truth. As citizens looking for help from the courts, as victims offering our bodies and the accuracy of our memories up to total strangers in this courtroom for judgment, we must trust. That trust doesn't come out of nowhere; it is earned through the actions of every person who wields power in this system. That power should offer help to the weak, otherwise it can hardly be called justice.
It would be hurtful to lose this case, but it's not just me who should be cross-examined. The essence of the law isn't in its written laws and documents, or its judges. It lies in the processes that seek out the truth and that achieve justice, or it means nothing. It depends on a deep sense of fairness and morality in every single person in the system, and on whether the vulnerable people who call on the system for help are treated with dignity. The real crisis doesn't lie with an absence of truth; it's about our shared doubts in humanity at this juncture.
In the face of failure, I would still like to ask the court one more thing: if a woman is sexually harassed in an enclosed space in the absence of complete surveillance footage, and everyone around her denies it, should she just keep quiet, with no recourse to the law? I have spoken about my fear at the time of the incident, and about my feelings of helplessness afterwards. I don't think this is uncommon at all. I think it's a very common predicament for women to find themselves in.
There may well be forces at work that have prevented me from getting justice here today, but I still believe that processes like this will let people know the sort of difficulties women face, and contribute to some sort of recognition that sexual harassment cases should be fully investigated by those in power when they happen. I hope that the next person who comes to this court with such a case will be met with greater understanding, which is why I believe that this statement of mine is meaningful.
Translated by Luisetta Mudie.