Three years after Beijing imposed a law criminalized public dissent and peaceful political opposition in Hong Kong, a dwindling band of social activists say they're not giving up just yet.
Opposition party leader Chan Po-ying, who chairs the League of Social Democrats, was recently detained by police on a downtown shopping street carrying an electric candle and a yellow paper flower on the 34th anniversary of the 1989 Tiananmen massacre, commemoration of which is now banned in Hong Kong.
Undeterred, she showed up a few days later outside the headquarters of HSBC Bank, protesting the closure of the party's bank accounts — something that is increasingly happening to opposition parties and activists in the city since the crackdown on dissent began.
Chan's husband Leung Kwok-hung is one of 47 political activists and former lawmakers currently standing trial for "subversion" after they organized a democratic primary in the summer of 2020.
Police also forced Chan and fellow women's rights and labor activists to call off a march on International Women's Day in March, in a move she told reporters was due to pressure from Hong Kong's national security police.
So why does she keep going, when so many have already left?
"Why do I still want to stay in Hong Kong?," she said. "It's not to prove how brave we are, but because we still hope to speak out when we see political, economic, social or intellectual injustice in Hong Kong."
"Dissent must be voiced, regardless of how much room is allowed for it," she said. "There are still some people willing to speak out, even in such a high-pressure situation."
"It also inspires other people."
Stalking street stalls
Still, even a simple plan of action like handing out leaflets on the street is now fraught with difficulty.
"Sometimes we set up a street stall with just four of us, and there are sometimes more than 10 plainclothes police standing right next to us," Chan said. "They may try to charge us under laws they haven't used before, such as illegal fundraising."
And it's not just the national security law they need to watch out for.
"The easiest way for them to prosecute us is under colonial-era sedition laws, because they can charge us for posting any opinion online that the authorities don't like," she said.
"They are gradually starting to use a whole variety of laws to curb the freedoms granted to us in the Basic Law," Chan said, referencing the promises in Hong Kong's mini-constitution that the city would retain its freedoms of press, expression and association beyond the 1997 handover to Chinese rule.
What's more, the League is now having huge difficulties funding its activities in the face of bank account closures, and can only hope that its members will work voluntarily to further the party's agenda.
'Destroying a system'
Former pro-democracy District Council member Chiu Yan Loy has also decided to stay for the time being, to serve his local community.
"District councilors spend 90% of their working hours on issues that have little to do with politics, but which serve important social service functions," Chiu said.
Until the authorities recently rewrote the electoral rulebook to ensure that there would be no repeat of the landslide victory seen in the 2019 district elections, which was seen as a huge show of public support for the 2019 protest movement and its goals, which included fully democratic elections.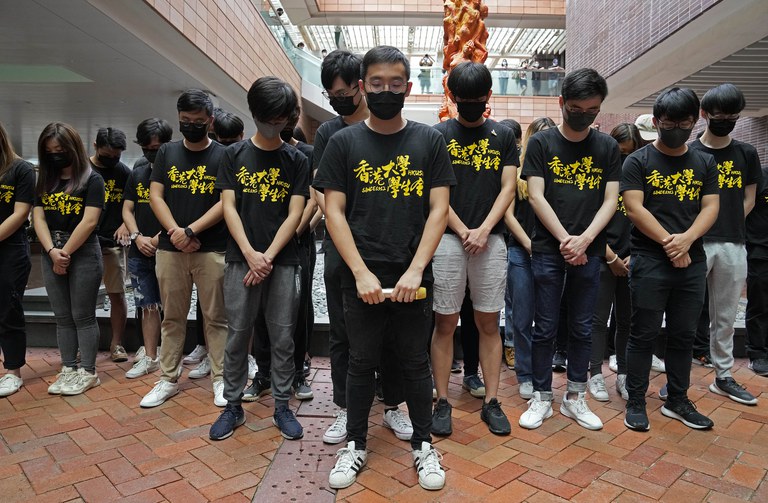 "When you destroy a system, but don't replace it with a new system, this will only create more social problems that will start occurring in Hong Kong," he said, adding that he is putting his own money into community-based projects to try to address these issues.
"These services don't involve the sort of politics that the government often talks about, so there is still room to keep doing this work," he said, despite being in a financially precarious situation.
Current affairs commentator Johnny Lau said that while the risks have risen, Hong Kong's activists have yet to be totally silenced.
"Of course there are far more obstacles under the national security law than before," he said. "The so-called red lines are constantly moving, and there are a lot of people watching and reporting people."
"It's still OK to talk about issues affecting people's livelihoods," Lau said.
Translated by Luisetta Mudie. Edited by Malcolm Foster.