Chinese leader Xi Jinping swore in a new, security-focused government in Hong Kong on Friday, 25 years after Britain handed the city back to China, saying the current arrangements — which have seen a citywide crackdown on peaceful dissent and political opposition — are here to stay.
"For this kind of good system, there is no reason at all to change it. It must be maintained over the long term," Xi said in a speech at the inauguration ceremony.
"After experiencing wind and rain, everyone can painfully feel that Hong Kong cannot be chaotic, and must not become chaotic again … Hong Kong's development cannot be delayed again, and any interference must be eliminated," Xi said.
"Power must be in the hands of patriots," Xi said. "No country or region in the world will allow unpatriotic or even traitorous or treasonous forces and figures to hold power."
"In the Hong Kong Special Administrative Region, power is firmly in the hands of patriots, which is an inevitable requirement to ensure long-term stability in Hong Kong, and it will be unshakable," he said.
Xi also swore in former security chief and ex-cop John Lee, who has been sanctioned by the United States for his role in implementing the national security law, as chief executive.
Police outside ran a massive security operation that included no-sail and no-fly zones, as well as roadblocks around the Convention and Exhibition Centre where Xi gave his speech.
Xi's defense of Chinese rule in Hong Kong came after British prime minister Boris Johnson and U.S. Secretary of State Antony Blinken accused Beijing of failing to meet its handover commitments.
China's line is that the national security law ended months of mass protests for full democracy and official accountability in 2019, which saw some protesters fight back with makeshift weapons against riot police wielding batons, tear gas, rubber bullets, water cannon and even live ammunition.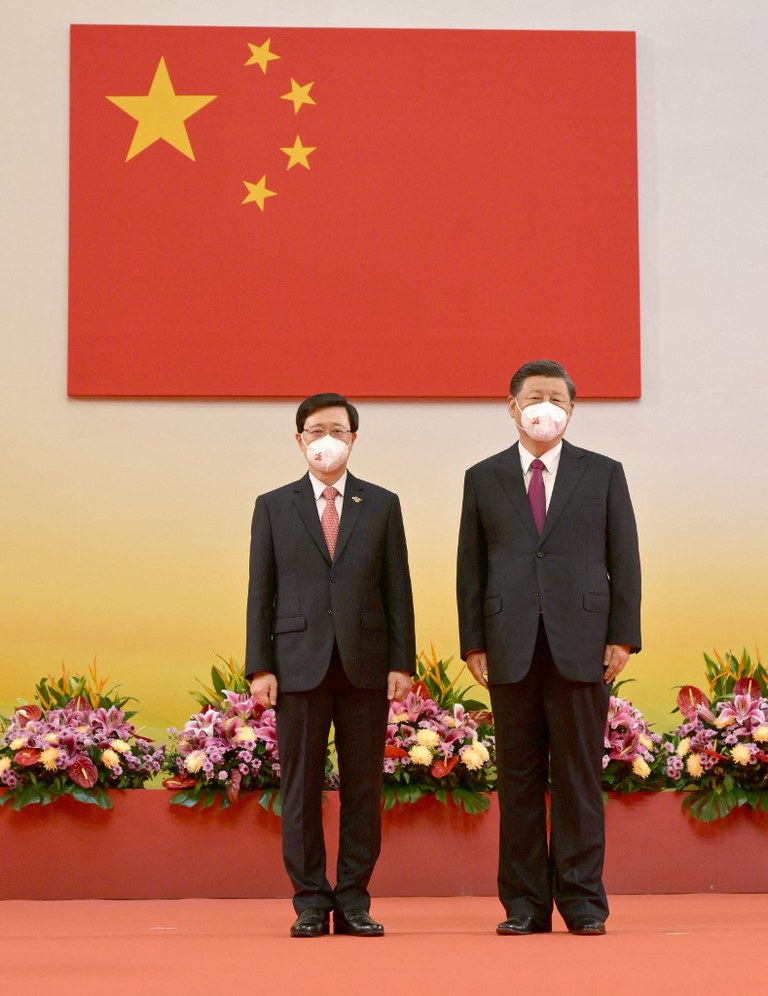 'New era'
Uniform decorations declaring a "new era" of stability were seen across many districts, including red lanterns and the Chinese national flag, and the Hong Kong regional flag.
"Hong Kong has of course also encountered various challenges, including the global financial crisis, the unlawful occupy movement in 2014, the Mong Kok riots in 2016, the riots and violence in 2019 together with the interference in Hong Kong's affairs by external forces which threatened our national security, and the COVID-19 pandemic," Lee told the inauguration ceremony, thanking the ruling Chinese Communist Party (CCP) for its support.
Lee also lauded the national security law for "bringing order out of chaos," and new election rules under which he was selected as the only candidate for the city's top job in May 2022.
"It is therefore imperative that we should cherish and uphold the system for a long time to come, and we should make good use of it to effect sound governance," Lee said, sounding the death knell for any hope of democratic development under the new regime.
Chinese political scientist Chen Daoyin said Xi's tone in the speech was condescending and parental, and that late supreme leader Deng Xiaoping's promise that Hong Kong would remain unchanged for 50 years was already dead in the water.
"What [Xi] talked about what different from what Deng Xiaoping proposed," Chen said. "Deng said Hong Kong would be like mainland China after 50 years, and maybe not at all."
"Xi has a new view on Hong Kong, which he calls a new starting point, making the point that Hong Kong has been brought to order out of chaos," Chen said.
Current affairs commentator Sang Pu said Xi has deliberately distorted the meaning of "one country, two systems."
"If he admits that one country, two systems is over, that would be tantamount to inviting opposition from Europe and the U.S.," Sang told RFA. "It would also make it look as if he has failed."
"Instead, he is repackaging it as a new beginning."
Sang said Xi's mention of cooperation between Hong Kong's judiciary and that of mainland China was worrying, suggesting that the authorities may start requiring "patriotism" from judges as well as from lawmakers and civil servants.
Dutiful congratulations
Across the internal border in mainland China, the CCP-controlled state media focused on a highly choreographed "welcome" for Xi in Hong Kong, and on praising Beijing's governance of the city.
"Some media didn't report it at all, so we can see that Hong Kong isn't a priority for the government, and that nobody cares if Xi or anyone else goes there," a Chinese scholar surnamed Shen told RFA. "Hong Kong can never be given too much prominence in the Chinese media."
Official media reports on the anniversary garnered a few dozen comments, most of them dutifully congratulatory, on social media.
Only one comment on an article by the China Youth Daily, the official newspaper of CCP's Youth League, opined: "I wish Hong Kong a better tomorrow."
Current affairs commentator Johnny Lau said Xi's promise of science and technology cooperation between Hong Kong and neighboring Guangdong province had likely been behind his visit to the Hong Kong Science and Technology Park on Thursday.
"Hong Kong's high-tech R&D is good, but there is a shortage of production capacity and talent," Lau said. "Through cooperation with the mainland, we can 'reap the east wind'."
Xi was likely taking the opportunity to try to reboot Hong Kong's international reputation as a trading and financial center in the wake of the national security crackdown and the COVID-19 pandemic, Lau said.
Xi was declaring to the rest of the world that he has confidence in Hong Kong's future and its economic policies, to exiting foreign investors to return, he said.
Translated and edited by Luisetta Mudie.