A Chinese government-sponsored visit to Xinjiang by 25 Beijing-based ambassadors and other diplomats from developing countries has come under fire by human rights activists for pushing an official narrative that the mostly Muslim Uyghurs in the far-western region are thriving, despite the reality of severe repression.
The delegation, which included diplomats from Dominica, Myanmar, Iran, Kyrgyzstan, Uzbekistan, Pakistan, Nicaragua and Mexico, visited the western autonomous region from July 31 to Aug. 3.
Xinhua news agency and CGTN, China's state-run international TV broadcaster, covered the diplomats as they visited Xinjiang's capital Urumqi, the cities of Aksu and Kashgar, and other significant locales to observe the region's "economic and social progress" and affirm that "the local population in Xinjiang is living a happy life."
And the Chinese government's efforts appear to have paid off. 
"During our time in Xinjiang, we had open conversations with the local people and observed that they lead content and happy lives," Martin Charles, the ambassador to China from the small Caribbean island nation of Dominica, told Xinhua.
"We didn't come across any instances of forced labor, and there were no indications of human rights violations," he said.
China is relying on government-organized visits for foreign officials and influential people from various professions to promote an alternative vision of Uyghur life in Xinjiang amid growing condemnation by Western nations over its maltreatment of Uyghurs and other Turkic minorities.
The U.S. government and several Western parliaments have declared that the ongoing human rights abuses, including arbitrary detentions, torture, forced sterilizations of Uyghur women, and forced labor, amount to genocide and crimes against humanity. 
China has also denounced a report issued nearly a year ago by the U.N. high commissioner for human rights that documented cases of severe rights abuses in Xinjiang. The report said that the abuses could constitute international crimes, in particular crimes against humanity.
Though the groups invited to tour the region are diverse, they have one thing in common: They all support China's "Xinjiang policy."
'Telling the story of Xinjiang well'
In early February, another visiting delegation of Beijing-based ambassadors and diplomats from African countries, including Senegal, Benin, Mali, Rwanda, Madagascar, Malawi, Uganda, Lesotho and Chad, visited Xinjiang and expressed support for China's policies there. 
All the countries maintain strong economic ties with China because many have benefited from Chinese-built and financed infrastructure projects under the Belt and Road Initiative. They also support China within the United Nations. 
Members of the delegation of diplomats who visited in July also expressed their rejection of a previous proposal by the U.N.'s top human rights body to hold debate on alleged rights abuses against Uyghurs and other ethnic minorities in Xinjiang. The proposal by mostly Western nations, including the United States, was voted down in October 2022.
Six days before the diplomats visited Xinjiang, the Chinese government organized a seminar in Urumqi to convey its narrative of the region. During discussions about "telling the story of Xinjiang well," participants emphasized reaching overseas audiences by transmitting the narrative in languages other than Mandarin Chinese.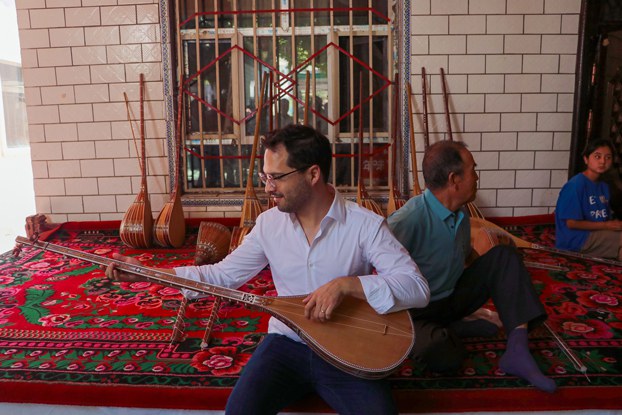 In late December 2018, a delegation of diplomats from Kazakhstan, Russia, Kyrgyzstan, Malaysia, and 12 other countries, all stationed in Beijing, visited Xinjiang on an agenda organized by the Chinese government, which presented "re-education" camps as voluntary vocational training centers. 
The Chinese government has also sponsored foreign journalists on trips to Xinjiang.
Chinese officials arranged for a group of journalists from 10 foreign media outlets to tour major cities in Xinjiang in April 2021 to defend its policies in the region and dispel reports of human rights abuses.
In August 2019, Chinese Communist Party officials hosted another group of foreign journalists, most of whom worked for state broadcasters from countries along the Silk Road economic belt, putting them up in fancy hotels while they toured Xinjiang and lecturing them on China's measures to stop terrorism and separatism in the region. 
The officials took the journalists to some mosques still left standing though authorities had closed, demolished, or turned into museums many others in Xinjiang, to a "re-education" camp they said was a vocational training center, and to shows where young Uyghurs danced and sang.
rights activists weigh in
Henryk Szadziewski, director of research at the Uyghur Human Rights Project, said the arranged visits are "a consistent tactic employed by the Chinese government to conceal their wrongdoings" during which they use others to amplify their messages.
"Whether it is a western vlogger doing a travel blog or diplomats from countries that are friendly, or that rely on China in terms of its economy, or [face] threats or pressure, they put out this message that Xinjiang is now safe and prosperous as a region," he said. 
While China invites people from nations sympathetic to its perspective to visit Xinjiang, it has rejected requests by the U.S. and human rights groups that independent investigators be able to visit the region.
Sophie Richardson, China director at Human Rights Watch, said all visits to Xinjiang by foreign diplomats were designed by China to cover up rights abuses. 
"If everything is fine, why not let in independent international investigators, particularly given the mountain of evidence of some of the most serious crimes under international law?" she asked.

"So, it's not clear why some people got to go and others don't unless Beijing has something to hide," she said.
Sayragul Sauytbay, an ethnic Kazakh who testified about the abuse she witnessed while detained in a "re-education" camp in Xinjiang, cautioned visiting diplomats against ignoring China's rights abuses in the region and becoming accomplices to them.
"They know and can see China is lying, but they are turning a blind eye," she said. "These are the countries that rely on China, but for them, this is a rare opportunity. They are going there to help spread propaganda and cover up the crimes China has committed."  
Translated by RFA Uyghur. Edited by Roseanne Gerin and Matt Reed.