Ko Min was making his way across a creek near his home where he regularly goes to catch crabs when he suddenly felt himself grabbed and pulled under water.
"At first I thought I'd been hit by a log until I touched it and realized that it was a crocodile," said the 20-year-old from Myanmar's Ayeyarwaddy region. "It dragged me deep into the water and rolled me over and over, before smashing me against the riverbed."
Recounting the attack of just over a year ago, Ko Min said that while he could barely swim because he was wearing boots and clothing, he managed to fight off the crocodile and escape.
"I was able to hit it with the crab hammer I had in my hands and run away up onto the shore," he said.
Ko Min was taken by fellow residents of Bogale township's Baw Ga Wa Di village to nearby Ka Don Ka Ni Village District Hospital, where he was treated for severe wounds to his thigh and pelvis. Doctors told the young man he was lucky to survive.
The incident highlights the dangers associated with settlement expansion in southwestern Myanmar, where people and wild animals are coming into increasing contact with one another in their search for food.
Others have been less fortunate in attacks that residents of Bogale township say are increasingly common as endangered fresh and saltwater crocodiles of up to 5.5 meters (18 feet) in length spread out from their habitat in the Mein Ma Hla Kyun Wildlife Sanctuary some 30 kilometers (18 miles) downstream and villagers expand their farmland.
The 500-square-kilometer (190-square-mile) protected area is an mangrove-covered island that is home to diverse wildlife situated in the Ayeyarwaddy Delta, where the Bogale River empties out into the Andaman Sea.
At least two people from Baw Ga Wa Di village have died in crocodile attacks in the last year alone, while others say they have had to fight for their lives to escape the encounters.
Call for authorities to act
Khin Pa Pa Hlaing said her husband, Ye Naung Tun, was killed by a large crocodile while removing a fishing net from the water near their village on July 27.
The 29-year-old has a four-year-old daughter and became a father for a second time, just a month ago.
Khin Pa Pa Hlaing told RFA that local officials have done nothing to help her family since Ye Naung Tun died, but she said she isn't interested in financial assistance.
"What I want is for them to catch and kill the crocodile that killed my husband – that will satisfy me," she said.
"I don't want these crocodiles swimming free. I don't want to hear of other people who met the same fate as my family, nor do I want to experience it again … I don't want anybody to suffer like me."
A 13-year-old girl from Baw Ga Wa Di named Sapal Aye was also killed in a crocodile attack in the past year.
U Myint, a member of Sapal Aye's family, told RFA the young girl was a "good student" who was attacked while "fetching water from the river to wash her clothes and to cook."
Authorities provided Sapal Aye's family 300,000 kyats (US$142) in compensation for her death.
In the coastal villages of Bogale township, people are killed every year in crocodile attacks.
In addition to the two Baw Ga Wa Di villagers in the past year, a child from the village was killed by a crocodile four years ago, prompting authorities to put up signs warning residents not to enter the water.
Nonetheless, a man from Baw Ga Wa Di named Thant Zaw Oo was attacked by a crocodile in the past year, while residents of nearby Hlay Lone Kwe village have had to be hospitalized recently due to crocodile attacks.
Fresh and saltwater crocodiles are protected by Myanmar's Forestry Department, and killing them is prohibited.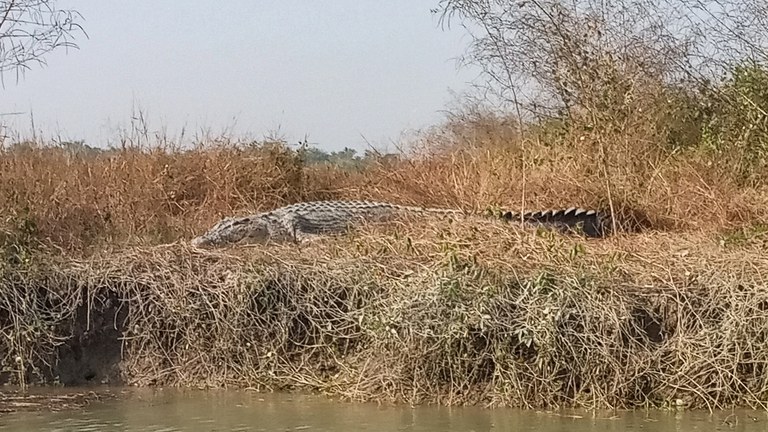 Out of respect for the ban, Baw Ga Wa Di Village Chief Soe Khaing has called on officials to act. He said that while he informed local police about Ye Naung Tun's death, they did not inform the Forestry Department about the incident.
"The people are afraid that they will have to go to jail if they [take action to] defend themselves against the crocodiles," he said.
"Even though [authorities] have put up a sign warning villagers not to go into the water, the people will starve if they don't. We use the water to earn a living. What we want is for the authorities to drive the crocodiles away."
Attempts by RFA to contact Ayeyarwady Region Social Affairs Minister Maung Maung Than for this report regarding the conservation of crocodiles in Bogale township went unanswered.
Need for buffer zones, awareness
A high-ranking official with the Environmental Conservation Department told RFA that incidents involving crocodiles and humans in Bogale township are on the rise because village populations are growing and inhabitants are clearing the mangrove forests and swamp land to farm.
"As a consequence, crocodiles have fewer places to live and their need for food has grown as well," said the official, who spoke to RFA on condition of anonymity, citing security concerns. "An undeveloped country like Myanmar cannot sufficiently create space for animals to safely coexist with people, as in developed countries, so incidents like these continue to occur." 
The official said that while the crocodiles involved in attacks were likely looking for food, "they don't intend to eat people."
He called for an expansion of conservation areas for the crocodiles, as well as "buffer zones" that people cannot enter and an increase in awareness efforts.
An expert working on wildlife conservation in Myanmar noted that because crocodiles are protected, their number will only increase, creating a need for blocking off areas from human access beyond the Mein Ma Hla Kyun Wildlife Sanctuary.
"Everyone knows that Mein Ma Hla Island is a crocodile area, but we can't refer to that alone as the crocodile area," said the expert, who also declined to be named. "We need to include a wider scope of land to account for all possible encounters."
In the meantime, Ye Naung Tun's wife, Khin Pa Pa Hlaing, said that villagers will still need to go into the water to fish, despite the danger of crocodiles.
"We have to go into the water to earn a living – there is no other way. How else can we survive?" she said. "My husband even lost his life to provide for me."
Translated by Myo Min Aung. Edited by Joshua Lipes and Matthew Reed.