On July 9, 2022, hundreds of thousands of anti-government protesters came out on the streets of Colombo and occupied the official residence and offices of Sri Lanka's then president, who tendered his resignation before fleeing overseas.
Two things are closely associated in my mind with the current political turmoil in Sri Lanka: the Chinese debt trap and green agriculture.
Many of the Chinese-language reporting outside of mainland China and its state-controlled media blame the Chinese debt trap, while English-language media consistently lay the blame with green agriculture.
According to data from the Ministry of External Resources of Sri Lanka, as of April 21, 2021 , Sri Lanka's foreign debt totaled U.S.$ 57 billion, 47 percent of which was international capital market borrowings, 13 percent of which is owed to the Asian Development Bank, 10 percent to China, another 10 percent to Japan, nine percent to the World Bank, two percent to India and the remaining nine percent to other creditors.
Sri Lanka's GDP ranks between 60th and 70th in the world, but it gets more international media coverage than a lot of higher-ranking countries simply because of its geographical location as the "Pearl of the Indian Ocean."
It is also a key site of China's global infrastructure and supply-chain initiative, known as Belt and Road.
At the end of 2017, the Sri Lankan government announced it would formally transfer a 70 percent stake in Hambantota Port to the China Merchants Group, as well as allowing China to lease the port and its surrounding land for 99 years.
This is where the idea that Sri Lanka is in a Chinese debt trap originates from.
The deal was widely reported by Western mainstream media.
A July 29, 2017 report from the Associated Press reflects the Western media's take nicely.
"Sri Lanka's government on Saturday signed a long-delayed agreement to sell a 70 percent stake in a $1.5 billion port to China in a bid to recover from the heavy burden of repaying a Chinese loan obtained to build the facility," the report reads.
"The document was signed between the government-run Sri Lanka Ports Authority and the state-run China Merchants Port Holding Co. in the capital, Colombo, in the presence of senior government officials from Sri Lanka and China. According to the agreement, the Chinese company will invest $1.12 billion in the port, which sits close to busy east-west shipping lanes," it says.
"Two local companies whose shares will be split between the Chinese enterprise and the Sri Lanka Ports Authority will be set up to handle the port's operations, security and services. The Chinese company will be responsible for commercial operations while the Sri Lanka Ports Authority will handle security. The lease period is 99 years."
'String of pearls'
Two things are important in this report. The first is that the equity transferred in the deal was actually a debt-to-equity swap, as Rajapaksa built the Hambantota port with a loan from China.
The port opened in 2011 and was criticized by opposition parties during 2015 presidential election campaign. Soon after, Sri Lankan authorities sought help from China because the port had lost U.S.$304 million by 2016, and Sri Lanka couldn't afford the heavy burden of loan repayments of … U.S.$59 million annually.
The second is that the port was funded by Beijing as part of its "string of pearls" projects in the Indian Ocean.
The phrase was coined by Indian politicians to describe concerns over China's potential plans to wield influence in the region via a slew of civil and military infrastructure projects from Port Sudan in the Horn of Africa through Sri Lanka, along the coasts of Pakistan, Bangladesh, to the Maldives and the Straits of Malacca, Hormuz and Lombok.
Many Indian commentators believe that both the 'string of pearls' strategy and the China-Pakistan Economic Corridor will threaten India's national security.
Beijing was able to include Sri Lanka in this plan because Rajapaksa relied heavily on Chinese infrastructure projects.
China made massive investments in Sri Lanka's ports, airports, highways and power plants during his time in office, becoming largest foreign investor in the country.
On June 27, 2018, The New York Times published an article titled "How China Got Sri Lanka to Cough Up a Port," which argued that the Chinese government knew all along that the port could never turn a profit. The whole purpose [of funding it] was to take the port for China when Sri Lanka came to the point of not being able to repay the debt.
By 2022, China had been laying the groundwork, seeding global public opinion, to counter the Western media narrative of a Chinese debt trap.
Now, influential foreign affairs think pieces in the United States are barely mentioning it at all.
Instead, articles about Sri Lanka's green farming crisis have been on display since last year, including a Dec. 7, 2021 piece in The New York Times titled "Sri Lanka's Plunge Into Organic Farming Brings Disaster."
A July 2019 survey by Colombo-based analytics firm Verité Research found that three-quarters of Sri Lankan farmers rely heavily on fertilizers, while only 10 percent do not. For important cash crops like rice, rubber and tea, the dependence is 90 percent or more.
Organic farming push
Both the Sri Lankan government and environmental groups believe the excessive use of fertilizers will cause growing problems with water pollution, and scientists have found that excessive exposure to nitrates increases the risk of colon, kidney and stomach cancers.
So Rajapaksa pledged in his 2019 election campaign to convert the country's farming industry to organic farming within 10 years, rushing to deliver on the plan by banning imports of synthetic fertilizer and pesticides … prompting soaring food shortage and price rises.
Rice production fell by 20 percent in the first six months of 2022 alone. Rice prices have risen by nearly one third compared with a year ago, and the price of tomatoes and carrots has risen fivefold.
Sri Lanka, once self-sufficient in rice production, was forced to import U.S.$450 million worth of rice, while the bans also damaged the country's tea crop, its main export and source of foreign exchange.
A March 5, 2022 article in Foreign Policy by Ted Nordhaus — co-author of the "Ecomodernist Manifesto" — and food and agriculture analyst Saloni Shah titled "In Sri Lanka, Organic Farming Went Catastrophically Wrong" argues that what led to the Sri Lankan crisis was a "farrago of magical thinking, technocratic hubris, ideological delusion, self-dealing, and sheer shortsightedness" by the country's political leadership and environmental advocates.
"Having handed its agricultural policy over to organic true believers, many of them involved in businesses that would stand to benefit from the fertilizer ban, the false economy of banning imported fertilizer hurt the Sri Lankan people dearly," the article says.
Meanwhile, Sri Lankan scholars have argued that the main threat to their country has come from a combination of neoliberal economics and global financial capitalism.
This is similar to a theory proposed by Egypt's Samir Amin about the relations between the center and the periphery, which ignores the specifics of processes, and attributes all misfortune to the influence of Western capitalism.
The above is a summary of the ins and outs of Sri Lanka's 2022 crisis, based on past knowledge, and reading tens of thousands of words of the latest data.
I have always believed that facts are more important than positions. If Sri Lanka wants to return to normal, it must also correctly understand the root cause of the crisis.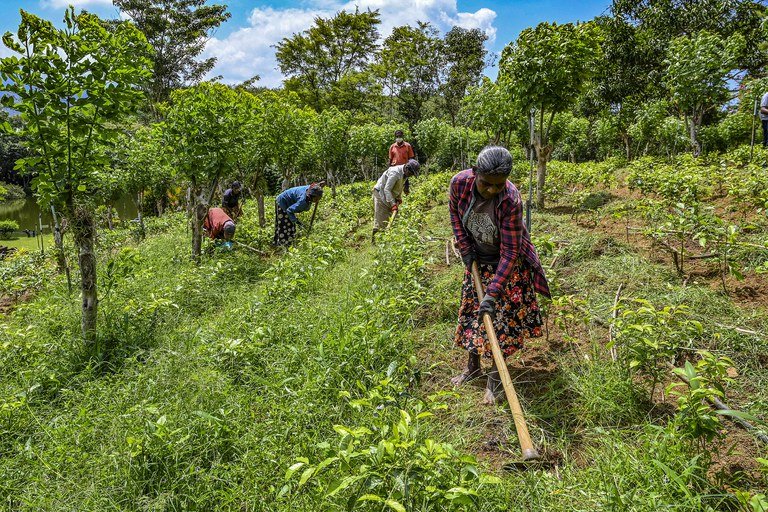 Translated and edited by Luisetta Mudie.
U.S.-based economist and author He Qinglian writes columns for RFA Mandarin.