A key part of the AUKUS security pact aiming to create a "seamless" defense industry across Australia, the United Kingdom and the United States appears at risk after congressional Democrats raised doubts about Canberra's ability to protect U.S. military designs from China.
The concerns were raised during a session of the House Foreign Affairs Committee on Wednesday, just days before U.S. Secretary of State Antony Blinken and Secretary of Defense Lloyd Austin arrive in Brisbane, Australia, for talks with their Australian counterparts.
Democrats including Rep. Gregory Meeks of New York, the party's ranking member on the committee, said that they opposed two bills introduced by the Republican majority to exempt Australia and the United Kingdom from the Arms Export Control Act of 1976.
The law created the International Traffic in Arms Regulations, or ITAR, which forces foreign entities, except for those in Canada, to apply for licenses when importing sensitive U.S. defense technology. 
Meeks argued that Australia and the United Kingdom could seek exemptions from the State Department under the standing law, and said a blanket exemption would circumvent important checks.
"Prematurely lifting them risks compromising our national security by allowing unfettered transfers of our most sensitive defense technology including to private-sector foreign firms, which risk exposure to or theft by our most capable adversaries, especially China," he said.
The former committee chair pointed to Australian intelligence chief Mike Burgess's comments earlier this year that more Australians are being targeted by foreign spies, due in part to the AUKUS pact.
"The U.K. faces similar intelligence threats," he said.
Roadblocks
Experts in Australia have warned that the U.S. arms-control laws are a roadblock to the so-called "pillar 2" of the AUKUS pact, which aims to create a "seamless" defense industry across the three countries and could be hampered by bureaucracy without a blanket exemption.
Those concerns have been echoed by top Australian officials.
Australia's ambassador in Washington, Kevin Rudd, told a forum in Washington last month that the so-called "pillar 2" of AUKUS "could be even more revolutionary than the submarine project in itself" but said it had a "complex process" ahead of it to get through Congress.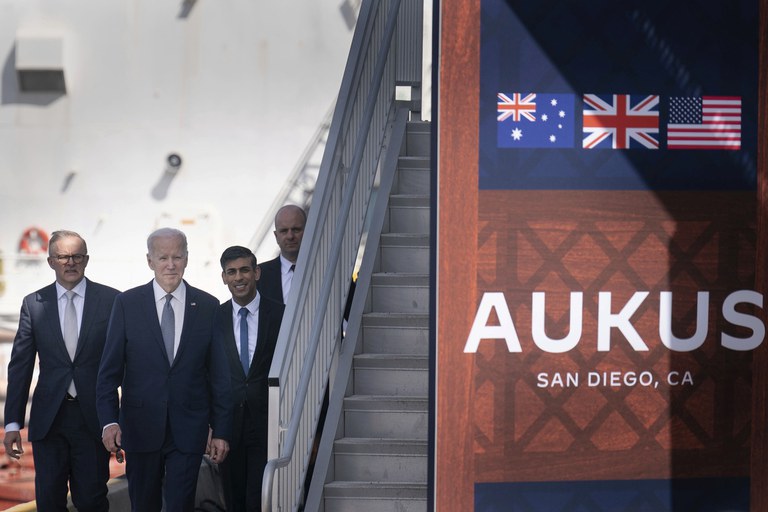 On Wednesday, Rep. Michael McCaul, a Republican from Texas who has served as chairman of the committee since the start of this year, said providing Australia and the United Kingdom similar exemptions as those given to Canada would cut "red tape" with minimal risks.
"This licensing exemption will add more submarine capabilities to the South China Sea as we see a more aggressive China on the march," he said. "It also removes restrictions on innovation, and collaborating on quantum computing, autonomous vehicles and long range weapons."
McCaul argued the 1976 law was "outdated" and from "a time when the U.S. dominated defense innovation in defense technology," which he said was no longer. He noted the United States had "never denied a sale or license to Australia" after the lengthy approval process.
"Times have changed," McCaul said, "and we now need to rely on our allies and partners, many of which out-innovate us in key areas."
Five Eyes partner
Wearing a koala pin on her lapel, Rep. Young Kim, a Republican from California who introduced the bill for the exemption for Australia, said she could not understand the Democrats' reluctance.
Kim, who titled the bill the "Keeping Our Allies Leading in Advancement Act," or KOALA Act, said Australia had already proven itself a trusted partner as part of the Five Eyes intelligence pact that also includes Canada, the United Kingdom and New Zealand.
"Australia is one of our closest allies and is one of our Five Eyes partners. We let the Australians have access to some of the most sensitive intelligence we have," Kim said. "So why shouldn't we expedite collaboration with them on sensitive technologies?"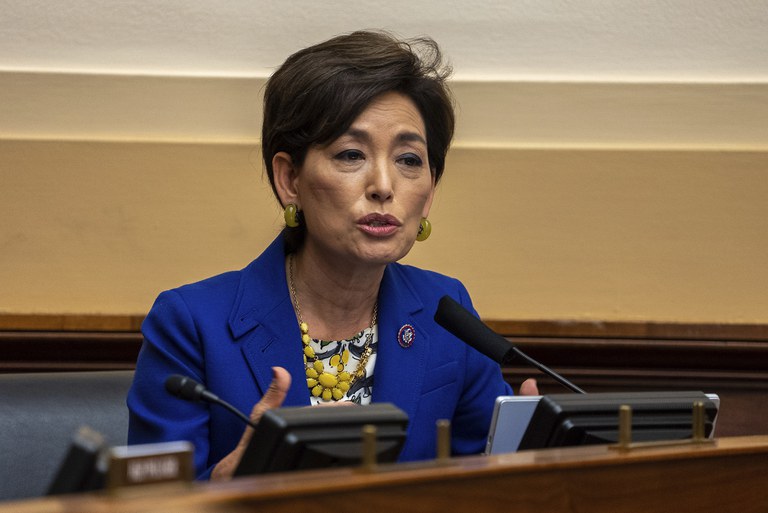 It was disingenuous, the second-term lawmaker added, to "grant them access to some of our most sensitive intelligence but say we're concerned that the Australians will let this technology fall into the hands of the CCP," referring to the Communist Party of China.
Kim also tabled a July 24 letter in favor of "an expedited AUKUS process" that she said was signed by a number of Obama administration officials including former director of national intelligence James Clapper and former Defense Secretary Chuck Hagel.
McCaul summarized the letter as making the case "Australia has sufficient safeguards in place already" as a Five Eyes member, and dismissed the argument that Canberra and London can apply for Canada-like exemptions from the U.S. State Department.
"State will not issue the exemption," he said. "State has shown it will never certify Australia or the U.K. for an exemption, because it does not want to give up its bureaucratic power over licensing."
A State Department spokesperson declined to comment on the issue but pointed to May 24 testimony to the committee by Jessica Lewis, assistant secretary of state for political-military affairs, in which she suggested bulk approvals of AUKUS-related exemption requests.
"Every transfer between AUKUS partners will not be subject to case-by-case review, but will be pre-approved" if the case meets certain criteria laid out by the State Department, Lewis said at the time.
Charles Edel, the Australia chair at the Center for Strategic and International Studies, told Radio Free Asia he believed changes to the law were needed that protect U.S. defense secrets while also allowing Australian, American and British companies to collaborate easily.
He said the speed of the current approval process was the issue.
"The question surrounding export controls," Edel said, "is not whether they work to exempt Australia and the United Kingdom from [licensing] key technologies, but whether they work fast enough or with enough certainty for businesses to make investments at scale."
"Changes in legislation are needed to ensure that the U.S. can collaborate with our closest allies, while ensuring that appropriate safeguards are in place to protect our sensitive technology."
Submarine deal safe
One rare area of agreement between Democrats and Republicans was on the deal to sell Virginia-class nuclear-powered submarines to Australia by the end of the decade.
There was bipartisan support for the AUKUS Submarine Transfer Authorization Act, which forms the substance of "pillar 1" of AUKUS for the United States and United Kingdom to help Australia obtain, and then build and maintain, its own fleet of nuclear submarines, starting with the purchase of three from U.S. shipyards.
The deal has proven controversial in Australia due to its price, which will run into the hundreds of billions of dollars, as well as in the United States, due to the huge submarine backlog at shipyards.
But Meeks of the Democratic Party said the Biden administration was committed to "ensuring there are no adverse impacts on our navy or shipbuilding capacity," while McCaul said the sale to Australia would help to "stimulate investment in our defense industrial base."
Rep. Bill Huizenga, a Republican from Michigan, added that passage of the bill would lead to "$3 billion of investments from the Australians into the submarine base," which would "help ease the production and maintenance backlog that plagues our submarine forces."
He said there should be no doubts that the submarines will be delivered to Australia on time, even if U.S. shipyards were now only building "approximately 1.3 Virginia-class submarines each year."
"Currently, the indications that industrial industry can deliver two Virginia-classes by the late 2020s are promising," Huizenga said, "and I have complete faith that they will hit that mark with our support coming out of the House of Representatives and the Senate."