China's domestic consumption improved in October, bolstered by enhanced numbers in travel and spending during the Golden Week – National Day – holiday in the earlier part of the month, the latest data show.
Retail sales, a barometer of domestic demand, were up 7.6% to 4.33 trillion yuan (US$598 billion) last month, on the year, and also a 2.1 percentage point rise from the previous month, according to the National Bureau of Statistics.
"From the perspective of demand, in October, driven by the continued effects of consumption-boosting policies, the relatively strong demand for travel during the National Day holiday and the pre-sales from the Singles Day festival, both the market and sales growth have strengthened," said Liu Aihua, the bureau's chief economist and spokesperson on Wednesday during a press conference in Beijing. 
The uptrend, Liu added, showed that "the rebound in consumer demand was relatively significant."
In a broader perspective, China's industrial output grew 4.6% in October, climbing marginally from the 4.6% pace in September. 
Fixed asset investment for the first 10 months climbed 2.9% from a year ago, but was 0.2 percentage point lower than that of the first nine months. While investment in infrastructure and manufacturing grew 5.9% and 6.2% respectively, that for the country's embattled real estate development sank 9.3%.
Liu pointed out that the industrial output number represented "corporate efficiency, the profits of industrial enterprises above designated size have turned positive year-on-year growth for two consecutive months."
"Whether it is from demand, production, or efficiency, the macroeconomic recovery is quite obvious," she said.
She added that monetary conditions were sound as seen from the increase in broad money supply – which includes bank deposits – for October from the People's Bank of China data on Monday. 
The central bank figures showed that new loans – indicative of economic activities – grew to 738.4 billion yuan (US$101.97 billion) last month, an increase of 105.8 billion yuan from a year ago, but down from the 2.31 trillion yuan in loans extended in September.
The latest figures could indicate the resilience of China's economy in the short term, an expert noted, adding that it is picking up its growth pace. 
"The figures are an early indication that China's economy is regaining momentum after the negative economic impact from COVID-19," said James Downes, head of the Politics and Public Administration Program at Hong Kong Metropolitan University. Downes, however, cautioned the need for observation of the nation's long-term economic resilience, advising against making hasty conclusions about China's economy.
Structural problems
In fact, China continues to face structural challenges that could exert downward pressure on its economy in the long term. A spiraling property market and mounting local government debt risks, flanked by slower global growth are some of the pressing issues. 
The biggest concern for both China and the international community could be the weakening of China's property market, which may pose a risk of spillover effects on other markets around the globe. The international investment community has witnessed China's deteriorating real estate market in recent months, and some have borne the brunt of credit defaults from the country's indebted developers China Evergrande and Country Garden.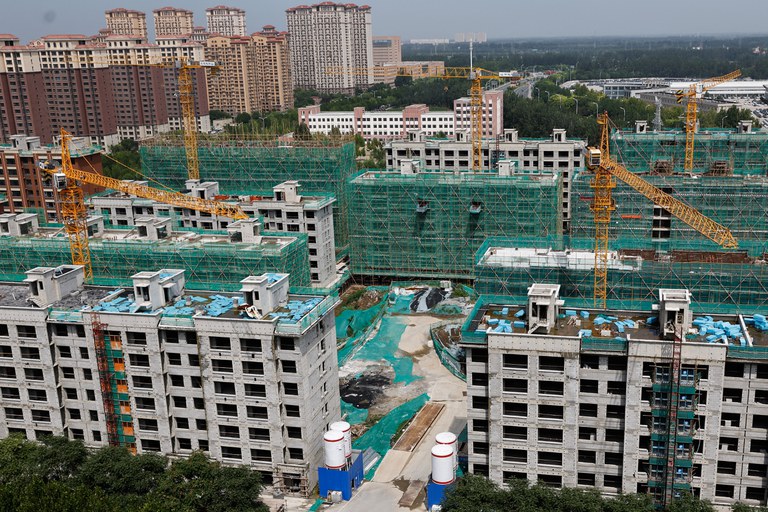 Adding to the concern, the statistics bureau on Wednesday released numbers reflecting the sector's continued downturn. Property and related industries are estimated to contribute to a quarter of the gross domestic product. At the end of last month, unsold floor area for all commercial properties surged 18.1%, of which that for residential real estate soared by 19.7%, compared with October 2022.
Funds raised by developers dropped 13.8% to 10.73 trillion yuan (US$1.48 trillion) in the first 10 months of the year. Domestic loans into real estate dropped 11% while foreign investments plunged 40.3% in the 10 months.
Sales for commercial and residential properties slipped 4.9% and 3.7% in the 10-month period respectively. 
Beijing has also been ramping up measures to prop up the economy. It announced last month a 1 trillion yuan government bond issuance, which allows local governments to frontload part of their 2024 bond quotas.
Beyond its shores, geopolitical tensions continue to weigh on China's economy, preventing it from potential further growth. 
The long term resilience of China's economy may be tied to its relations with the U.S., on how well it cooperates with the world's biggest economy and its allies that would give it a larger market access. 
China must maintain its access to international markets and attract foreign investment to counteract potential impacts like those from a property market slump and avoid any impediments to its economic growth.
"The US and China should seek to put aside their political differences and in the long-term work together on a number of key global issues," Downes said.
U.S. President Joe Biden is set to meet his Chinese counterpart Xi Jinping in San Francisco on Wednesday, where the two are expected to discuss a variety of issues including economic cooperation. Despite high anticipation, expectations for a breakthrough in economic cooperation from the meeting are modest, considering the bilateral all-out rivalry.
Downes suggested that the areas where the two could concentrate might be climate change and Artificial Intelligence (AI), emphasizing the need to first find common ground. 
Edited by Taejun Kang and Mike Firn.