Any visit by U.S. House Speaker Nancy Pelosi, who is currently leading a congressional delegation on an Asian tour, to Taiwan would lead to "very serious developments and consequences," China warned Monday, the eve of an expected visit to the democratic island.
While Taiwan wasn't on Pelosi's official four-country itinerary, RFA sources and sources cited by local media and CNN said she would make an unofficial trip late on Tuesday to the island, which has never been ruled by the Chinese Communist Party (CCP) nor formed part of the People's Republic of China.
But even an unofficial stopover would be regarded by Beijing as "a gross interference in China's internal affairs," Chinese foreign ministry spokesman Zhao Lijian told reporters.
"We would like to tell the United States once again that China is standing by, the Chinese People's Liberation Army will never sit idly by, and China will take resolute responses and strong countermeasures to defend its sovereignty and territorial integrity," Zhao said.
"If she dares to go, wait and see what happens," he told a regular news briefing in Beijing.
The Trump administration announced in January 2021 that the U.S. was lifting curbs that had been in place since Washington cut ties with Taipei in favor of Beijing in 1979, saying Washington would no longer "appease" Beijing.
President Joe Biden has previously said China is 'flirting with danger' with its ongoing threat to annex Taiwan, saying the U.S. is committed to defending the island in the event of a Chinese invasion, a statement U.S. officials later framed as an interpretation of the existing terms of the Taiwan Relations Act requiring Washington to ensure the island has the means to defend itself.
But Biden struck a more conciliatory note in a phone call last Friday with CCP leader Xi Jinping, saying U.S. policy hadn't changed, and that Washington doesn't support full international recognition for Taiwan's sovereignty. Xi warned Biden that "those who play with fire get burnt."
Taiwan's presidential office and foreign ministry have both declined to comment on any visit by Pelosi, although premier Su Chen-chang has said the island's government, which still uses the name of the 1911 Republic of China, will welcome any foreign VIP guests.
"We extend a warm welcome to foreign VIPs who come to visit our country; we will make the best possible arrangements for their visit, and also respect their plans when arranging the schedule," Su told reporters.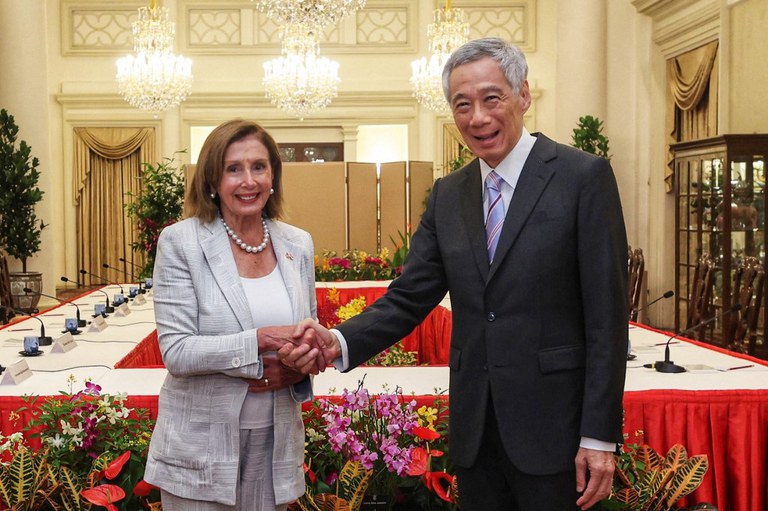 More saber-rattling
Drew Thompson, a former U.S. defense official and senior visiting fellow at the Lee Kuan Yew School of Public Policy at the National University of Singapore, said via his Twitter account that he expects Pelosi to make an unofficial stop in Taiwan after her visit to Malaysia.
While Beijing privately considers this an acceptable outcome, Thompson said the PLA could launch high-profile reconnaissance flights around Taiwan's Air Defense Identification Zone (ADIZ), a form of saber-rattling that has become commonplace in recent years.
Former Taiwanese civil aviation director Chang Kuo-cheng said Pelosi's aircraft won't be allowed to enter Taiwan's airspace, so much take a roundabout route via airspace controlled by the Philippines, the U.S. and Japan.
"She will not pass through our airspace," Chang said. "If she tries, China may take action; something they have long prepared."
Tao Yi-fen, an associate professor of politics at National Taiwan University, said Pelosi's visit could still prompt Xi to take action, regardless of the route Pelosi takes if she visits.
"The CCP is about to hold the 20th party congress, so if Xi Jinping does nothing after issuing all of those warnings, it could have a negative impact on his bid for a further term in office at the party congress," Tao said.
Taiwan resident Hsiao Wu said the war of words is largely being manufactured by Beijing, created by the CCP's insistence on annexing Taiwan, by force if necessary.
"Every now and then, I will get Chinese friends asking me if [Taiwan] really wants a war," Wu said. "But no, we don't. Our side is peaceful."
"If the PLA really scrambles to fly alongside [Pelosi's] flight or target-locks their missiles, then that would be an overreaction," he said.
"[Nonetheless], if a person of her rank comes to Taiwan, regardless of what they want to talk about, it will show support and a good attitude to Taiwan, and boost its [international] image," Wu said.
External distractions
Meanwhile, a Chinese student in Canada said the CCP needs an external distraction from an imploding real estate market and weak economic performance in the wake of Xi's zero-COVID policy.
"Social conflicts are more acute in China now … it needs to engage in some provocations … and strengthen domestic controls so as to shore up social stability," the student said. "The more conflicts at home intensify, the more they will project them outwards."
Current affairs commentator Fang Wenxiang agreed.
"I think that [China's] 'wolf-warrior' diplomacy has affected all areas of government now," Fang said. "Ministry of defense spokesmen used to be very cautious, but now they're coming out with unreasonable statements, from which it will be hard to back down."
Wu Qiang, independent researcher at Beijing's Tsinghua University, said the official response seems to be changing from day to day since the row over Pelosi's trip blew up.
"[The official line] is changing from day to day, and it colored by opportunism and ambiguity," Wu said. "It seems they have reached their rhetorical limit for the time being, because they don't want to cause political shocks or turmoil in China ahead of the 20th party congress."
"Nor do they want an expansion of popular nationalism off the back of Pelosi's visit to Taiwan … the CCP is being cautious about nationalistic sentiment ahead of the 20th party congress," Wu said.
Wu said many in China see the current standoff as the starting point for a longer-term struggle over Taiwan.
International relations scholar Zong Tao agreed, saying immediate further deteriorate in Sino-U.S. ties is unlikely.
"Basically, China won't be making any big moves, because their main focus is still the 20th National Congress of the CCP," Zong said. "Taiwan is not: rather, it's just an outlet for them to channel as much popular support as possible."
Should Pelosi decide against her reported unofficial trip, that wouldn't play well in Japan, where many are keen to see broad international support for Taiwan, according to one political analyst.
"If she doesn't go to Taiwan, this will be seen in Japanese political circles as a case of the U.S. saying one thing and doing another … and as an indication that the U.S. isn't strongly committed to defending Taiwan or Japan," Shizuoka University professor Yang Haiying told RFA.
"September marks the 50th anniversary of the normalization of diplomatic relations between Japan and China, so if Pelosi doesn't make a clear statement, Japan and China will definitely use the 50th anniversary of the normalization of diplomatic relations to downplay the U.S.-Japan military alliance," he said.
Translated and edited by Luisetta Mudie.