China announced sanctions against seven Taiwanese officials including Taiwan's de facto ambassador to the United States Hsiao Bi-khim, labeling them "diehard separatists."
Other Taiwanese political figures on the list are Koo Li-hsiung, Tsai Chi-chang, Ker Chien-ming, Lin Fei-fan, Chen Jiau-hua and Wang Ting-yu, said a spokesperson of the Taiwan Affairs Office of the Chinese Communist Party's Central Committee. All but one are from the ruling Democratic Progressive Party.
The sanctioned politicians and their family members are banned from entering China's mainland, Hong Kong and Macao. Their affiliated institutions and businesses are also prohibited from engaging in activities on the mainland.
The named politicians "will be held to lifelong accountability according to law," with further punitive measures to be decided, according to the announcement.
Hsiao Bi-khim, who has been Taiwan's representative to the U.S. since July 2020, was accused of helping push U.S. arms sales to the island and recently in advancing the visit of U.S. House Speaker Nancy Pelosi.
Besides the seven, two other well-known Taiwanese political figures – President of the Taiwan Foundation for Democracy Huang Yu-lin and secretary general of the International Cooperation and Development Fund Timothy Hsiang – are also banned from entering the mainland, Hong Kong and Macau.
Last November for the first time, China imposed an entry ban on Taiwan's Prime Minister Su Tseng-chang, Legislative Speaker You Si-kun and Minister of Foreign Affairs Joseph Wu, saying they were part of "an extremely small minority of diehard Taiwanese separatists who caused extreme harm … to the fundamental interests of the Chinese race."
Sanctions list
As the sanction list expanded to ten names, the Taiwan Office's spokesperson was quoted by Xinhua as warning that it could grow further and "anyone who deliberately challenges the law will face severe punishment." 
It's unclear how the punitive measures will affect the Taiwanese politicians as they are not known to have traveled nor done business on China's mainland.
On Aug.5, Beijing announced sanctions against Nancy Pelosi and her immediate family in response to her visit to Taiwan which China condemned as an "egregious provocation."
When asked about the decision a few days later, Pelosi reportedly laughed it off saying: "Who cares?" 
"That is incidental to me, of no relevance whatsoever," she said, according to Reuters.
During Pelosi's visit to Taipei, China imposed a no-entry ban on executives of four Taiwanese companies which had made donations to two foundations – the Taiwan Foundation for Democracy and the International Cooperation and Development Fund – that Beijing deemed as "aggressively engaging in pro-independence separatist activities." 
The four companies are solar producer Speedtech Energy Co., Hyweb Technology Co., medical equipment producer Skyla, and cold chain vehicle fleet management company SkyEyes. They're also not allowed to do business with any mainland companies.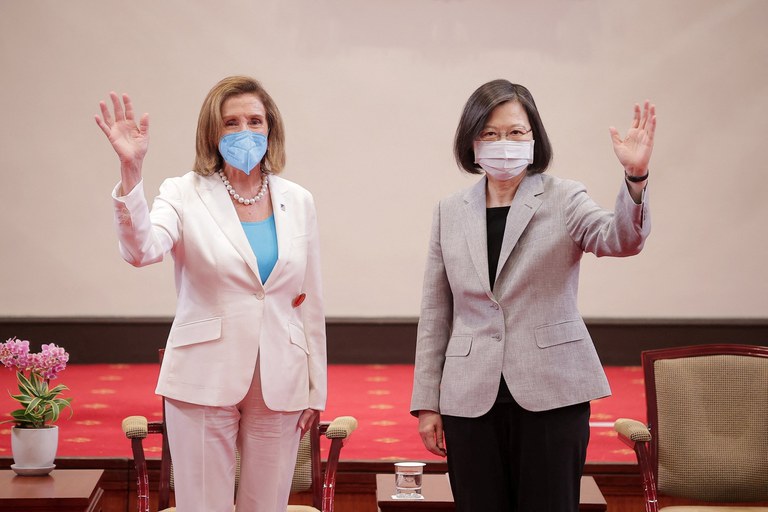 China's 'information warfare'
In another development, Taiwan's Ministry of National Defense has rejected claims by the Chinese military that its aircraft had flown over Penghu, one of Taiwan's most important outlying islands, during a flight operation on Monday.
The Eastern Theater Command of the People's Liberation Army (PLA) on Monday published a video on WeChat purportedly showing Penghu Islands as seen from a military airplane at a relatively close proximity.
Three types of aircraft were seen in the video: a Shaanxi Y-8 maritime patrol aircraft, a SU-30 and a J-16 fighter. 
Penghu Islands are situated on the eastern side of the Taiwan Strait, only 50 kilometers from Taiwan's main island.
The PLA sent 30 aircraft into Taiwan's air defense identification zone (ADIZ) on Monday, half of them crossed the median line dividing the Strait, according to the Taiwanese defense ministry.
Taiwan's ministry said only four Chinese J-16 crossed the median line of the Taiwan Strait but they did not come close to Penghu Islands. No Shaanxi aircraft was deployed.
The video released by the PLA Eastern Theater Command was clearly "Chinese cognitive warfare," said Maj. Gen. Tung Pei-lun, Taiwan Air Force's Vice Chief of Staff for Operations.
"China used the exaggerated tricks of cognitive warfare to show how close it was to Penghu – which is not true," Tung told reporters at a briefing in Taipei.
Some Taiwanese military experts, such as Shen Ming-Shih, acting deputy chief executive officer at the Institute for National Defense and Security Research, said the PLA probably used a powerful camera lens to film Penghu from a long distance. 
"Penghu Islands are the most important islands in the Taiwan Strait," said Shen.
"If China managed to occupy Penghu, the PLA could launch an effective military operation against Taiwan."
But the Taiwanese military maintains a large air defense missile battery and a radar system on Penghu, the analyst said, adding that the Taiwanese air force and navy should be able to deter an invading Chinese force. 
China has recently stepped up its disinformation campaign and cyberattacks as part of cognitive operations to attack public morale and sow confusion in Taiwan.