Latest developments at the Ream Naval Base in Cambodia, where China is building a facility that its military can use, have raised quiet concerns in neighboring Vietnam, where military strategists have been closely following events across the border.
Diplomatic sources say the base and China's involvement in strategic projects in Cambodia are likely to be on the agenda of U.S. Deputy Secretary of State Wendy Sherman's meetings when she visits Vietnam at the weekend.
Sherman is scheduled to visit Ho Chi Minh City and Hanoi from June 10-13 and meet with Vietnamese officials including Deputy Prime Minister Le Van Thanh, Foreign Minister Bui Thanh Son and Vice Foreign Minister Ha Kim Ngoc.
The U.S. deputy secretary is not meeting Vietnamese defense officials because of conflicting schedules but on a similar trip in 2014 Sherman met with then Lt. General Nguyen Chi Vinh, Vice-Minister of National Defense and Vietnam's chief strategist on Cambodia. 
She was Under Secretary of State for Political Affairs at that time.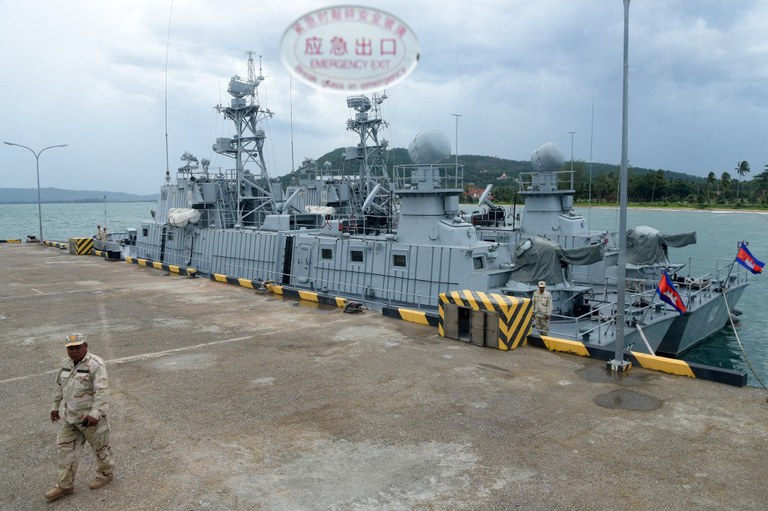 Historical ties
Vietnam is not only a neighbor but also Cambodia's historical "brother from Indochina" and traditional ally.
The current government in Phnom Penh was installed in power by Hanoi after Vietnamese troops defeated the Khmer Rouge in 1979. Prime Minister Hun Sen, a fluent Vietnamese speaker, used to be called by critics a "Vietnam's puppet" at the beginning of his political career.
The news about the Chinese-assisted development project, under which China will help Cambodia to renovate and upgrade naval facilities at Ream, reveals how much leverage Vietnam has lost in Cambodia in recent years. 
"Vietnam is of course worried because Ream is extremely close to Vietnam's own naval base in Phu Quoc island," said a Vietnamese analyst who doesn't want to be named because of the sensitivity of the issue.
The Ream Naval Base is situated in Preah Sihanouk province in southwest Cambodia on the Gulf of Thailand, less than 30 km (18 miles) from Phu Quoc, known as Koh Tral in Khmer.
It was the Vietnamese Navy who in January 1979 seized the base from Pol Pot troops and transferred it from the Khmer Rouge regime to the new Cambodian government.
But the Vietnamese Navy was invited to visit the Ream Naval Base only a couple times and recently the "Joint Vietnamese Friendship" building, a facility built by the Vietnamese, was relocated from the base, reportedly to avoid conflicts with Chinese personnel.
"There is also a sense of great disappointment," said the Vietnamese analyst.
"However I don't think the Chinese involvement here is targeting Vietnam but more for the Cambodian government to give a message of defiance and a warning signal to the U.S.," he added.
In July 1982, Hanoi and Phnom Penh signed an agreement on "historical waters" between the two countries to define the sea border and the legal sovereignty of the islands in the Gulf of Thailand, in order to minimize misunderstanding and prevent potential conflicts.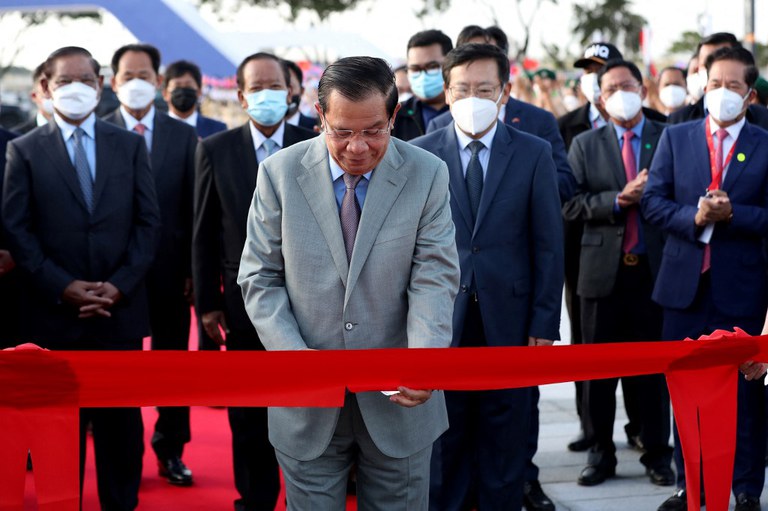 Security dilemma
Beijing's involvement in Ream has nevertheless sparked controversy in the West as the U.S. sees the danger of China gaining its first naval staging facility in mainland Southeast Asia that could allow it to significantly expand patrols across the South China Sea.
Concerns about Ream go back as far as 2019, when the Wall Street Journal reported a secret deal allowing China to post army personnel, store weapons and dock warships there.
Cambodia and China have repeatedly denied the information, saying "the renovation of the base serves solely to strengthen the Cambodian naval capacities to protect its maritime integrity and combat maritime crimes."
Washington has complained "about the lack of transparency on the intent, the nature, the scope of this project, as well as the role that the PRC military is playing in its construction and in its post-construction use of the facility."
"The latest news report about the Ream Naval Base is a further indication that the U.S. has not accepted the fact that Cambodia and China have already been close partners in Southeast Asia," said Sovinda Po, a research fellow at the Cambodian Institute for Cooperation and Peace.
"The main reason behind the U.S.'s constant accusations is to warn the Cambodian government against aligning so closely with China," Po said.
"Vietnam is also not happy to see China moving closer towards its own territory as it and China have ongoing sovereignty disputes in the South China Sea and the overall trust between the two countries is low," the Cambodian analyst said.
The naval base and its development therefore have become a major security dilemma for Cambodia, Vietnam, the U.S. and China, according to Sovinda Po.
'The new normal'
China already has the biggest maritime force in the world, with 355 ships and is projected to have 460 by 2030, according to the latest U.S. Defense Department report on Chinese military.
The U.S. has 297 battle-force ships but operates more than 800 military bases overseas.
"This is our normal now, China will seek overseas bases, just like we do," said Blake Herzinger, a Singapore-based defense policy specialist and U.S. Navy Reserve officer.
"If we think freezing out countries that do elect to cooperate with the Chinese does anything other than make us look like them, we are sorely mistaken," Herzinger wrote on Twitter.
U.S.-Cambodia relations have been strained over recent years due to many factors including differences in geopolitical and strategic interests, human rights, democracy and China's role in the region.
In contrast, during the last decade under the so-called Belt and Road Initiative (BRI), China has been pumping investment into important infrastructure projects in Cambodia including the Sihanoukville Special Economic Zone, Phnom Penh-Sihanoukville Expressway, the new Siem Reap International Airport, roads, bridges and hydropower plants.
"If I don't rely on China, who will I rely on? If I don't ask China, who am I to ask?" Hun Sen famously said at a regional forum in 2021.
"It's time to recognize that U.S. leverage is extremely limited in a competitive region where the opposite number is the People's Republic of China (PRC)," said Herzinger, suggesting that "public bullying isn't going to win Cambodia over."