Authorities in the eastern Chinese province of Zhejiang have placed a Taiwanese activist in incommunicado detention on suspicion of "separatism" and "endangering national security," as the democratic island's president hit out at a China trip by an opposition politician.
Taiwan national Yang Chih-yuan was placed in "residential surveillance at a designated location (RSDL)" from Aug. 4 — meaning he will likely be held with no access to a lawyer or to family visits for six months — China's Global Times newspaper reported.
The paper said Yang had been "actively scheming" to work towards formal statehood for Taiwan, which has never been ruled by the Chinese Communist Party (CCP), nor formed part of the 73-year-old People's Republic of China, since high school.
It cited his campaigning for a referendum on independence for Taiwan, a sovereign state still using the name of the 1911 Republic of China founded by Sun Yat-sen, and his founding of the Taiwan National Party in 2011 as examples.
The paper said state security police in Zhejiang's Wenzhou city are currently investigating Yang, who is also accused of "colluding with separatist forces to support Hong Kong secessionists" during the 2019 protest movement in the city.
Rights groups say RSDL is associated with a higher risk of torture and mistreatment in detention.
The news came as the vice chairman of Taiwan's opposition Kuomintang (KMT), Andrew Hsia, arrived in China on a tour of several southern and eastern cities and provinces.
It is unclear whether he negotiated with the Chinese authorities on Yang's behalf.
Hsia's trip came amid several days of PLA military activity around Taiwan in the wake of an Aug. 2-3 visit to the island, which Beijing claims must be 'unified' with China, by military force if necessary.
When the nationalist KMT regime of Chiang Kai-shek fled to Taiwan after losing the civil war to Mao Zedong's Soviet-backed communists, it took over what had been a dependency of Japan since 1895, when Taiwan's inhabitants proclaimed a short-lived Republic of Formosa after being ceded to Japan by the Qing Dynasty (1644-1911).
The island had just been handed back to the Republic of China as part of Japanese reparations in the wake of World War II, and KMT rule wasn't welcome in many quarters, particularly after the Feb. 28 massacre following a popular uprising in 1947.
Nonetheless, Beijing forces countries to choose between diplomatic recognition of Beijing or Taipei, and has repeatedly threatened to annex the island, should it seek formal statehood as Taiwan.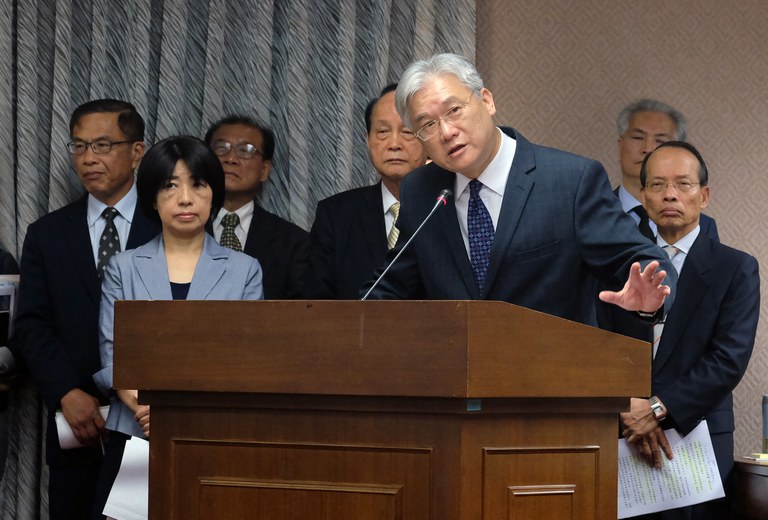 Bad timing for trip
Taiwan's Mainland Affairs Council (MAC) said the time wasn't right for Hsia's trip, given the intensive military activity aimed at Taiwan, while president Tsai Ing-wen told the ruling Democratic Progressive Party (DPP) on Wednesday that his visit was disappointing, and could send the wrong message about the level of threat the island faces from China.
The KMT has billed the visit as a "fact-finding" mission and a chance to connect with Taiwanese business owners in the Yangtze and Pearl River delta regions.
Just this morning, China released a white paper full of wishful thinking … ignoring reality on the other side of the Taiwan Strait and not renouncing the use of force against Taiwan," Tsai told party members.
"It is disappointing to the people of Taiwan that the KMT is insisting on going to China at a time like this," she said.
"[It also] sends the wrong message to the international community. We want to make it clear here that what the people of Taiwan want peace, neither provoking nor escalating conflict, but also to safeguard our sovereignty and national security, and for Taiwan never to back down," Tsai said.
Taiwan People's Party chairman Ko Wen-je said the trip would only be defensible if Hsia used it to protest the military blockade of air and sea around Taiwan.
"If it's just for fund-raising, then what kind of a time is this?" Ko said.
Hsia told journalists just before he left that he "won't be deterred by the current military exercises."
"We want to listen to our friends, hear what they have to say, and help them, in the hope that some improvements can be made," he said. "Communication and contact are definitely good things … we won't be put off by attempts to label us or attack us online or in the media."
Translated and edited by Luisetta Mudie.