Prime Minister Hun Sen's Cambodian People's Party claimed a sweeping victory in nationwide elections for local councils on Sunday, a contest that rights watchdogs said was heavily slanted toward the ruling party and marred by intimidation and obstruction of the opposition.
The voting for local councils in rural and urban precincts was seen as a test of support for opponents of the CPP five years after Hun Sen had the largest opposition party banned after a strong showing in the previous election.
The National Election Committee has yet to release preliminary results, but said the ruling CPP was leading an election in which 77.91 percent, or about 7.1 million of 9.2 million registered voters turned out to elect 11,622 commune council members.
"It's been a successful electoral process with a calm environment, security, public order, no violence and no intimidation," NEC President Prach Chan told a news conference after the polling stations closed Sunday afternoon.
"The voters voted overwhelmingly — 77 percent voted. The preliminary results are showing the CPP is the leading in all provinces and municipalities," said CCP spokesman Sok Ey San.
"This is a big success for the CPP," he said.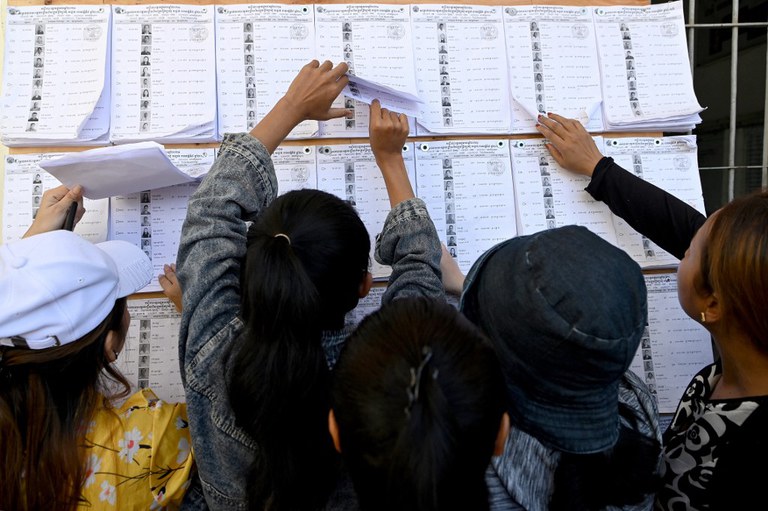 RFA has not independently confirmed the turnout and preliminary results. The official election results will be announced on June 26.
"It was not a free and fair and just election," said Thach Setha, vice-president of the Candlelight Party, the most prominent of 16 non-CPP parties competing.
"There was pressure and intimidation," he said, noting that the NEC was dominated by the ruling party, when the law stipulates a neutral body.
Thach Setha said his party will file complaints with the NEC over the alleged election irregularities, including CPP village chiefs who violated the election law by sitting at the polling stations. 
He said authorities arrested two of his election observers, releasing one later.
Voters did not turn out in as great a number as in 2017 and many polling stations were quiet, said Soeung Sengkaruna, a spokesman for the rights group Adhoc.
"Fewer people went to polling station to find their names. And to the ballot counting stations, I didn't see many people monitoring the process," he said.
"This shows that people didn't actively participate in the process like the previous commune election," added Soeung Sengkaruna.
Kem Sokha, the former leader of the Cambodia National Rescue Party (CNRP) who was arrested months before the party was banned in 2017, declined to vote on Sunday and was joined by many of his followers.
"We didn't vote because if we have voted it would been seen like we supported the CNRP's dissolution," said close Kem Sokha ally Khou Haingmeang.
The former CNRP representative from Siem Reap said Kem Sokha, who is embroiled in a slow-moving treason trial on charges from 2017, also feared that getting involved Sunday could violate court orders banning political activities.
On the last day of two weeks of campaigning Friday, the United Nations Human Rights Office criticized what it called "the pattern of threats, intimidation and obstruction targeting opposition candidates."
"Candidates have faced numerous restrictions and reprisals that have hindered their activities, with imprisonment of a number of candidates that appears designed to curb political campaigning," office spokesperson Liz Throssell said in a statement.
France-based opposition leader Sam Rainsy, who founded the Candlelight Party in 2005 before joining forces with the CNRP, said that while "these elections are worse than the previous ones in terms of transparency and honesty," the party did well in the face of obstacles thrown up by the government.
"Despite the continuous atmosphere of fear and intimidation in Cambodia, hope for democratic change at the ballot box has been revived by the Candlelight Party," he said a statement.
"Every seat won is a seat less for the autocratic regime of Prime Minister Hun Sen, who has been in power for 37 years," said Rainsy, who has lived in exile in France since 2015 under threat of arrest on a raft of charges he and his supporters say are aimed at keeping him out of politics.
Translated by Samean Yun. Written by Paul Eckert.