There are signs that China is mulling less draconian public health controls amid ongoing protests in the streets and on university campuses, political analysts say.
The Chinese government released a package of 20 new policy measures on Nov. 11 aimed at "optimizing" the country's pandemic response, including slightly relaxed quarantine requirements for people returning home from areas designated "high risk." 
The move has generally been seen as a cautious relaxation of the zero-COVID policy, espoused by Communist Party leader Xi Jinping as the only way forward when it comes to containing the virus, and comes amid growing public dissatisfaction with the policy and widespread censorship of dissenting voices. 
University students in the central city of Zhengzhou protested over long-running restrictions on Nov. 16, according to video clips uploaded to social media sites.
One video clip showed masked young people in a heated discussion with an official in a black jacket, urging him to read the students' demands, a copy of which was also circulating on social media.
In a second clip, the Zhengzhou University students start shouting at the official in frustration after he appears to stall. "Looks like you're not going to address a single one of these issues for us here tonight," says one protester. 
Social media posts said the university's Communist Party secretary came out to talk with students, but a live stream of the conversation was later blocked and student dorms searched by security officials.
Protests in Guangzhou, Urumqi and Lhasa
The students' resistance to nationwide campus lockdowns followed street protests by migrant workers who broke out of lockdown in the southern city of Guangzhou, as well as protests in Urumqi and Ghulja in the northwestern region of Xinjiang, and the Tibetan capital Lhasa in recent weeks.
Reports have emerged that the northern city of Shijiazhuang could be a pilot zone for a slightly more relaxed approach to mass testing.
The Financial Times reported on Nov. 15 that the city is "tiptoeing away from Beijing's most draconian pandemic measures, in what some see as a test case for a gradual retreat from President Xi Jinping's strict zero-Covid policy."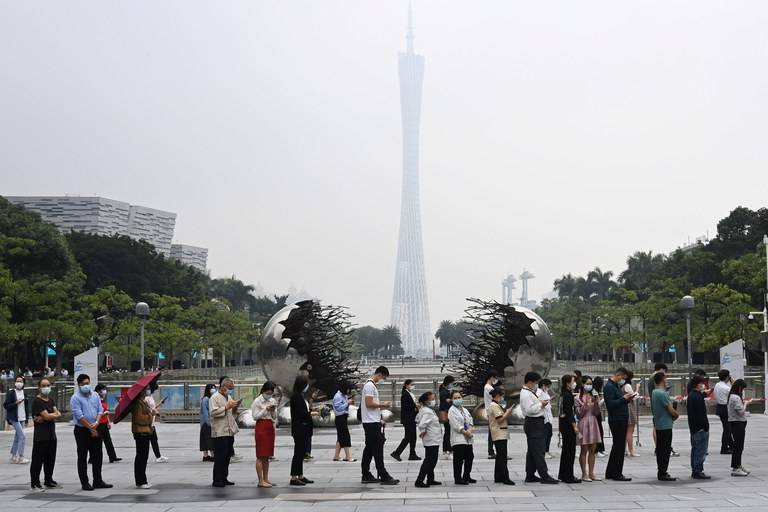 Widespread rumors that the city is gearing up to "live with COVID-19" prompted the city's party Secretary Zhang Chaochao to deny the move on Nov. 14, promising that the municipal authorities wouldn't "lie flat" in the face of the threat from the virus.
Former Chinese Red Cross Director Ren Ruihong said the government is announcing looser restrictions from Beijing, but leaving it to local officials to decide how best to control the virus locally — an issue that figures highly in government key performance indicators and therefore affects individuals' career prospects.
"The central government will gradually relax its pandemic prevention guidance, even if only to deflect public dissatisfaction from itself," Ren told Radio Free Asia.
"The situation with regard to different opinions [about how to implement the measures on the ground] is pretty chaotic right now, with the central government unwilling to take the blame."
This has left room for variation in local pandemic prevention policies, and caused a "disconnect" from Beijing, Ren said.
This has resulted in an ongoing and severe lockdown in the southwestern megacity of Chongqing, while requirements for testing in Shijiazhuang have at least partly been dropped, according to a resident there who spoke to RFA.
Still need negative PCR tests
People returning to the city from low-risk areas still need a negative PCR test from the past 48 hours, and need the permission of their residential committees to return home. The same requirements apply to anyone leaving the city.
While confusion remains over whether kindergarteners still need a recent negative test to attend school, resident Sun Liang said regular testing regardless of a person's movements has been dropped, while "active testing" is still in place for travel to certain public places.
"You still need a negative PCR from the past 24 hours to get into an office building, and a negative result from the past 48 or 72 hours to ride the subway or the bus," Sun told RFA.
Some districts appeared to be just as confused as residents by what was happening in their city, shutting down test stations only to reopen them a day later, according to social media posts.
But Sun said the city is likely being used as a guinea pig for the rest of China.
"It is indeed being used as a pilot, but it's just not being totally freed from restrictions as some people have been saying," he said. "If they totally removed all restrictions, then there might be a backlash in which people think the government doesn't care what happens to them."
"A lot of pharmacies are now selling drugs you can take orally for the prevention and treatment of COVID-19, which may be an even bigger sort of pilot," he said.
The Financial Times cited several residents of Shijiazhuang as saying that the idea of loosening restrictions made them fearful of catching the virus.
Veteran U.S.-based rights activist and political commentator Yang Jianli likened China's COVID-19 policy to "riding a tiger."
"This is caused by the fact that Xi Jinping and the Chinese government failed to import internationally made vaccines in time in the wake of the Wuhan lockdown," Yang said. 
"The Chinese government is in a dilemma right now. They are damned if they do, and damned if they don't."
Translated and written by Luisetta Mudie. Edited by Malcolm Foster.