U.S. Treasury Secretary Janet Yellen touched down in Beijing on Thursday and ate at a popular Yunnan restaurant with the U.S. ambassador before meeting with key officials on Friday.
Yellen met with China's central bank governor Yi Gang, former economy point-man Liu He and State Premier Li Qiang on Friday to discuss the global, U.S. and Chinese economies.
In prepared remarks, Yellen told Li she hoped her visit would spur more regular channels of communication between the world's two largest economies, adding that both countries had a duty to "show leadership" on global challenges such as climate change.
She said Washington would "in certain circumstances, need to pursue targeted actions to protect its national security," but disagreements over such moves should not jeopardize the broader relationship.
"We seek healthy economic competition that is not winner-take-all but that, with a fair set of rules, can benefit both countries over time," she said.
Separately, speaking at the American Chamber of Commerce on Friday, Yellen noted concerns in the U.S. business community. 
"I am communicating the concerns that I've heard from the U.S. business community, including China's use of non-market tools like expanded subsidies for its state-owned enterprises and domestic firms, as well as barriers to market access for foreign firms," she said.
Meanwhile, in a sign of a possible thaw in China-U.S. relations, the usually provocative nationalist state tabloid Global Times asked in a tweet, what's Yellen's "preferred choice of food while in China?
"It seems that Yunnan cuisine takes the top spot, as a popular Yunnan restaurant in Beijing's Sanlitun area recently shared a picture of Yellen using chopsticks to enjoy a meal shortly after her arrival in Beijing on Thursday."
Yellen is in Beijing amid a flurry of visits aimed at breaking the ice between Washington and Beijing after the U.S. military shot down a Chinese government balloon over the United States.
Secretary of State Antony Blinken visited Beijing in late June and U.S. climate envoy John Kerry will visit Beijing later this month Bloomberg reported.
Mediating influence
Yellen has a near "mission impossible" – to convince China that its measures in the interests of state security, restricting technology exports to China, are not intended to harm China's interests as a rising nation state.
But Chinese state media showed signs that Beijing may be in the mood for compromise – at least when it comes to trade and investment.
China's Global Times, in an uncharacteristically positive turn, editorialized that even though U.S. officials are downplaying any expectations from Yellen's visit, "Chinese experts believe that one major point of significance of Yellen's trip is to keep high-level communication channels open, which may help bilateral relations walk out of their downward spiral."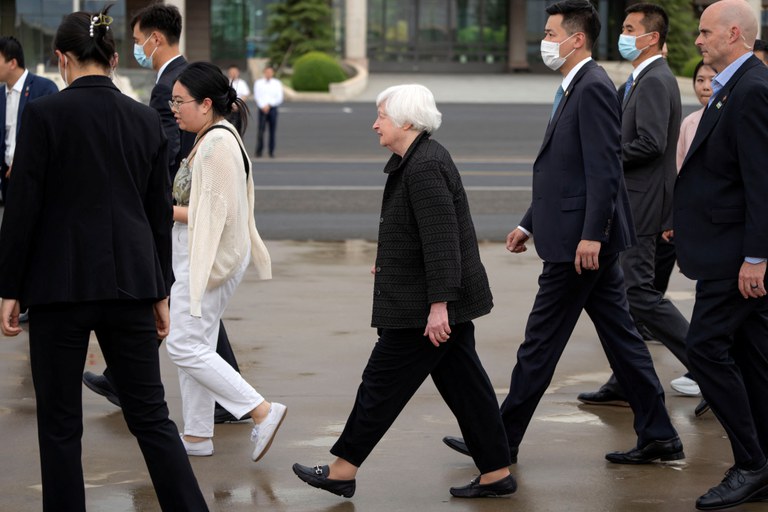 Ahead of Yellen's visit, in a response to restrictions on China's access to high-technology semiconductor chips, on Monday, China announced it was restricting exports of two critical components in the chips that modern life runs on.
"This is just the beginning," Wei Jianguo, a former Chinese vice-minister of commerce, told the China Daily. "China's tool box has many more types of measures available."
The trade and investment entanglement of China and the U.S. makes what the U.S. is now referring to as "de-risking," rather than decoupling, hugely complex due to the entangled nature of the two nations' trade.
Firm on security
It's likely Beijing may think that accepting Yellen's visit and appearing to be more receptive, as opposed to the cooler reception Secretary of State Antony Blinken received, could give the U.S. pause for thought about its tech restrictions.
But Yellen reiterated that her mission, like Blinken's, was to open up lines of communication and avoid a catastrophic confrontation between the world's two leading superpowers.
"I am glad to be in Beijing to meet with Chinese officials and business leaders. We seek a healthy economic competition that benefits American workers and firms and to collaborate on global challenges," Yellen said in a tweet.
"We will take action to protect our national security when needed, and this trip presents an opportunity to communicate and avoid miscommunication or misunderstanding."
A possible thaw
"Yellen is a more rational voice on China issues within the Biden administration," Wu Xinbo, dean of the Institute of International Studies at Shanghai's Fudan University told The Wall Street Journal.
But her visit comes amid "unsafe" moves in the South China Sea, a war of words over Chinese fentanyl exports, revelations of a multibillion-dollar Chinese spy base in Cuba and daily military harassment of Taiwan.
Wendy Cutler, a former diplomat and Vice President at the Asia Society Policy Institute, talking to Taiwan +, an English-language TV news service, said of Yellen's visit, "No 1, she has to go through the list of U.S. grievances, including their recent announcement of [export restrictions on] two critical minerals, the way U.S. companies are being treated in China and recent legislation to create more uncertainty in the business climate."
Cutler added that, as Yellen has previously pointed out, the U.S. doesn't seek to decouple the two superpower's economies, but "there are sectors of national security concern [and] we're not going to be shy about protecting that."
Back to business
Yellen took a jab at China's planned economy, saying that Beijing should return to the era of market reforms that former leader Deng Xiaoping ushered in and which led to decades of rocket-fueled economic growth.
"A shift toward market reforms would be in China's interests," Yellen told U.S. business executives on Friday, according to reports.
"A market-based approach helped spur rapid growth in China and helped lift hundreds of millions of people out of poverty. This is a remarkable economic success story," Yellen added.
Yellen said that China's vast middle-class was a market for American goods and services, again stressing that Washington's bevy of restrictions on trade against China were about national security and not holding back Chinese development.
"We seek to diversify, not to decouple," she said. "A decoupling of the world's two largest economies would be destabilizing for the global economy, and it would be virtually impossible to undertake."
Edited by Mike Firn.