On June 30, 1997, pro-democracy members held the majority seats on Hong Kong's Legislative Council (LegCo), the result of the city's first fully democratic general election in 1995, under political reforms brought in at the 11th hour of British rule by then colonial governor Chris Patten.
By the following day — the first under Chinese rule — the 1995 LegCo had been swept aside in favor of a China-backed "provisional LegCo," packed with members viewed more favorably by Beijing.
Twenty-five years after the handover, the ruling Chinese Communist Party (CCP) has rewritten the rules to ensure that only those it deems "patriots" can stand as candidates.
The current LegCo — elected earlier this year under the new rules — now has no openly pro-democracy members at all.
And while the city's Basic Law — endorsed by the CCP — promised direct, popular elections for the city's chief executive by 2017, incoming chief executive John Lee was selected by a Beijing-backed committee in a "perfected" election in which he was the only candidate.
Meanwhile, dozens who once served as pro-democracy lawmakers are now behind bars, accused under a draconian national security law of "subversion" after they took part in a democratic primary in 2020.
The lack of democratic participation in post-handover Hong Kong isn't for want of trying.
From a mass march in 2002 against national security laws, to a 2012 campaign against CCP propaganda in schools, to the 2014 Occupy Central, or Umbrella Movement, Hong Kongers have mobilized in their thousands, hundreds of thousands and millions to demand an end to the erosion of their traditional freedoms and that promises of autonomy and more democracy made before the handover be kept.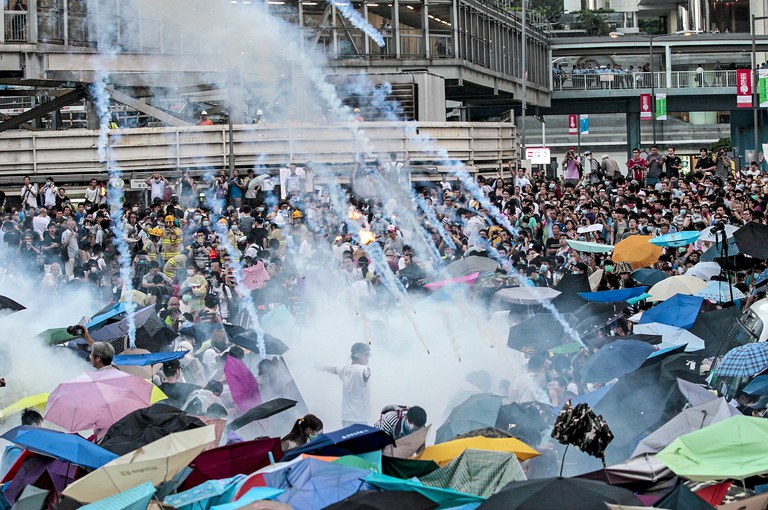 Extradition law protests draw brutal response
In 2019, mass protests of one and two million erupted in response to then chief executive Carrie Lam's plan to allow extradition of alleged criminal suspects to face trial in mainland Chinese courts.
Mass public anger over a brutal response to these protests spurred the movement further, which broadened to include demands for fully democratic elections, police and government accountability, and an amnesty for Hong Kong's growing number of political prisoners.
As protesters started to fight back against police tear gas, water cannon, live ammunition and rubber bullets with Molotov cocktails and bricks, not everyone was on board with a departure from peaceful resistance and civil disobedience.
But the District Council elections of November 2019 resulted in huge turnout and a sweeping majority for pro-democracy candidates across the board, among them many who had been expelled from LegCo for not being patriotic enough in the years before the national security law criminalized public dissent.
By March 2021, China's National People's Congress (NPC) had voted to change Hong Kong's electoral system to ensure that only vetted candidates approved by a Beijing-picked committee and cleared by the city's newly installed national security police could run for or hold any kind of public office.
The NPC announced that China would be "taking full political control" of Hong Kong, and that only patriots would be allowed to run for office.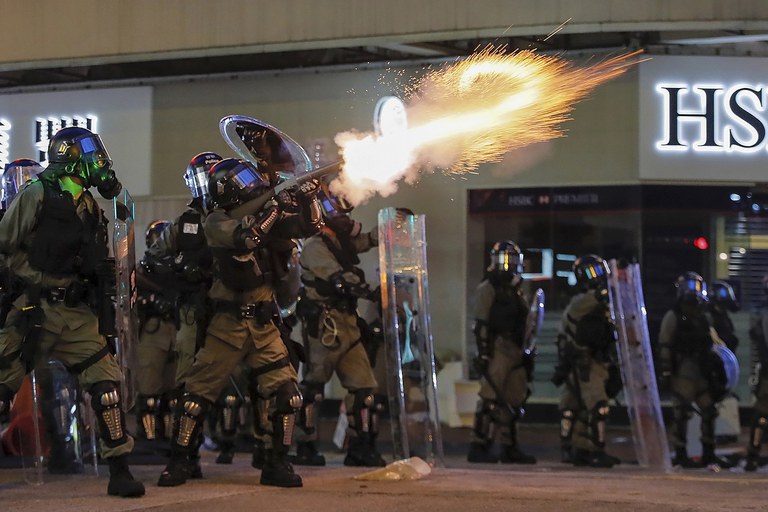 Meanwhile, the arrests of outspoken journalists and the closure of pro-democracy media outlets and civil society groups continued under the national security law.
On July 1, 2019, protesters broke into and vandalized the LegCo chamber to protest plans to allow extradition to mainland China.
Now, the building has been refurbished and the Chinese national emblem added to the wall. The 90-seat expanded chamber is no longer the scene of lively political debate, and only 20 seats are returned by public vote.
"The whole basis on which we do politics has changed," Bruce Liu of the pro-democracy Association for Democracy and People's Livelihood (ADPL) told RFA. "Political development has been uneven since the handover, with ups and downs, like the wind and waves."
"It's like a circle game that always ends up back where it started," Liu said, adding that his party now no longer seeks seats in LegCo, preferring to focus on social welfare and constituency clinics instead.
Exile or prison
Tik Chi-yuan, who represents the social welfare sector in LegCo and who holds one of the few seats still elected by individuals rather than block voting by organizations, said the CCP sees Hong Kong as a security risk.
"The central government in Beijing perceives some kind of threat to its security calculus," Tik — who describes himself as a "non-establishment" LegCo member told RFA. "I think we need to look to the future now. The Basic Law promised democratic elections, so we should take that as our goal. It's a process."
With most of the former political opposition either behind bars or in exile, the younger generation who grew up protesting have also disappeared from public view, many to escape becoming Hong Kong's next political prisoner.
Former student leader Law Cheuk Yiu said he left for the U.K. out of fear for his personal safety.
"When the situation started to look truly bleak, I decided to leave," he said, recalling a relatively liberal political atmosphere in the years immediately following the handover.
"Things have changed since those early years: they won't ever go back to the way they were then," Law said. "Nowadays, anyone with a dissenting opinion is totally suppressed, basically."
For Law's generation of Hong Kongers born and raised after the handover the past few years have left them facing a crisis of identity — whether they try to live under the national security law or seek a freer life overseas, as an estimated 140,000 have already done.
"Our generation knows only too well that China only brought in patriotic education [to Hong Kong schools] because they thought they had lost us," he said. "They couldn't control us, and they really wanted to."
'Very bleak' outlook
Benedict Rogers, who formed the London-based rights group Hong Kong Watch to keep an eye on political and civil rights, said the changes that have battered Hong Kong in recent years are the result of Xi Jinping's personal leadership goals.
"What's happened in Hong Kong is part of that picture of Xi Jinping's total intolerance of any form of dissent," Rogers said. "It seems that for him and the Chinese Communist Party today, they emphasize their total power and control as a higher priority than economic success."
Rogers, who was accused of violating the national security law in March 2022 and who is wanted by the Hong Kong police, said he doesn't expect to see much change while Xi — who will seek an unprecedented third term in office later this year — remains in power in Beijing.
"In terms of the next 25 years, I think that as long as the current leadership in Beijing is in power, the outlook for Hong Kong is very bleak," Rogers said. "I think it will only get worse."
Will the city ever enjoy a high degree of autonomy, or its people be allowed to run their own affairs?
"It's pretty hard to start a mass movement when there's so little room to speak or act," Law said. "There's just no way to hold a public debate."
"That means everything is forced underground," he said.
Translated and edited by Luisetta Mudie.