On October  23, Vietnamese prosecutors began a second corruption trial against fugitive businesswoman Nguyen Thi Thanh Nhan. Given her alleged ties to Prime Minister Pham Minh Chinh, this is no run of the mill fraud and bribery trial. Elite political infighting is clearly at play as the jockeying for power ahead of the 14th Congress intensifies.
Nhan, 54, is the former chairwoman of the Advanced International Joint Stock Company (AIC), a trading company established in 1994, which has been involved in the import of any number of things, from corporate electronics, medical equipment, pharmaceuticals, auto parts, alcohol, machine tools, and farm equipment.
Nhan who was tried in absentia along with 35 other defendants in December 2022 for a $6.3 million bid rigging and bribery case involving 16 hospitals in Dong Nai province. She allegedly paid some $1.8 million in bribes to local officials to secure inflated contracts, 
Nhan was convicted and received a 30-year sentence in January 2023. Also convicted was Tran Dinh Thanh, who had been the provincial party chief at the time for accepting bribes.  
The current case is similar to her first conviction, and involves six instances of bid rigging in the sale of medical equipment to state hospitals in the northeastern province of Quang Ninh, as well as bid-rigging at a medical lab in Ho Chi Minh City.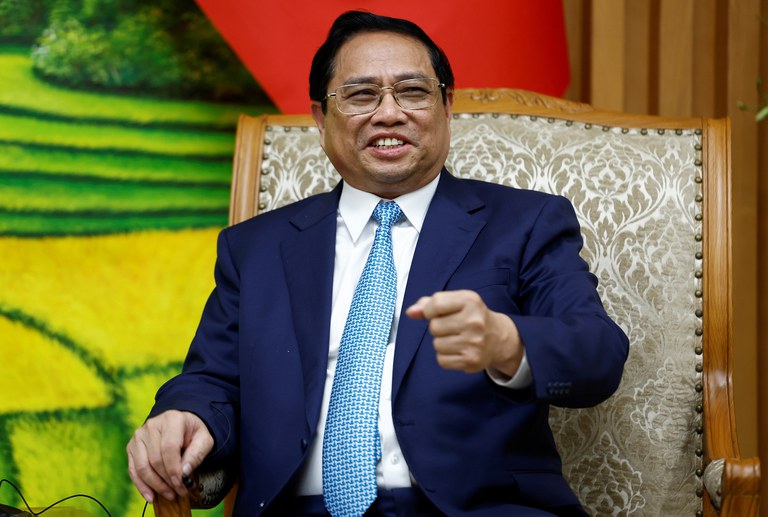 The fraud involved in this case is only VND50 billion ($2 million). There are 15 other defendants including AIC's accountant and Nhan's brother. The latter had fled but returned to Vietnam to face justice. 
But what makes the case so sensitive is that the Quang Ninh's provincial party chief from 2011-2015, was Prime Minister Pham Minh Chinh. The former Ministry of Public Security intelligence official was given some of his first management experience as he was being groomed for senior government service. 
Nhan is rumored to be Chinh's former mistress. But even if that is an unfounded rumor, Nhan clearly benefited from her close relationship with the prime minister and other leaders. She had a pattern of cultivating ties with provincial leadership where she sought contracts.  
AIC's webpage also notes that the firm serves as a consultant to the powerful Ministry of National Defense.
Nhan as the middlewoman
In addition to dealing in medical supplies, she allegedly became Vietnam's intermediary for weapons procurement from Israel. Israeli defense firms reportedly secured some $1.5 billion in sales in the past decade as the People's Army sought to modernize and lessen their dependence on Russian arms.
Israel has been negotiating some $2 billion in additional sales to Vietnam, including surface-to-air missiles and other weapons systems, with Nhan as the middlewoman.
In 2018, Vietnam entered into negotiations with Israel Aerospace Industries about procuring the Ofek-16 spy satellite, which would give Vietnam their first independent overhead imagery. 
The deal was worth $550 million, but Nhan allegedly tried to get the Israeli manufacturer to significantly increase the price to secure a larger commission. Israeli officials were angered that the corruption scheme has potentially upended the sale, and at the very least delayed its implementation.
Nhan has never been charged for anything involving military procurement, which probably reflects a fear of shedding light on the sensitive issue of the military's procurement practices. Prosecutors have focused on her medical industry dealings, much the way that investigators may be focusing on tycoon Nguyen Thi Phuong Thao's other business dealings, rather than her conglomerate SOVICO, which has an extensive history of brokering weapons imports from Russia.
Madame Nhan has been a fugitive since the Ministry of Public Security issued a warrant for her arrest in April 2022. 
Her December 2022 trial came as CPV General Secretary Nguyen Phu Trong's "Blazing Furnace" campaign brought down two deputy prime ministers, Politburo-member Pham Binh Minh and Vu Duc Dam, and two months later President and Politburo member Nguyen Xuan Phuc. At the time, Prime Minister Chinh appeared to be the next target.
Chinh is reported to have gone through a self-criticism session and has held onto his job. But arguably what really saved him was not his innocence, but the lack of an obvious replacement. None of the new deputy prime ministers are on the Politburo and there's an overall dearth of economic management experience on the top decision-making body. 
Nhan is reportedly hiding in Germany, which rejected a formal extradition request from Vietnam. Indeed, Berlin issued a very stern warning to Hanoi to not repeat the abduction of the former executive of the state-owned PetroVietnam Construction, Trinh Xuan Thanh, in 2017.
After his illegal rendition, allegedly through Slovakia, Thanh was convicted of embezzlement and sentenced to life in prison; a trial that also saw Politburo member and former chief of PetroVietnam, Dinh La Thang, sentenced to 13 years. Germany expelled two Vietnamese diplomats and has convicted two people for the abduction, but wants to deter a similar operation.
New targets
Nhan's trial could be another attempt to weaken the prime minister as jockeying for leadership positions heats up ahead of the Communist Party of Vietnam's 14th Congress expected to be held in January 2026. 
RFA's Vietnamese Service has reported that the vice chairman of the Quang Ninh People's Committee and two former vice chairmen have been investigated and officially reprimanded for their management shortcomings and oversight of the AIC deal. It's just more unwanted pressure on the Prime Minister.
The Politburo continues to have just 17 members, as both the 7th and 8th Central Committee Plenums in May and October, respectively, failed to garner sufficient consensus to elect new members following the ouster of Minh and Phuc. 
Meanwhile Minister of Public Security To Lam continues to effectively weaponize his sprawling ministry to investigate and neutralize political rivals.  
Yet, the ouster of two deputy prime ministers and the president, who were all trusted by the international business community and diplomat corps, led to questions about the country's political stability; one of its key selling points. 
As such, the "Burning Furnace" anti-corruption campaign seems to be no longer targeting senior officials, instead focusing on their proteges, families, and business partners, hoping that they will provide incriminating evidence. This indirect approach garners fewer headlines, but is key to understanding the maneuvering behind the scenes.
Zachary Abuza is a professor at the National War College in Washington and an adjunct at Georgetown University. The views expressed here are his own and do not reflect the position of the U.S. Department of Defense, the National War College, Georgetown University or Radio Free Asia.