Russia's civil aviation agency said Wagner Group head Yevgeny Prigozhin was on an airplane that crashed near Moscow Wednesday. It has fueled a wave of online discussion in China, where some drew comparisons to the Chinese Communist Party's not so distant past.
No cause for the crash was provided, but Wagner-flagged Telegram accounts blamed Russian air defenses for shooting down the Embraer jet.
Prigozhin's death comes exactly two months – to the day – after the Wagner Group undertook an armed rebellion against the Russian Armed Forces, seizing control of a Russian military office in the city of Rostov-on-Don and briefly marching on Moscow.
According to the Wagner Group, Prigozhin was among 10 people who lost their lives in the crash involving a private plane flying from Moscow to St. Petersburg that came down less than half an hour after taking off.
The group posted what is believed to be a video of the crash on social media platforms, showing an airplane crashing and burning. They confirmed that Prigozhin had died, describing him as a hero and a patriot. They further claimed that he died at the hands of "Russian traitors."
Although the news broke in the middle of the night in China, keywords related to "Prigozhin" quickly trended on the social media app Weibo, which had 255 million daily users as of March of this year. Numerous bloggers also uploaded late-night videos discussing the implications of the Prigozhin incident.
China's earlier official response to Wagner Group's brief mutiny was muted, with a Foreign Ministry statement on June 25 calling it "Russia's internal affair," adding that China "supports Russia in maintaining national stability."
But some experts interviewed by the state media outlet China Daily expressed concerns about the stability of China's friend and neighbor.
"The conflict between mercenaries and the Russian army is only the tip of the iceberg about the inherent contradictions in Russian society," said Yu Sui, a professor at the China Center for Contemporary World Studies.
Challenging the leadership
Many online commentators remarked on the inherent risk of standing up to autocrats in what some of them dared to call "totalitarian" states.
"Prigozhin, the head of the mercenaries, clearly didn't understand politics. Didn't he watch House of Cards? He made the mistake of rebelling against Putin," blogger Yojia Fleet wrote.
"Breaking news! Prigozhin's private plane crashed north of Moscow. After offending Putin, he didn't live long. As for the cause of his death, we can only speculate," wrote another blogger who goes by the name of Wang Xiaodong
Some Chinese netizens created polls such as "Who's behind Prigozhin's plane crash?" to attract attention and web traffic.
Online comparisons were also made to the "Russian version of the Lin Biao incident," a reference to a top leader of the Chinese Communist Party (CCP) and Chairman Mao Zedong's chosen successor.
In 1971, he is believed to have died when his plane nosedived into the grasslands of Outer Mongolia. China's official line is that Lin planned to assassinate Mao and when his plot failed he tried to flee Beijing for Moscow, but with insufficient fuel to complete the flight.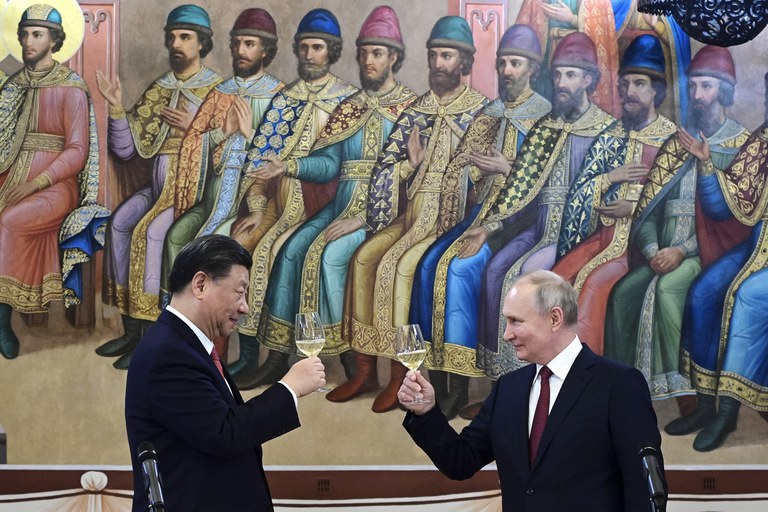 Professor Yang Haiying of Japan's Shizuoka University said the reason that online commentators were calling the incident the "Russian version of the Lin Biao incident" was because both China and Russia are dictatorships. 
"Chinese citizens are paying attention to this because of the close relationship between Xi and Putin. If anyone opposes Putin, their fate is sealed, just as if anyone opposes Xi, they might follow Lin Biao's path," said Yang.
However, Hu Ping, honorary editor of the New York-based Beijing Spring magazine, said that the relationship between Prigozhin and Putin cannot be directly compared to that of Lin Biao and Mao Zedong. He added that Lin Biao's accident was shocking all the same, and Prigozhin's death was dramatic, sparking discussions online.
"For the CCP, this isn't politically sensitive because it's an external event, but a dramatic one," said Hu. "With the Chinese government supporting Russia in the war against Ukraine and Xi Jinping often comparing himself to Putin, these factors naturally lead to speculation."
Political commentator Wang Jian said that Chinese netizens were fascinated with the latest news because of China's good relationship with Russia, but warned that government voices might use the news to make Chinese citizens even more afraid to challenge the government.
"With issues like unemployment and dropping house prices, people are anxious," said Wang. "The government is unpredictable. The focus of Chinese netizens on external events has decreased because of the economic downturn. But government online commentators might create an atmosphere that suggests disloyalty will lead to bad consequences."
Wang also alluded to the CCP's complete grip on the military, saying it was unlikely that China could experience a mutiny similar to Russia's. He added that Beijing won't need to leverage the incident to strengthen control over the military.
Edited by Mike Firn and Taejun Kang.