U.S.-China tensions will once again take center stage at a major regional security forum in Singapore this weekend, with the two countries' defense chiefs meeting in person for the first time.
Both U.S. Defense Secretary Lloyd Austin and his Chinese counterpart Wei Fenghe have arrived at the Shangri-La Dialogue security summit, hosted by the International Institute for Strategic Studies (IISS), a London-based think tank.
Austin and Wei are delivering keynote speeches to highlight the defense policies of their respective countries but eyes are on their bilateral meeting, reportedly held on Friday afternoon.
This is the first time the two defense chiefs are meeting in person, though in April they had a phone conversation to discuss "bilateral relations, regional security issues and Russia's unprovoked invasion of Ukraine," according to a Pentagon statement.
Since then, bilateral security ties between the U.S. and China have had a few setbacks amid Beijing's growing assertiveness and changing military postures in the region. 
China has signed a security deal with the Solomon Islands and is setting up a naval facility in Cambodia. Both developments have raised concerns among the U.S. and its allies.
Chinese flyovers and naval patrols around Taiwan, in the East and South China Sea, are also posing challenges to the U.S. Indo-Pacific strategy.
Washington has condemned what it calls "China's provocations," while Beijing has insisted it is the U.S. that threatens peace and security in the region. 
The bilateral meeting in Singapore – "held at the Chinese side's request," according to the Department of Defense (DOD) – is not expected to deliver any major breakthroughs. However, it is expected to open a clearer and more regular communication channel between the two sides.
"In general, such dialogues remain rare in a bilateral relationship marked by scant human connections," said James Crabtree, Executive Director, IISS-Asia.
"This lack of communication would be cause for worry in any future regional crisis," he said.
Preventing miscalculations
Austin would like to keep lines of communication open between the U.S. military and the People's Liberation Army (PLA) to prevent miscalculations, according to the DOD website.
The defense secretary will speak on Saturday, clarifying the next steps for the U.S. Indo-Pacific strategy with emphasis on the new approach of "integrated deterrence," where the U.S. aims to "harmonize both traditional and emerging defense capabilities and priorities, along with non-military tools of power, with partners and allies in support of a free and open Indo-Pacific."
China's Defense Minister Wei Fenghe will speak on Sunday on China's vision for regional order, in which "he will discuss China's policies, ideas and concrete actions in practicing true multilateralism, safeguarding regional peace and stability, and promoting the development of a community of a shared future for mankind," according to Chinese state media.
Austin and Wei will also hold several other bilateral and multilateral meetings on the sidelines of the summit.
The U.S. defense secretary is scheduled to meet with ASEAN defense officials as well as South Korean Defense Minister Lee Jong-sup. He is also expected to take part in trilateral talks with Lee and their Japanese counterpart Nobuo Kishi. 
The Chinese defense minister, meanwhile, is expected to meet the Japanese defense minister to discuss North Korea after having co-chaired the Inaugural Singapore-China Defense Ministers' Dialogue on Thursday afternoon.
Japanese media said Kishi also wanted to register with Wei Fenghe "Japan's concerns about China's growing maritime assertiveness, and to urge Beijing to exercise restraint."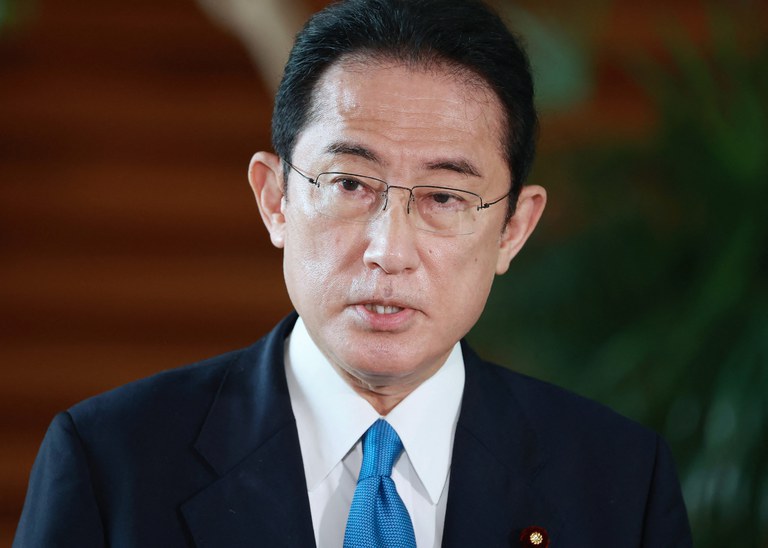 On Friday Japanese Prime Minister Fumio Kishida is giving a keynote address to kick off Shangri-La Dialogue 2022. The address will outline his vision and plan for a free and open Indo-Pacific region.
Kishida is the first Japanese prime minister to attend the summit in eight years, the last visit being by Shinzo Abe.
Ukrainian President Volodymyr Zelenskyy is expected to deliver a special address to the summit via video link on Saturday to talk about the situation in his country. 
The IISS-hosted Shangri-La Dialogue has gone into its 19th year after a two-year suspension due to the COVID pandemic. It is taking place on June 10-12 at the Shangri-La Hotel in Singapore, this year with the participation of some 500 delegates and press, according to the organizers.