Taiwanese President Tsai Ing-wen arrived in New York on Wednesday amid a war of words between Washington and Beijing about her visit and threats of unspecified "countermeasures" from a Chinese official.
Tsai touched down just before 3 p.m. at John F. Kennedy International Airport and was ushered by security into the Lotte New York Palace hotel on Madison Avenue – past throngs of tussling protesters and supporters being watched closely by police – shortly after 4 p.m. 
Armed with banners and loudspeakers, protesters led by the New York Alliance for China's Peaceful Reunification, a local pro-Beijing group, had arrived early in the day and set up positions along the street.
By the time of Tsai's arrival, the group easily outnumbered Tsai's supporters, most of whom did not arrive until about half an hour before the Taiwanese president, and though arguments broke out amid a tense mood, police kept the two groups separate.
A member of the local Chinese community who requested anonymity due to safety concerns told Radio Free Asia he had received a telephone call from the Chinese Consulate in New York asking him to attend the protest to "safeguard the unity of the motherland."
Travel itinerary
Tsai spends two nights in New York, delivering a speech and receiving a leadership award at the Hudson Institute on Thursday, before departing Friday for official visits to Guatemala and Belize.
She returns on Tuesday to Los Angeles for two more nights in the United States, where she will deliver a speech to the Ronald Reagan Presidential Library and meet House Speaker Kevin McCarthy.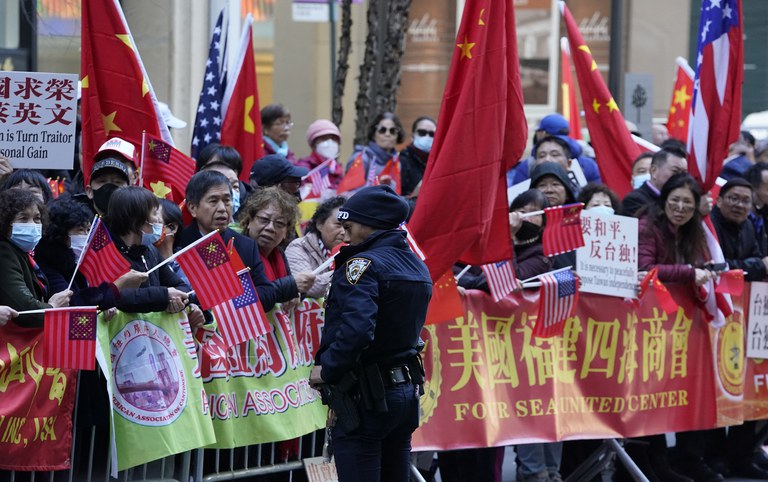 The trip comes amid tensions between China and the United States over Taiwan in the past year, with U.S. officials accusing Beijing of preparing to invade the self-governing island in the coming years and former House Speaker Nancy Pelosi last year visiting the island.
It's not the first time a Taiwanese leader has "transited" the United States, with the practice starting in the 1990s, but Beijing appears irked by Tsai's plans to deliver two speeches and meet McCarthy, who has himself suggested he could repeat Pelosi's visit to Taiwan.
Countermeasures
The response from Beijing – which views Tsai's trip as part of a growing effort by Taiwan to assert independence – has already been vexed, with a particular fury reserved for the McCarthy meeting.
During a press conference on Wednesday, Zhu Fenglian, spokesperson for the Taiwan Affairs Office of China's State Council, threatened "countermeasures" if Tsai meets with McCarthy.
"If she has contact with U.S. House Speaker McCarthy, it will be another provocation that seriously violates the 'One China' principle, harms China's sovereignty and territorial integrity, and destroys peace and stability in the Taiwan Strait," Zhu said before Tsai's departure. 
"We firmly oppose this and will take resolute countermeasures."
But U.S. officials say the "transit" – Tsai's seventh time in the United States as Taiwan's leader – does not constitute an official visit. Instead, they insist that Taiwan's leader is visiting in a private capacity, and say it's a standard practice for leaders of the democratic island. 
Beijing, though, regards Taiwan a renegade province and has threatened to forcibly "reunite" it with the mainland, and says American relations with Taiwan violate a 50-year-old agreement.
Chinese officials also deny that such "transits" are standard.
Foreign Ministry spokesperson Mao Ning said Wednesday that the United States was "hollowing out the 'One China' principle" and that "past mistakes do not justify any new mistake."
"The ones who are creating the problem and making provocations is not China, but the U.S. and the 'Taiwan independence' separatists," Mao said. "We urge the U.S. to abide by the 'One China' principle."
Mao called on the United States to "earnestly deliver on its leaders' commitment of not supporting 'Taiwan independence' or 'two Chinas' or 'One China, one Taiwan,' stop all forms of official interaction with Taiwan," and to stop "upgrading" its relationship with Taiwan.
'External pressure'
Leaving Taiwan on Wednesday, Tsai pledged not to be swayed.
"I want to tell the whole world democratic Taiwan will resolutely safeguard the values of freedom and democracy, and will continue to be a force for good in the world, continuing a cycle of goodness, strengthening the resilience of democracy in the world," Tsai said. 
"External pressure," she added, in reference to the backlash from Beijing, would not "obstruct" Taiwan's engagement with the world.
U.S. officials say Tsai will not meet with anyone from the Biden administration during her six days in total on American soil.
State Department principal deputy spokesperson Vedant Patel reiterated Wednesday that Tsai's trip was "consistent with our unofficial nature of relations with Taiwan" and did not alter "our 'One China' policy," which diverges from Beijing's "One China" principle.
"There is no reason to take countermeasures; there's no reason for Beijing to turn this transit, which is consistent with long-standing U.S. policy, into something it's not, or to overreact," Patel told reporters. 
"We oppose any unilateral changes to the status quo, from either side. We don't support Taiwan independence and we continue to expect that cross-strait differences be resolved through peaceful means."
But Patel declined to comment on McCarthy's plans, saying they were his prerogative as a leader of a "co-equal branch of government."
Edited by Malcolm Foster