Bruce Songhak Chung is the deputy director of the Geo Satellite Information Research Institute at Kyungpook National University in South Korea. Using Google Earth, he identified as many as 30 luxury villas and several private islands used by North Korean leader Kim Jong Un and his family on vacation. He also spotted a fleet of five supersize yachts, one of which has a four-lane, Olympic-sized swimming pool.
The extravagance of the Kim family lifestyle is a stark contrast to the living conditions of the majority of North Koreans, who struggle to make ends meet in an economy devastated by international sanctions and a lengthy trade pause with China due to the COVID-19 pandemic.
The sanctions, imposed in response to North Korea's nuclear ambitions, are supposed to prevent imports of luxury goods into the country, but, as Chung's research shows, they have not prevented the first family from continuing to live the high life. 
Chung recently presented his findings to RFA's Korean Service. The interview has been edited for length and clarity.
RFA: How many of Kim Jong Un's luxury villas have you identified through satellite images?
Chung: There are 20 to 30 exclusive luxury villas in North Korea used by the family of General Secretary Kim Jong Un. Among them, General Secretary Kim is particularly fond of his villa in Wonsan, Kangwon province, his hometown. The Wonsan facility, as seen from the satellite images, is equipped with luxurious cruise ships, a marina, a horse-riding range, a shooting range, a water play area and many other splendid entertainment facilities. In 2013, Dennis Rodman, a former basketball player from the United States, was invited there twice, in February and September, as Kim showed off his luxurious pleasure facilities.
RFA: What does the Wonsan facility look like in the latest satellite imagery? What facilities can you see?
Chung: There is a long, soft, white sand beach in front of the Wonsan villa. The sandy beach is famous for its outstanding scenery. His father, [former leader] Kim Jong Il, also enjoyed fishing and swimming here. The length of the white sand beach is 530 meters (0.3 miles), and there about 10 large and small villas located on the beach, and they have good views. If you look at the satellite image taken in January 2022, you can see the 50-meter (164 ft) long cruise ship with a blue roof in front of the villa. In front of the beach, you can also see a building where Secretary Kim had lunch with Rodman. The walking trails and gardens are well maintained. At a glance, you can tell that it is a large-scale villa complex.
RFA: You also were able to identify Kim Jong Un's cruise ships. Is it true that one of them has an international standard-sized swimming pool and a waterslide?
Chung: Yes, General Secretary Kim owns luxurious cruise ships. We identified four cruise ships so far at the Wonsan villa. The lengths of cruise ships are 50, 55, 60 and 80 meters (262.4 feet). Besides these, he owns many smaller luxury boats. On the deck of the 80-meter cruise ship, we can see a 2.5-meter wide pool that has four 50-meter lanes. That makes international standard size and four people can compete at the same time. We can also see four circular slides. Recently, the 55-meter long cruise ship has been refurbished. Its roof deck has been expanded from 20 meters to 40 meters and freshly painted.
RFA: Was it confirmed that one of Kim's luxury cruise ships disappeared?
Chung: Yes. So far, a total of five luxury cruise ships have been identified in the satellite images. One of them has now been retired, and only four remain. That one was 60 meters long and nine meters wide, and it disappeared in November 2017. According to foreign media reports, the cruise ship had reached the end of its lifespan and it was dismantled and decommissioned. General Secretary Kim's cruise ships were all generally introduced in the 1990s. Each ship's life expectancy is estimated to be about 30 years.
RFA: Has anything in these luxury ships violated U.N. sanctions against North Korea? Do we have any satellite evidence of sanctions violations?
Chung: I believe that these cruise ships were introduced in the 1990s under Kim Jong Il. The U.N. sanctions against North Korea were implemented from the mid-2000s because of North Korea's continuous missile and nuclear tests. Therefore, these cruise ships must have been introduced before that. Luxury goods are prohibited items from trade with North Korea by U.N. sanctions, but North Korea secretly purchases luxury items such as cars, boats and expensive whiskey, so they seem to be able to find a way to purchase these items.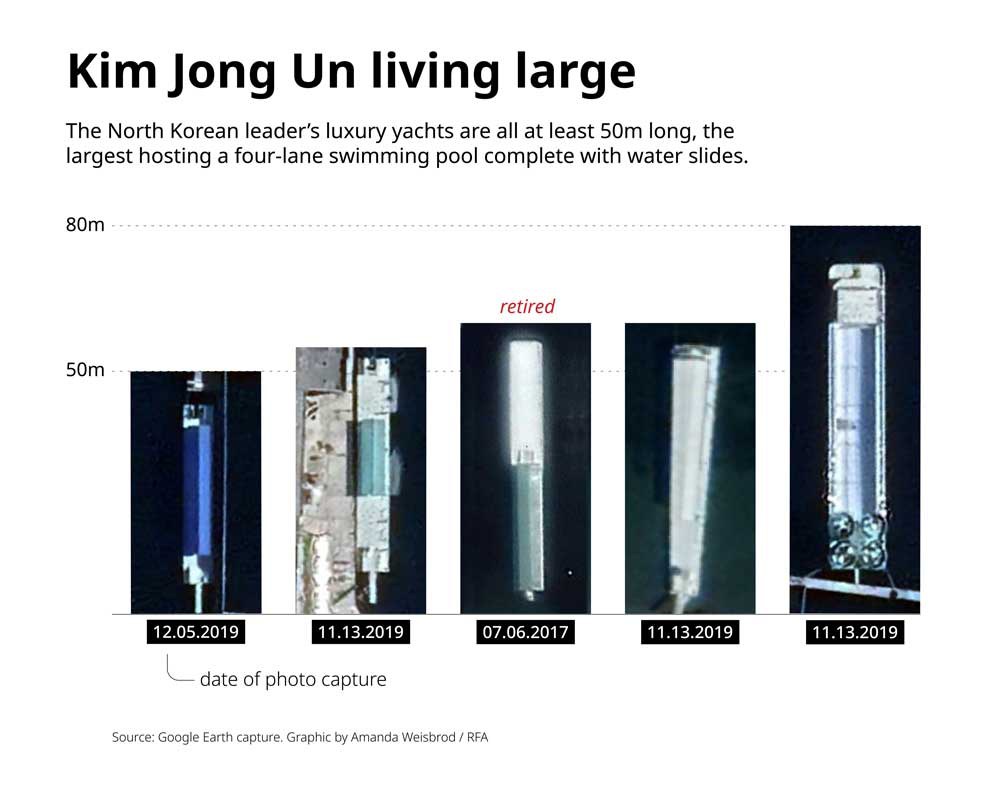 RFA: After Rodman visited the area, he had a lot to say about some of the surrounding islands. Are they visible on the satellite photos as well?
Chung: There are three beautiful islands. Their names are Sa-do, Tongdok-do and Chon-do. Each island has ship berthing facilities and their own villas too. Rodman, who visited North Korea twice in 2013, said in an interview with The Sun, a British daily, that the luxury villa on one of those islands was like a seven-star luxury hotel. If you look down on the island, the villa is situated in a forested area. Rodman said it was more fantastic than a luxury vacation in Hawaii or Spain. Even the richest people in the U.S. would not have been able to enjoy such luxury. I can't imagine how big the interior [of the villa] is. However, if you look at the satellite image, you can see that each island has well-established recreational facilities and is well organized.
RFA: Kim Jong Un's villas, luxury cruise ships and fantasy islands seem to be a grave departure from the lives of ordinary North Koreans today. Would you agree? 
Chung: I have analyzed Kim's villas and luxury cruise ships for a long time. They are always kept in pristine condition. I believe a lot of resources and money go into maintaining them. The villas and cruise ships of the Kim family are so splendid that ordinary residents cannot even imagine [what they are like]. On the other hand, I heard that North Koreans who do not know anything [about the resorts] are worried about General Secretary Kim, saying 'Our great leader worries about the people so much that he suffers in sacrifice by eating only rice balls and sleeping for just a few hours [each day].' I feel scared of how propaganda works so well for Kim that North Koreans idolize him to the extent that they do.
Translated by Claire Shinyoung Oh Lee and Leejin J. Chung. Written in English by Eugene Whong.